Over-under and side-by-side shotguns might appear similar, but there is a wold of difference between the best double-barrel shotguns when breaking clay or wing shooting.
When choosing the best double-barrel shotgun, it's important to shoot both side-by-side and over-and-under models to get an honest feel for how each one performs. The differences in shooting the two styles are profound. I have seen fellows that never missed with one model, but when using the other, they couldn't hit the barn if they were standing inside of it.
Since I started with a side-by-side, I unintentionally taught myself to use the outside of the muzzles on each side of the bead to calculate my lead on flying targets. After many years of side-by-side shooting, it was difficult to transition to the stack-barrel gun because of this. Also, the over-and-under—at least for me—swung much faster than the side-by-side. I had to make a conscious effort to slow down on crossing shots, or I would shoot too far ahead.
On older side-by-side guns, the tighter choke was traditionally found in the left barrel. If there was a barrel selector on the gun or if it had two triggers then that wasn't a problem. However, if the gun had a single trigger and no selector, it usually fired the open choke barrel first. That could be a problem if you needed a tighter choke for the first shot on a turkey at 40 yards or a fox squirrel at the top of a tall oak.
Interchangeable choke tubes helped, but you see the dilemma; if you select a two-barrel gun, spend the extra money and get the barrel selector or double triggers. Fortunately, virtually every modern model comes that way, so this is largely a concern if buying a second-hand gun.
Making a gun with two barrels shoot to the same point of impact for both at 40 yards is a heck of a lot more difficult than you might think, and this is the reason two-barrel guns tend to cost more than other shotguns. If done properly, a double is an absolute joy for hunting or clay birds, but if done poorly, what you have is a heavy single shot.
The best double guns are hand-regulated, which can put their cost into orbit; unfortunately, this is one reason we do not see any American-made utility side-by-side double guns any more. It can also be particularly frustrating to get both barrels on some imported over/unders with interchangeable choke tubes to hit in the exact same spot, too, but those marketed by Browning, Winchester and Beretta have given me consistent results. I've got an over-and-under CZ Canvasback in 20-gauge that shows promise, but with certain chokes it wants to pattern low or left.
There are scads of good used two-barrel guns on the market, either stack-barrel or side-by-side, and some can be had for a much better deal than you might think.
Because of its balance, narrower grip and single-aiming plane, over-and-unders are definitely much more popular—and available—today among sporting clay enthusiasts and bird hunters. But don't discount a good side-by-side if you find one as these guns enjoy a great traditional look and help shooters control their swing. A model with dual triggers can actually be an advantage over models with a barrel selector when hunting as the hunter can more quickly pull the trigger for the barrel with the best suited choke.
The choice of which one works best for you is ultimately yours. Treat yourself to some old-school shotgunning and see why these guns once ruled the field and marsh—and still deserve their rightful place in them even today.
Additional Best Double-Barrel Shotgun Considerations
A well-balanced shotgun is a joy to shoot; certainly here the old adage holds true that shotgun fit is the most important aspect of accurate shooting.
A double that fits the shooter in pull length and drop (both at comb and heel) will make those hits on flying targets seem easy. I like the balance point between the hands, but some shooters like a little more weight up front.
The Ruger Red Label is like the latter and a bit more difficult for me to shoot, but it is a fine stack-barrel gun and is extremely reliable and rugged. I also like shorter barrels. In the over-and-under, the 26-inch length is my favorite, but the most popular seem to be the 28-inch guns. Oddly, when shooting a side-by-side, I prefer 28-inch barrels.
With both types, I like a pistol-grip stock and enough forend to get enough grip.
This article appeared in the February 11, 2013 issue of Gun Digest the Magazine.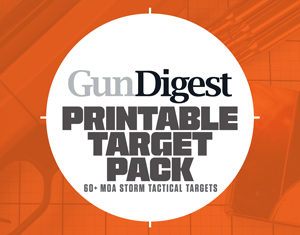 Next Step: Get your FREE Printable Target Pack
Enhance your shooting precision with our 62 MOA Targets, perfect for rifles and handguns. Crafted in collaboration with Storm Tactical for accuracy and versatility.
Subscribe to the Gun Digest email newsletter and get your downloadable target pack sent straight to your inbox. Stay updated with the latest firearms info in the industry.