This Mossberg Flex review examines what makes this 12-gauge shotgun so versatile: TLS (tool-less locking system). The Mossberg Flex is a great survival gun.
The new Mossberg Flex continues the long tradition of the popular Model 500 shotguns, but with a twist. The stock, forend, and recoil pad of the Mossberg Flex can be changed in than a couple minutes with no tools.
This is true for any of the 12-gauge models in the Mossberg Flex series: the Flex 500 All-Purpose, Flex 590 Tactical, Flex 500 Tactical and Flex 500 Hunting.
The TLS is the Key
The TLS (tool-less locking system) is what makes this system work. It was tested by the military, and they heaped abuse on the shotgun and the TLS system.
It works like this: A zinc coupling and socket locks the stock to the action. The bolt is
pulled up, turned and the stock comes off.
The forestock comes off and attached by way of a spring latch. Changing the recoil pads is as easy as pushing a button.
Transform the Shotgun
The Mossberg Flex can be transformed from an all-around utility shotgun, to a turkey gun, a waterfowling gun, a slug shooter for deer or as a tactical shotgun for home defense.
Barrels offered range from a 28-inch ventilated rib to a short and stout breaching barrel for tactical uses.
There are three sizes of recoil pads and a wide variety of stocks and forends are available in black, Realtree and Mossy Oak camouflage.
The Mossberg Flex versions available range in price from approximately $600 to $750 depending on numerous add-ons.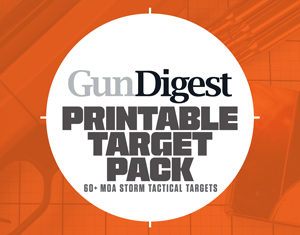 Next Step: Get your FREE Printable Target Pack
Enhance your shooting precision with our 62 MOA Targets, perfect for rifles and handguns. Crafted in collaboration with Storm Tactical for accuracy and versatility.
Subscribe to the Gun Digest email newsletter and get your downloadable target pack sent straight to your inbox. Stay updated with the latest firearms info in the industry.