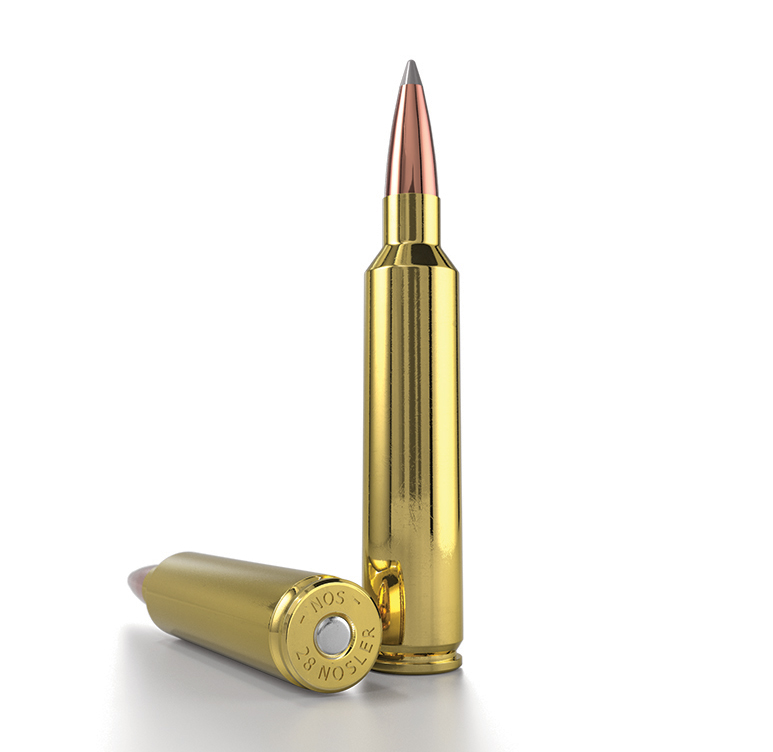 A year ago, Nosler introduced its first namesake cartridge – the blistering hot 26 Nosler. Now the company has grown its family to include the most powerful 7mm round available today: The 28 Nosler.
A year ago, Nosler introduced its first namesake cartridge – the 26 Nosler.
The round milked the most out of the 6.5mm's inherently high ballistic coefficient to create a blistering long-range round. Now the Oregon company is growing its family of proprietary cartridges with the 26's little brother.
Truth be told, the new 28 Nosler, introduced at the 2015 SHOT Show, is a bit bigger than the company's initial offering. The round utilizes the same case as the 26, but necked up to 7mm.
The company is billing the 28 Nosler as the most powerful 7mm cartridge available today. And the if the numbers Nosler has provided on the two variants it's releasing are on the mark, there is little arguing the cartridge has plenty of snap.
The 175-grain 28 Nosler is topped with an AccuBond LR bullet and has a muzzle velocity of 3,125 fps. The 160-grain cartridge boasts an AccuBond bullet, which according to the company's numbers leaves the muzzle at 3,300 fps.
To give some context, at 160-grains the 28 Nosler is around 300 fps faster at the muzzle than one of the most popular round in the caliber – the 7mm Remington Magnum.
While the 28 Nosler has hot-rod ballistics, it appears to be a hunter at heart. One of aspects the company is touting about its proprietary cartridges – beltless, mind you – is they're designed to operate in standard-length actions.
This feature helps weight-conscious sportsmen to lighten their load before venturing into the backcountry. The cases' overall length also aid in quick follow-up shots, since the bolt throw is shorter than on a magnum action.
Nosler isn't just pitching the cartridge to the shooting world. The company also announced it will support the 28 Nosler with a full line of its M48 rifles in 26-inch barrel configurations. And it will produce brass for those who aim to reload the cartridge. Presently, however, Nosler has not released reloading data on its new round.
---
NEXT STEP: Download Your Free Storm Tactical Printable Target Pack
62 Printable MOA Targets with DOT Drills - Rifle Range in YARDS
This impressive target pack from our friends at Storm Tactical contains
62 printable targets
for rifle and handgun range use. Target grids and bullseye sizes are in MOA. Ideal for long-range shooting!
Subscribe to the Gun Digest email newsletter and we'll send your print-at-home target pack right away.
Just enter your email address below.
---