At the heart of the Scout Rifle concept is versatility. The rifle is meant to be as capable in tactical use as it is harvesting game.
Savage, however, has taken the idea of flexibility in a different direction with the release of its new version of the gun. The Model 11 Scout Rifle is meant to be as adaptable in ergonomics as it is in application.
The Massachusetts manufacturer accomplishes this by the inclusion of some adjustable features on the rifle's stock. To better transition between optics and open sights, the Model 11 has a modifiable comb. And to make it a better fit to an individual's body size and preferred shooting position, the length of pull can be adjusted via butt pad spacers.
The .308 Winchester's stock itself should also aids the rifle's accuracy, given it's Savage's popular AccuStock. While it appears to be an injection-molded stock on the outside, the AccuStock boasts an aluminum chassis on the interior, outfitted with a three-dimensional bedding system that free floats the barrel and offers rigidity to the platform.
The ATK subsidiary also has included the AccuTrigger on the Model 11, allowing shooters to tune the trigger pull to their preferred weight. The system, as crowed about in the video below by Tactical Life, can be dialed all the way down to 2.5 pounds.
The other new feature the Model 11 boasts is the Savage's new 10-round detachable magazine. Extra magazines will be sold separately and are compatible with a number of other Savage firearms.
The rifle shouldn't prove to be a burden in the field with a respectable weight. The Model 11 tips the scales at 7.8 pounds. And at 40.5-inches in overall length, the firearm should prove to be very maneuverable.
Some of the rifle's other features include an 18-inch button-rifled barrel topped with a flash suppressor, a tang safety and sling swivels.
Savage plans to release the Model 11 Scout Rifle to the public this month. The present MSRP is $794.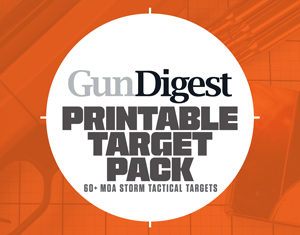 Next Step: Get your FREE Printable Target Pack
Enhance your shooting precision with our 62 MOA Targets, perfect for rifles and handguns. Crafted in collaboration with Storm Tactical for accuracy and versatility.
Subscribe to the Gun Digest email newsletter and get your downloadable target pack sent straight to your inbox. Stay updated with the latest firearms info in the industry.