Editor's note: The following tutorial on how to make dried fruit and vegetables in the oven comes from the new book by Stacy Harris, Recipes and Tips for Sustainable Living.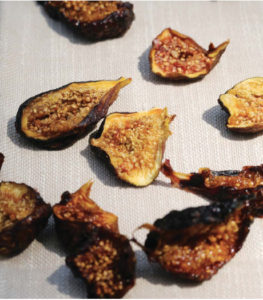 Drying is perhaps the oldest method of preserving. It dates back to the days of our ancient ancestors and Native Americans. They preserved their harvests long before canners, pressure cookers, and freezers were invented. They sun-dried their fruits and vegetables, but I prefer using the oven. I do not have to deal with insects that way!
It is easy to dry fruits, vegetables, herbs, and even chili peppers. You more than likely already have all that is needed to pursue preservation by this method.
How to Make Dried Fruit and Vegetables: Beans and Peppers
1. Wash your harvest and string your beans, peppers, and herbs together with a needle
and heavy-duty thread or fishing line, making a knot around each bean.
2. Repeat until the thread is full and then simply hang these beans for several months in a dry place.
How to Make Dried Fruit in the Oven: Why?
One of my favorite methods of drying is to use the oven. My children
especially love preserving their harvest by this method, and teaching them how to make dried fruit in the oven wasn't difficult. They love making dried peaches, apples, figs, and berries.
They eat these delicious fruits and berries as snacks rather than snacks chock full of sugars and artificial ingredients that seem to have made their way into our diets via the grocery store.
Learning how to make dried fruit in the oven offers us a much healthier way of living our lives.
Instructions: How to Make Dried Fruit in the Oven
1. Set the oven to the lowest possible setting.
2. Slice your fruits and vegetables into thin pieces and place on a cookie sheet.
3. Cook overnight or until all moisture is removed.
• If you do not like leaving the oven on all night, drying can be done throughout several days. Just remove the cookie sheet from the oven and begin drying them the next day in the same manner.
4. Store your dried goods packed in freezer bags or in food-saver packets. Freeze them for up to one year.
How to Make Dried Jerky in the Oven
And, let's not forget jerky. My men love their jerky. After they have prepared the finer venison for the freezer, they use the less desired meat for jerky. The result is another wonderfully healthy snack loaded with protein.
1. Heat the oven to 200 degrees.
2. Thinly slice meat and season as you desire.
3. Place meat about 1/2-inch apart on a cookie sheet.
3. Bake for six hours.
Or try this recipe for Venison Jerky which is hard to beat!
---
Top-Notch Gear and Resources