The GAP Grind 2015, a long-range tactical shooting event, took shooters' skill and equipment to a whole new level.
This year's GAP Grind match took place 16-18 October at the K&M Shooting Complex in Finger, Tennessee.
The match drew shooters from across the nation with law enforcement, military and civilian backgrounds. Held in association with the Precision Rifle Series (PRS) and GA Precision, the fast-paced shooting format featured a Pro/Am arrangement pairing professional and amateur competitors.
GAP Grind: Fast Action, Long-Range
The GAP Grind presents a notoriously challenging opportunity to engage targets—paper, steel, moving and reactive—at distances of up to 1,200 yards, with minimal down-time between stages.
The 2015 course was comprised of 20+ stages, in which competitors each fired 200+ shots at long-distance targets, which varied in size and difficulty based on distance and time allotted. Most stages included "stressors" such as time limits or required movements.
Cory West, of Texas, took top honors at the event with a score of 165.00.
Just watch the GAP Grind 2015 video above and try to imagine the level of performance needed to bring long-distance computations together with equipment and an ever-changing target environment to make hits at these ranges.
Some truly top-notch long-range rifles, optics and gear are on display here, but it goes to show how intimate knowledge of equipment and long hours of practice under field conditions pay off when the chips are down.
---
Recommended: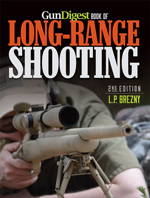 Gun Digest Book of Long-Range Shooting, 2nd Edition
Get the most recent advances in guns and gear to extend your range for hunting, informal target shooting, and formal competition. Discover new tools for long-range shooters both in the field and on the firing range, with coverage of new developments from advances in military applied combat theory. Learn more