A visual trainer that tracks and measures your movements as you draw and break each shot, the MantisX Shooting Performance System proves invaluable in dry and live fire.
What Feedback Does The MantisX Provide:
Detailed tracking of your muzzle position before and during the trigger pull.
Analysis of likely mistakes that took a shot off target.
Audio feedback of target hits so you can keep your eyes down range.
Full history of your shots to keep track of your improvement.
Detailed grouping charts to show exactly where your hitting.
Perhaps golf, maybe fishing. If there are any other pursuits that out-do shooting in regard to gizmos and systems for improving your performance, those would be it — though it can't be by much of a margin.
Sauntering through the SHOT Show, it takes your breath away when realizing exactly how rife the industry is with these products. There are a handful of targets and training schemes that are worth their salt and have the chops to do what they promise — make the most of your trigger time. But there are many more (many, many more) that aren't even worth the pressure-modeled plastic they're made from. Buyer beware.
This is the point we interject the pleasant surprise to the latest iteration of the world's largest firearms/outdoors expo. Because that's what a cutting-edge piece of training gear I stumbled upon in the basement of the Sands Exposition Center has proven itself. The MantisX promises data-driven improvement in your shooting, and in my time with the impressive piece of gun tech, it has more than delivered.
What Is The MantisX
Think of MantisX as a personal shooting instructor you attach to your pistol or rifle's accessory rail. (Don't have one? The company sells an attachment.) From there, it catches every mistake you make between draw and trigger pull. Moreover, it then offers immediate feedback. That's powerful information.
Around for a few years now, the device is essentially a set of gyroscopes that track and measure your movement as you break a shot. It then reports back to a free iOS or Android app — via Bluetooth — exactly how you're fudging-up the process. And whether you knew it or not, you're fudging it to some degree.
Slapping the trigger, MantisX knows. Flinching, MantisX will catch it. And it doesn't cut you any slack, grading each and every shot you take.
---
Boot Up More Gun Tech:
Admittedly, it's a very humbling experience, seeing a score of 75 or (gasp) a 71 pop up when you glance at your smart device after a shot. But that's part of the process. Like any good coach, the MantisX isn't there to beat you down, but rather it's designed to build you up again and keep you improving.
How it achieves this isn't simply grading: It does this by identifying exactly what went wrong, then educating you on how to remedy your errors. Plus, it gives you a clear picture of how each shot progressed, tracking your muzzle path, measuring the magnitude of your mistakes and building a history of your progression.
There is light at the end of the tunnel, if you take what the device offers in all seriousness. But like any training, you have to invest and be willing to let the piece of shooting technology make you better. This means paying close attention to its feedback and consciously applying its corrections to the next shot. Do this and it pays dividends; I've experienced the impact first-hand.
My Time With MantisX
Breaking my wrists up is problematic for me. Session in and out, with my Springfield XD Sub-Compact 9mm, MantisX reports this is my main issue. Perhaps I focus too intensely on a smooth trigger pull or get lost in the front post. Whatever the reason, my wrists have a tendency to relax when the shot breaks. In my defense, it's not much, but it's enough that MantisX catches it.
After a little more than a week with the device's input, I wasn't completely cured, but I was improving. What were steady high-80 scores to start in dry-fire training evolved into the mid-90 range with more attention to keeping my wrists locked. And it's still going up.
Without the MantisX, maybe I would have diagnosed the issue. But if I'm completely square with myself, I most likely would have missed it until I got to the range. And when I got there, I saw a marked difference from the first shots fired.
Immediately, I was where I should be at 7 yards — eating a ragged hole center mass. It was reassuring. Dry-fire practice had paid greater dividends than ever before … and it certainly had me itching for more. And with MantisX mounted and assessing my live fire, I was on the straight and narrow through a 50-round session. I didn't expect a scant few days with any training tech to make such a difference, but the results were pleasantly undeniable.
What MantisX Offers
I've lived in the "Open Training" mode of MantisX, which isn't a bad thing by any stretch of the imagination. The insight allotted — shot break, muzzle tracking, running history of sessions — is enough that I'm confident it alone would continue to refine my pistol marksmanship. In the big scheme of things, the data collected borders on overwhelming.
That said, I look forward to cracking into the rest of what MantisX has to offer, which is nothing short of a complete training regime:
Timed shots
Reload drills
Support-hand shooting
Basic marksmanship training
FBI qualifications
And there's more — much more. But a column this size wouldn't do justice to every whipstitch of what the MantisX system has to offer. Suffice to say, it's plenty and I'm fairly certain it has the potential to hone mine or any shooter's skills to a finer edge.
Parting Shot
Is MantisX a replacement for live instruction? Not by a long shot. There is no substitute for firearms training from a seasoned expert. But as a training tool, the piece of gun tech is incomparable.
While it provides excellent feedback at the range, the greatest value of MantisX is for dry-fire. An important part of firearms training, the device and app make certain it bears fruit. The challenge of dry-fire is knowing for certain you're executing each shot with the utmost precision. MantisX verifies this trigger pull to trigger pull, making the most of your time. After all, if you don't train properly, what use is training in the first place?
There are a lot of gimmicks in the shooting world, each one promising to make you the next deadeye and beyond prepared for a real-life scenario. To a certain extent, for $149 MantisX pledges much the same. The big difference compared to the others? It delivers a training solution that's easy to understand, seamless to navigate and comprehensive enough to make a rapid difference in your shooting skills.
For more information on the MantisX, please visit www.mantisx.com.
Editor's Note: This article originally appeared in the March 2019 issue of Gun Digest the Magazine.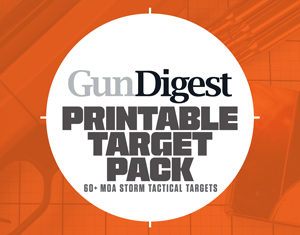 🎯 Exclusive Offer: Get Your FREE Printable Target Pack!
Dive into precision shooting with our 62 Exclusive MOA Targets featuring DOT Drills. Perfect for both rifle and handgun enthusiasts, these targets are designed for accuracy, especially for long-range shots.
Why You'll Love This Pack:
🎯 Expertly Crafted: Brought to you in partnership with the renowned Storm Tactical.
🎯 Versatile Use: Suitable for both rifle and handgun range sessions.
🎯 Precision Design: Target grids and bullseyes meticulously measured in MOA for the best shooting experience.
Bonus: By grabbing this offer, you'll also be subscribing to the Gun Digest email newsletter, keeping you updated with the latest in the world of firearms.
Don't miss out!
Simply enter your email below, and we'll send your downloadable target pack straight to your inbox.