The original 1911 sights were embryonic military style sights.They were more than bumps on the slide, but not much more, and they were not ideal for accurate fire. The 1911A1 featured improved sights but until the days of the National Match pistol there was little to choose from.
Custom pistols miths fabricated high-visibility sights of various types and while these were an improvement in some ways, few were practical. Many were so tall and awkward they would not allow the pistol to be holstered in a conventional scabbard.
Among the first practical improvements on the 1911 sights were the old King's Hardballer sights. There sight sets featured a taller rear sight and a post front sight. Even today, these sights are by no means outdated. They are good choices for combat shooting.
These sights are very similar to the sights fitted to the Colt Series 80 and the Springfield Mil Spec. I have always thought that Colt missed the boat when they did not add an improved set of sights to the Series 70, but they did update them on the Series 80. These early combat sights are relatively inexpensive and offer abetter sight picture than the GI sights.
However, I have conducted comparison testing between these sights and GI sights and overall the advantage of the improved or mil spec sights is slight. Tests do not lie, and while I perceived the improvement as greater than the tests showed, a thorough all-around program comparing the Springfield GI pistol, a Colt1918, and the Colt Series 80 and Springfield Mil Spec showed little practical improvement when the types were fired by novice shooters.
It is relatively easy to upgrade to some types of 1911 sights while others will require the services of a machinist/gunsmith.While we can upgrade, the superior course is to purchase a handgun with credible sights in the first place. The sights should be chosen for quality, practical accuracy, non-snag construction, and durability.
This is a tall order but one that modern sights fill well. Among the first practical high-visibility sights were the Novak Lo Mount. These sights feature a pyramid-like rear sight that offers an excellent sight picture.
The sight will not catch on clothing during the draw and offers a virtually snag-free contour. The front sight is a bold post that may be from .200″ to .249″ high, depending on the application.
Reducing the vertical profile of a pistol sight is important because the sights rub on all manner of things including the holster and clothing. There are a number of considerations including short range fire, medium range fire, long range fire and snag-free presentation. Testing something as subjective as handgun sights is difficult. It is easy to note that the Novak sights are superior to Mil Spec sights, but to compare the Novak to Kimber sights is more difficult.
This is where subjective opinion arises. The rear sight should have a bold profile that is easily picked up quickly. The pyramid style sights now available offer a good sight picture and do not trap shadows. When all is said and done, the Novak and Kimber style combat sights are at the top of the heap and offer excellent all-around utility.
There are choices in the types as well. Plain black, white three dot and tritium night inserts are the most common types. Novak also offers a gold bead front sight. The gold bead front sight is among the very best choices. This bead gives an excellent all-around sight picture, can be seen in the dark with a minimum of ambivalent light and is immune to oil and solvent.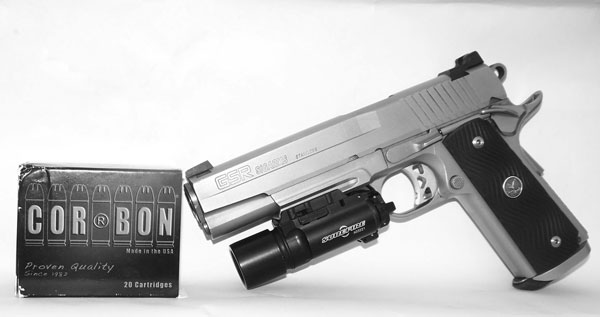 Luminous iron sights are an excellent option, but they are not without drawbacks. For example, during daytime or bright light shooting, tritium sights often reflect sunlight. The same is true of nickel plated sights, but the tritium insert is not as reflective as nickel.
Depending upon how deeply the shock mounted insert is buried in the sight, sunlight may play on the tritium sight. Tritium sights also will work loose. Usually the front sight is the one to take flight. I have only had this happen once, and it was at the 10,000 round mark, but it does happen.
I replaced the sights of this particular pistol with Wilson Combat night sights and continued to bang out 10,000 additional rounds without any further problem. It is a relatively simple matter to replace the tritium insert; this is simply something to be aware of.
I once strongly preferred black sight over white three dot sights. With the coming of age and a loss in visual acuity, I now find the white dot sights work well for me. With unaided vision, blurred sights are a real problem.
Fiber optic sights or white dot sights help a great deal. I can recommend the Novak sights with the fiber optic option, but in the past I have suffered the loss of the fiber optic component with relatively light use of sights of other makes. The Novak is quite robust. Perhaps they did not introduce their version until it was perfected. An elegant option I find useful is the Novak Gold Beadfront sight. All who used this sight appreciated the gold bead. It shows up in most dim conditions and offers an excellent visual aiming point.
There is more to the equation than how the sights look and how well you are able to quickly pick up the sights. Some are too sharp for efficient holster use. The sights need to be snag-free when carried in tight-fitting concealment holsters.
The original Novak Lo Mount is the king of concealment but Wilson Combat sights also do a good job. The sights that absolutely must be avoided are the add on adjustable sights that hang over the rear of the slide.
These are contraindicated for service use and are not my favorites for target use. A proper target sight should be low riding, properly set into a machined dovetail, and rugged enough for duty use. The inexpensive add-ons are not very robust and when they protrude from the rear of the slide you are asking for them to be knocked off on a door jamb. They are good examples of a false economy.
Adjustable sights were once questionable on personal defense handguns. The Colt Gold Cup, as an example, is fastened by a single hollow roll pin. This is no recipe for hard use. Even adding a more satisfactory solid pin is not always enough to properly secure the sight. On the other hand I have a custom mounted Bomar rear sight done by the Action Works of Chino Valley, Arizona.
This is a secure mount with a vault-tough sight. The factory adjustable sight used by Les Baer is similar. Both are dirt tough adjustable sights well worth their price. Bomar unfortunately is out of business, but the Baer sight is at least the equal of the Bomar. Much the same applies to the modern Kimber adjustable sights. The unit mounted on my personal Eclipse has never given the slightest trouble.
An aftermarket sight I have used with good results comes from Caspian. This compact tactical sight offers good adjustment but is low profile and has survived hard use. I think that it is safe to say that modern adjustable sights are available that give every advantage in zeroing the pistol while they are mechanically rugged.
Not all adjustable sights are, not by any means. A combination of a less rugged sight and mounting the sight in the conventional dovetail, resulting in the sight riding over the rear of the slide,is a combination doomed to failure.
It is easy enough to adjust the sight left to right, but I find a distressing number of modern pistols fire low at 16 to 25 yards. Filing the front sight or fitting a taller front sight is needed.
Firing high is addressed by fitting a taller front sight. If your pistol fires to the point of aim as issued, treasure it.
This article is an excerpt from Gun Digest Shooter's Guide to the 1911.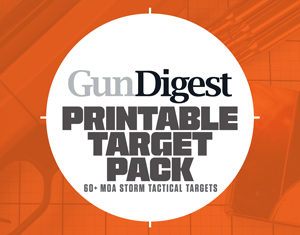 Next Step: Get your FREE Printable Target Pack
Enhance your shooting precision with our 62 MOA Targets, perfect for rifles and handguns. Crafted in collaboration with Storm Tactical for accuracy and versatility.
Subscribe to the Gun Digest email newsletter and get your downloadable target pack sent straight to your inbox. Stay updated with the latest firearms info in the industry.