Two new Pietta single-action revolvers and a double-barrel shotgun are now available exclusively from Davidson's.
Made By Pietta, Distributed By Davidson's
Italian-Made
Based On Classic Colt Designs
Two New 1873 Revolver Models
One New 1878 Shotgun Model
Pietta is one of the leading manufacturers of historical American firearms. Renowned by collectors, reenactors, and cowboy-action shooters, Pietta's guns fill a very specific niche in the American firearms market. Their catalog was already quite extensive, but they've just added three new models which are exclusively available through the distributor Davidson's.
The trio includes two new variants of their 1873 single-action revolver as well as an 1878 double barrel coach gun.
Clones of the iconic Colt Single-Action Army, Pietta's 1873 revolvers are made in a variety of calibers and configurations. The two new variants that will be available exclusively through Davidson's are caliber-convertible models. Identical besides their barrel lengths, the new 1873s each include two cylinders which can be swapped to fire either .45 Long Colt or .45 ACP.
These caliber options add a lot of versatility to these otherwise obsolescent designs. For collectors and cowboy action shooters, the .45 Colt cartridge offers historical authenticity. For those who'd like to enjoy the Pietta 1873 at the range without breaking the bank, or carry it on a camping trip with more choices of modern defensive ammo, the option of .45 ACP is there as well.
Both models of Pietta's new 1873 feature a blued finish, a brass trigger guard, and brown polymer grips. They are available with either 4.75- or 5.5-inch-long barrels and have an MSRP of $559.99.
The third piece in this exclusive new trio is a Double Barrel Deluxe Coach Gun. It's a 12-gauge side-by-side shotgun with 2.75-inch chambers and 20-inch-long barrels. It has a walnut stock, blued barrels, and a case-hardened receiver to add some colorful flair. Based on the Colt 1878, this coach gun features two external hammers and two triggers, but to remain historically accurate it does not have automatic shell ejectors.
The Pietta Double Barrel Deluxe Coach Gun has an MSRP of $989.99.
These new offerings from Pietta highlight two classic American firearms designs from Colt that helped to shape the Old West. Made in Italy, this iconic trio is available now, distributed exclusively through Davidson's.
For more on the manufacturer, please visit pietta.it.
---
More Single-Action Army Models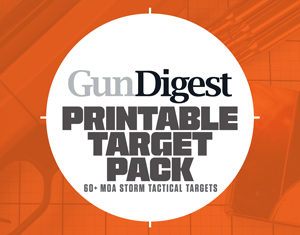 Next Step: Get your FREE Printable Target Pack
Enhance your shooting precision with our 62 MOA Targets, perfect for rifles and handguns. Crafted in collaboration with Storm Tactical for accuracy and versatility.
Subscribe to the Gun Digest email newsletter and get your downloadable target pack sent straight to your inbox. Stay updated with the latest firearms info in the industry.