John Farkas — Rush2Arms.com, Berea, Ohio
Historically, U.S. and German firearms from World Wars I and II have topped the list of the most sought-after guns for military collectors from John Farkas' experience. That reality, the owner and lead auctioneer of Rush2Arms.com auction service said has also steadily driven up the prices of these firearms.
World War Two Japanese firearms? Usually a distant third—and often even farther back in the line. But that's been changing the last couple years, noted Farkas, with a noticeable shift in collector interest, as well as increasing prices being paid.
"10 years ago a Japanese Nambu pistol could be had for $100," he said. "Today, a Poppa Nambu in good condition will bring in $700. A Baby Nambu with the original holster and other accessories? $7,500. And I have seen them go as high as $10,000 at recent auctions!"
Farkas thought that the higher prices of U.S. and German military arms has collectors, especially new ones, going for the more affordable Japanese options.
Meanwhile, prices for vintage accessories have been rising, too. Leading the pack: original holsters.
"I'm amazed at the prices we are getting for original holsters from both wars. Right now, holsters are huge. Collectors are buying up vintage military rifle scopes, too, especially any that were made for sniper rifles."
Editor's Note: This brief originally appeared in the Fall 2015 issue of Gun Digest the Magazine.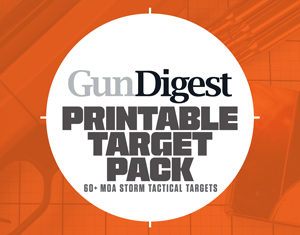 Next Step: Get your FREE Printable Target Pack
Enhance your shooting precision with our 62 MOA Targets, perfect for rifles and handguns. Crafted in collaboration with Storm Tactical for accuracy and versatility.
Subscribe to the Gun Digest email newsletter and get your downloadable target pack sent straight to your inbox. Stay updated with the latest firearms info in the industry.