Quick Access Gun Safe – A Must-Have?
A gun will only defend you and your family if you can get to it the moment it is needed. Thanks to a host of fast-access gun safes, you can rest assured your favorite home-defense firearm is just a finger swipe or a quick numeric code away. Whether you prefer a revolver, semi-automatic handgun, shotgun or even your trusty AR, there's a wall, rifle or handgun safe available that allows you to have peace of mind. You can keep your favorite firearm away from curious kids, snooping guests and criminals alike while gaining nearly instant access in case of emergency.
Here's our list of what we think are the top options available today for getting to your piece quickly in a moment of need.
Browning PV1000
One of the most trusted names in firearms offers one of the most trusted products in gun safes. Browning's PV-1000 isn't just tough-it's packed with features. It has enough room for a couple of handguns and a stack of other valuables and comes with a programmable four-button touch pad. It comes with internal LED lighting and even has an external 9 volt battery contact in case the internal batteries fail or you lose your emergency key. The PV-1000 weighs 25 pounds. MSRP: $219
V-Line Slide Away
If the idea of relying on an electronic lock makes you nervous, consider V-Line's Slide Away safe. It uses a non-electronic, five-button Simplex access system that is fast, reliable and easy to operate. Pre-drilled mounting holes allow you to store up to two 1911s anywhere you want to place them. The box, face and anti-pry brackets are made from tough, 12-gauge steel, and the oversized spring-assisted pullout drawer uses ball bearings for smooth operation. It weighs 21 pounds and has optional full and half trays. MSRP: $299
Secure-it Hawk Under Bed Safe
If a long gun is your preferred home defense firearm, look no further than Secure-it's Hawk. At 47 inches long and 13 inches deep, it's big enough to hold your favorite tactical shotgun or a selection of handguns. The four-button touch pad electronic lock allows for instant access when you need it most. The Hawk is made with 14- and 16-gauge all-welded steel and comes with a full-length piano-hinge door and three hardened lock bolts for durability and safety. It weighs 50 pounds and can be mounted horizontally. MSRP: $239
Hornady RapId Safe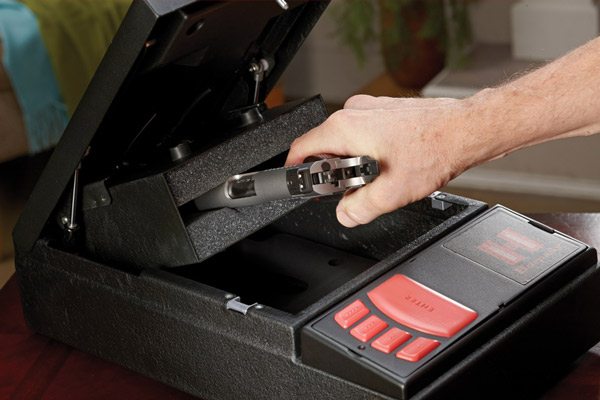 You don't need a code, and you don't even need to touch HornadyM's RAPiD safe to access your firearm in an instant. Simply use an included RFID bracelet, card or key fob to get fast access. Once opened, your handgun pops up at an accessible angle in its own foam sleeve. The safe weighs more than 15 pounds and is made from heavy 16-gauge steel. It also comes with a 39-inch, 1,500-pound-rated cable, so you can secure it anywhere. It runs off standard 110 volt power or batteries. MSRP: $275
GunVault SpeedVault Biometric
Store your handgun where you need it with GunVault's single-gun SpeedVault. The biometric locking system allows you instant access with the swipe of a finger, thanks to the biometric fingerprint scanner and activation button. It holds up to 120 unique fingerprints. The SpeedVault comes with mounting hardware that allows you to bolt it anywhere-this could be under your desk, to a wall or anywhere else you might need instant security. It also comes with an interior courtesy light. It's made from 18-gauge steel and includes a backup override key. MSRP: $345
Barska Quick Access Rifle Safe
Silence is golden when you might be dealing with an intruder. Thankfully, Barska's Quick Access Rifle Safe's new silent access feature won't give away your location. A simple fingerprint scan allows near-instant access to up to four long guns. The lock is programmable for up to 120 fingerprints, and it comes with mounting hardware, a three-point deadbolt locking system and a set of emergency backup keys. The Quick Access safe runs on four AA batteries (included) and weighs 66 pounds. MSRP: $299
Bulldog Biometric Pistol Vault
Bulldog's pistol safe has features aplenty. You not only get quick access when you need it, thanks to the one-swipe biometric lock, but you'll be able to see the contents of your safe thanks to a 20-second interior LED light. The finger pad is programmable for more than 25 fingerprints. There is a low voltage alarm, a spring-loaded access door, a hidden security key override for emergency entry and an external backup battery box. The safe is built with a recessed, pry-proof door and two ¾-inch steel locking bolts. Mounting holes are pre-drilled and mounting hardware is included. MSRP: $247
The GunBox
Thieves might look right past The GunBox if they make it into your home when you aren't there. If they do see it, don't fret. The Premier version comes with a built-in GPS tracking device and available 24/7 monitoring to help you recover what belongs to you. It also comes with an internal motion sensor and audible alarm. Access is through a 360-degree biometric fingerprint scanner (with multiple fingerprint programmability) or an RFID wristband or available RFID ring. Mounting holes allow for unlimited mounting orientation. The GunBox Premier also has two USB ports. MSRP: $499
Barska Biometric Wall Safe
Is there a better way to hide things than by keeping them in a safe? Barksa's wall safe not only allows you to hide your belongings, it also allows you to hide your safe. Designed to mount between wall studs, this handy safe can be hidden behind your Velvet Elvis poster or a piece of furniture. The biometric lock can be programmed for 120 fingerprints and opens with a quick swipe of a fingertip, giving you quick access to your favorite home defense handgun. The safe comes with pre-drilled mounting holes, a set of emergency keys, two removable shelves and a padded floor to protect your most valuable assets. MSRP: $199
Stack-On Biometric Super-Size Safe
Sometimes, bigger is better. Stack-On's Super-Size biometric safe has more than enough room for a couple of handguns and your most important documents. It's about 20 inches tall, 12 inches deep and 14 inches wide and includes two removable padded steel shelves. The biometric finger-touch pad is lighted to help you find the mark without fumbling in the dark. The solid steel door has concealed hinges and two pry-resistant locking bolts. The touch pad is programmable for up to 32 fingerprints, and it comes with a back-up key, pre-drilled mounting holes and mounting hardware. MSRP: $199
Editor's Note: This article appeared in the August 2015 issue of Gun Digest the Magazine.
---
NEXT STEP: Download Your Free Storm Tactical Printable Target Pack
62 Printable MOA Targets with DOT Drills - Rifle Range in YARDS
This impressive target pack from our friends at Storm Tactical contains
62 printable targets
for rifle and handgun range use. Target grids and bullseye sizes are in MOA. Ideal for long-range shooting!
Subscribe to the Gun Digest email newsletter and we'll send your print-at-home target pack right away.
Just enter your email address below.
---