For the more technology-centered readers out there, Marc Newson's name might be readily identifiable.
Most know the famed industrial designer from the headlines he made when he joined Apple earlier this fall. But the Austrian has also made a splash in an unexpected circle as of late – the firearms world.
Newson has taken a crack at firearms design, teaming up with the world's oldest gun manufacturer. And the results of his partnership with Beretta have been spectacular.
Your eye can't help but be caught by the Newson designed Beretta 486. The firearm retains the integrity of the age-old side-by-side shotgun, while incorporating clean modern lines.
This was the ultimate goal Beretta said in a press release, and it plays itself out in a number of features of the gun.
Perhaps the area the company has most heavily touted is the refinement of the safety catch. Newson has refined the tang safety by removing the tang, and breaching the gap with the burled walnut stock.
The way Beretta put it is the feature is a "bridge of wood" that spans the space between receiver and the safety.
"The main focus for my design of the 486 was to simplify and rationalize all the surfaces," Newson said, on Beretta's website. "Specifically streamlining the area of the action."
Newson also left his mark on the receiver, rounding all its edges to give it an elegant and smooth look. He removed the screws from the trigger guard, instead attaching it via a milled guide to refine the gun's lines yet more. And he slimmed down the forend of the shotgun, to give it a sleeker look.
Newson topped off the 486 with an intricate laser engraving on all exposed metal of the receiver. It is an Asian motif, including Japanese cherry blossoms and chrysanthemums and Chinese dragons. The engraving might sound a bit out the ordinary for a shotgun from an Italian company, until Newson explains how it ties into some of the game likely to be taken by the firearm.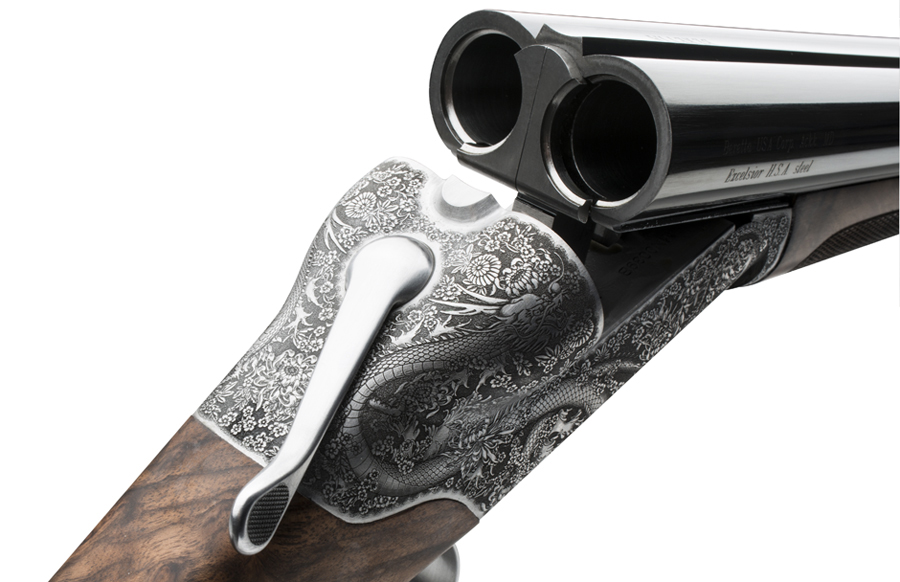 "My initial source of inspiration came from the idea that pheasants originate and are native to Asia, before being widely introduced elsewhere as a game bird," he said. "For me it was important to somehow pay homage to this and incorporate a subtle Asian influence into the design."
Beretta doesn't appear to have skimped on their end of the project. The company has outfitted the 486 with cold-hammer forged Optima Bore Barrels, which boasts Beretta's Triblock technology, eliminating welding lines.
No prices were given for the Beretta 486, however, a comparable Beretta side-by-side (the 486 Parallelo) has an MSRP of $5,350. Given the names behind the new Model 486, expect the new Beretta shotgun to also fetch top dollar.
---