Don Ellison – Amoskeag Auction Company, Manchester, N.H.
For selling collectible firearms, gun values are not simply determined by a firearm's rarity, Amoskeag Auction Company firearms specialist Don Ellison said. The piece must be in top condition to get top prices. As Ellison pointed out, "Gray metal's not moving!"
Case in point, at a recent auction, a very rare Springfield 1903 rifle with little bluing left and some pitting did not even sell. Meanwhile, a Colt Model 1877 Rainmaker revolver, 99-percent bright nickel plated, chambered in .32-20, was estimated to bring $10,000. It went for $25,000 at Amoskeag in March 2013.
Even nonantique handguns are demanding high prices. Colt Cobras regularly sell for $800 to $900 at Amoskeag.
"Five year ago, $400 was too much to pay for that handgun," Ellison said.
Editors note, this article appeared in the Oct. 21, 2013 edition of Gun Digest the Magazine.
---
Recommended Collecting Resources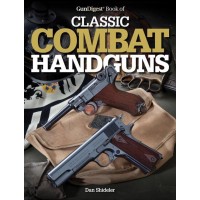 Gun Digest Book of Classic Combat Handguns
2014 Standard Catalog of Firearms
Browse More Gun Collecting Books