The Breda autoloader, which appeared in the U.S. in the early 1950s, was an exceptionally well made, long-recoil operated, Browning-type shotgun. Its distinguishing features were that it could be completely disassembled without tools, and all parts were machined and polished.
In short, the Breda was one of the best-finished autoloaders on the market, when it appeared. Additionally, it was light; only Franchi could claim a lighter gun. The balance and the handling qualities were very good, and it was advertised as being a perfect autoloader for upland gunning.
Although the Breda utilized Browning's old long-recoil system, it was definitely a modernized version.
It was made screw-less and also had interchangeable chokes—the original "extended" choke tubes. Breda's choke-tube system was called Quick-Choke, and the tubes, uniquely, screwed onto the outside of the barrel.
Bredas may have been imported in small numbers early on, but it was first imported in large numbers by Continental Arms, in the 1950s. Later, it was handled by Dakin Gun Company and, finally, by Charles Daly, in the late 1960s.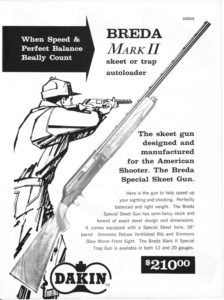 Just what made the Breda autoloader so special? As stated, it was an improved and modernized version of the Browning.
Comparing the two, it can be seen that the disassembly of the Auto-5 requires screwdrivers of at least two sizes.
Then there was the angular receiver profile of the A-5, which isn't the most attractive to some.
Too, even in its Light Twelve model, the Browning was not the lightest around. For the European market, FN made some A-5s with alloy receivers and called them "Superlights," in an attempt to recapture part of the market it was losing to Franchi and Breda, but these guns were never imported into the U.S.
In contrast, the Breda could be completely disassembled without tools (all internal parts interlocked with each other), thus eliminating the need for screws.
The receiver was attractively sculpted, rounded, and streamlined, unlike the sharp angular silhouette of the Browning. Additionally, the Breda weighed less than the Browning, and the buttstock (at least on the 20-gauge model), could be adjusted for cast, pitch, and drop. Finally, it had interchangeable Quick-Chokes.
Despite these pluses, there were several things that kept Breda from becoming popular in the U.S. The first was its availability.
Although the model was imported over the years by several different companies, it was never widely distributed, and advertising was not as widespread or aggressive as it was for Browning and other popular brands.
A second problem was the price, which was higher than most comparable shotguns. In 1959, the Breda autoloader with a ventilated rib cost $189, while a Browning A-5 Light Twelve with a vent rib was $154. Today, that may not seem like much of a difference, but, in 1959, the $35 difference could get you enough ammunition to last a couple seasons, or even procure a second, inexpensive shotgun.
Although the price was eventually lowered to make it more competitive with other autoloaders, that change came too late. The damage had been done. The smart marketing strategy is to initially price an item low and capture the market first. Breda importers had failed to do that. It is unfortunate that the Breda never met success in the U.S. Elsewhere, especially in Europe, it is still considered to be a premier autoloader, even though it is no longer in production.
The Breda autoloader, like its progenitor, the Browning A-5, left its mark with other makers and can be considered a pioneer in several areas. The Benelli receiver owes much to the Breda. That company's two-part receiver, like the one on the Super Black Eagle and Super Sport, first appeared on the Breda. The takedown of the Benelli trigger group, which is held in place by a single pin, rather than the two of most other guns, is also borrowed from Breda. (Breda's trigger group is held in place by the "L"-shaped safety).
In an era when fairly open pistol grips, such as Browning's round knob semi-pistol type, were popular, Breda chose to go the other way. Breda used a close, full pistol grip with a tight radius, something that now appears to be standard on the various Berettas, Benellis, and other modern autoloaders. Like the Breda, most makers also now offer autoloaders with buttstocks that are adjustable for cast and drop, and you would have a hard time finding one that does not have a choke tube system.
Some say the Breda is an example of an over-engineered gun; no one has attempted, in recent years, to make a gun mechanism with interlocking parts that can be disassembled without tools.
Whatever the case, in its day, it was, without a doubt, one of the finest autoloaders available. If you find one in the used gun rack, take a close look at it. You'd be hard pressed to find such fine workmanship on today's autoloading shotguns, and it still makes an outstanding upland gun.
---
NEXT STEP: Download Your Free Storm Tactical Printable Target Pack
62 Printable MOA Targets with DOT Drills - Rifle Range in YARDS
This impressive target pack from our friends at Storm Tactical contains
62 printable targets
for rifle and handgun range use. Target grids and bullseye sizes are in MOA. Ideal for long-range shooting!
Subscribe to the Gun Digest email newsletter and we'll send your print-at-home target pack right away.
Just enter your email address below.
---