Firearms have been admired and coveted, not only for their usefulness, but also for their grace and beauty. Since the beginning of the 19th century, firearms makers have adorned their guns with engraving, fine woods, or special order features that set their products apart from the rest. There is no feasible way to give the collector every possible variation of the firearms presented in this book. However, in a general way, certain special factors will significantly influence the price of a firearm.
Perhaps the most recognizable special feature collectors agree affects the price of a firearm is engraving. The artistry, beauty, and intricate nature of engraving draw all collectors toward it. But, firearms engraving is a field unto itself requiring years of experience to determine proper chronological methods and the ability to identify the engraver in question. Factory engraving generally brings more of a premium than after-market engraving.
To be able to determine factory work is a difficult task, full of pitfalls. In some cases, factories like Colt and Winchester may have records to verify original factory engraving work. Whereas other manufacturers such as Parker, Remington, or Savage may not have these records. Whenever a firearm purchase is to be made with respect to an engraved gun, it is in the collector's best interest to secure an expert opinion and/or a factory letter prior to the purchase. Engraved firearms are expensive. A mistake could cost the collector thousands of dollars; proceed with caution.
The 18th century was also a time when pistols and rifles were purchased by or given to historically important individuals. Firearms have also been an important part of significant historical events such as the Battle of the Little Bighorn or the Battle of Bull Run or some other meaningful event in our nation's history. Many of these firearms are in museums where the public can enjoy, see and appreciate them. Others are in private collections that seldom, if ever, are offered for sale. If the collector should ever encounter one of these historically important firearms, it cannot be stressed strongly enough to secure an expert determination as to authenticity. Museum curators are perhaps the best source of information for these types of firearms. As with engraved guns, historical firearms are usually expensive, and without documentation their value is questionable.
Special features and variations are also a desirable part of firearms collecting. As with engraving, special order guns can bring a considerable premium. The Colt factory has excellent records regarding its firearms and will provide the collector with a letter of authenticity. Winchester records are not as comprehensive, but rifles made prior to 1908 may have documentation. Other firearm manufacturers either do not have records or do not provide the collector with documentation. This leaves the collector in a difficult position. Special order sights, stocks, barrel lengths, calibers, and so forth must be judged on their own merits. As with other factors, an expert should be consulted prior to purchase. Sometimes this can be difficult.
Experienced collectors, researchers, and museums will generally provide the kind of information a collector needs before purchasing a special order or unique firearm. Perhaps the best advice is for the collector to take his time.
Do not be in a hurry, and do not allow yourself to be rushed into making a decision. Learn as much as possible about the firearms you are interested in collecting or shooting. Try to keep current with prices through Gun List and this publication. Go to gun shows, not just to buy or sell, but to observe and learn. It is also helpful to join a firearms club or association. These groups have older, experienced collectors who are glad to help the beginner or veteran.
All grading systems are subjective. It is our task to offer the collector and dealer a measurement that most closely reflects a general consensus on condition. The system we present seems to come closest to describing a firearm in universal terms. We strongly recommend that the reader acquaint himself with this grading system before attempting to determine the correct price for a particular firearm's condition.
Remember, in most cases condition determines price.
NIB—New in Box
This category can sometimes be misleading. It means that the firearm is in its original factory carton with all of the appropriate papers. It also means the firearm is new; that it has not been fired and has no wear. This classification brings a substantial premium for both the collector and shooter.
Excellent
Collector quality firearms in this condition are highly desirable. The firearm must be in at least 98 percent condition with respect to blue wear, stock or grip finish, and bore. The firearm must also be in 100 percent original factory condition without refinishing, repair, alterations or additions of any kind. Sights must be factory original as well. This grading classification includes both modern and antique (manufactured prior to 1898) firearms.
Very Good
Firearms in this category are also sought after both by the collector and shooter. Modern firearms must be in working order and retain approximately 92 percent original metal and wood finish. It must be 100 percent factory original, but may have some small repairs, alterations, or non-factory additions. No refinishing is permitted in this category. Antique firearms must have 80 percent original finish with no repairs.
Good
Modern firearms in this category may not be considered to be as collectible as the previous grades, but antique firearms are considered desirable. Modern firearms must retain at least 80 percent metal and wood finish, but may display evidence of old refinishing. Small repairs, alterations, or non-factory additions are sometimes encountered in this class. Factory replacement parts are permitted. The overall working condition of the firearm must be good as well as safe. The bore may exhibit wear or some corrosion, especially in antique arms. Antique firearms may be included in this category if their metal and wood finish is at least 50 percent original factory finish.
Fair
Firearms in this category should be in satisfactory working order and safe to shoot. The overall metal and wood finish on the modern firearm must be at least 30 percent and antique firearms must have at least some original finish or old re-finish remaining. Repairs, alterations, nonfactory additions, and recent refinishing would all place a firearm in this classification. However, the modern firearm must be in working condition, while the antique firearm may not function. In either case the firearm must be considered safe to fire if in a working state.
Poor
Neither collectors nor shooters are likely to exhibit much interest in firearms in this condition. Modern firearms are likely to retain little metal or wood finish. Pitting and rust will be seen in firearms in this category. Modern firearms may not be in working order and may not be safe to shoot. Repairs and refinishing would be necessary to restore the firearm to safe working order. Antique firearms will have no finish and will not function. In the case of modern firearms their principal value lies in spare parts. On the other hand, antique firearms in this condition may be used as "wall hangers" or as an example of an extremely rare variation or have some kind of historical significance.
This article appeared in the 2010 Standard Catalog of Firearms.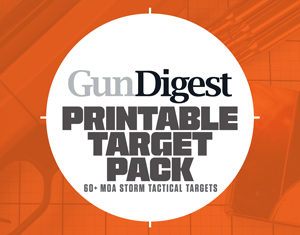 Next Step: Get your FREE Printable Target Pack
Enhance your shooting precision with our 62 MOA Targets, perfect for rifles and handguns. Crafted in collaboration with Storm Tactical for accuracy and versatility.
Subscribe to the Gun Digest email newsletter and get your downloadable target pack sent straight to your inbox. Stay updated with the latest firearms info in the industry.