Record turnout for Morphy's Jan. 31-Feb. 1 firearms auction yields $1.2 million result, including fierce bidding for a Vietnam-era marine sniper rifle.
DENVER, Pa. – A packed house and aggressive phone and Internet bidding all contributed to the $1.2 million result at Morphy's Jan. 31-Feb. 1, 2015 Firearms Auction. The 1,270 lots of guns, edged weapons and collectible ammunition boxes attracted the largest turnout ever seen at Morphy's gallery for a firearms sale, said Dan Morphy, founder and president of the south-central Pennsylvania auction house.
In today's auction marketplace, few collecting categories have the firepower of antique and vintage guns. "We handle many, many categories of antique and vintage items, and do well with all of them, but none of our divisions has grown or developed a following quite as rapidly as Firearms," Morphy said.
Prior to the event, there had been predictions that a Remington Model 40 sniper rifle of the type used by the US Marine Corps in Vietnam, would finish at the top of prices realized. Those expectations were validated. In original, unmodified condition, the rifle was hotly pursued and finished near the top of its estimate range at $26,400. All prices quoted are inclusive of a 20% buyer's premium.
Morphy Auctions' Firearms Division expert Dave Bushing observed: "The sniper rifle appealed to a whole other breed of collector. Because of the movie 'American Sniper,' a lot more people are getting into this category who may not have been gun collectors before." But veteran collectors and those who favor military arms were just as interested in the gun, which came with its case and documentation. "To my knowledge, it's only the second one the government ever released to the public," Bushing said.
Some collectors drove long distances to attend the preview and auction, which contained the largest grouping of Winchester and Marlin lever-action rifles ever presented in a Morphy gun sale – many of them high-condition examples. "Winchesters, Marlins and Colts are the Coca-Cola stock of firearms – they're the blue chips. As I see it, the future is open ended for guns of that type," Bushing said.
Winchester rifles finishing in the top 10 included a .44 caliber Model 1873 manufactured in 1892, $8,400; and a .405 caliber Model 1895 made famous by Teddy Roosevelt and nicknamed "Big Medicine," $7,800. Too, a Winchester 28-gauge Model 12 single-shot shotgun reached $5,100.
A fine 1875 Custer-era Springfield US Officers Model trap-door rifle, was described in the auction catalog as being of a type considered "one of the crown jewels in every US martial collection." Such firearms were made under special order from 1875 to 1885, and only for commissioned officers.
"That Springfield rifle had never been fired. It 'walked' into a Chicago police supply shop, and after I found out about it, I drove to Chicago to check it over and make sure it was legit," said Bushing. "It turned out to be the finest and earliest of its type in private hands. It was made during the second month of production." The gun surpassed its high estimate at Morphy's to settle at $13,200.
A Johnson Model 1941 US.30-.06 caliber semi-automatic rifle came equipped with a particularly rare bayonet and "frog." It sold within estimate for $7,800.
The event featured a rare Sharps New Model 1859, was one of 2,000 such rifles issued in 1862 to Hiram Berdan's 1st and 2nd Regiments of the US Sharpshooters. Its serial number fell within the range confirmed to have been used in the Civil War by a specially organized sniping unit documented in many articles and books. Accompanied by a Springfield Research letter, the rifle was bid to $10,800.
Antique and vintage handguns were led by two Colt productions: a cased and exceptionally well-documented Colt "Banker's Special" that had been presented on Feb. 22, 1932 to then-Governor Joseph B. Ely of Massachusetts; and a never-fired Model 1877 Lightning – also known as a "Shop Keeper" or "Sheriff's Model." Each of the guns realized $8,400.
Commenting on the latter gun, Bushing said he believes the price paid for it at Morphy's was "a world auction record for a blue Colt Lightning not associated with a famous person," adding, "It was a 'plain Jane' gun that was shipped to Denver in 1886, when that part of the country was still the wild west. It sat in a drawer for a hundred years, which explains its remarkable condition."
Bushing said the current market for antique, vintage and collectible guns is "on fire…Guns generate more interest and more questions than anything else, both online and in person. It's a category that doesn't exclude anyone. In the gun world, there's something for every budget."
"Sometimes I'm asked, 'What's the fascination with guns?'" Bushing continued. "I always reply that they're associated with war, and American history is defined by wars, going all the way back. Even people who are opposed to guns can still appreciate their history and artistry. When I show people the beautiful workmanship, how even the insides of some guns are engraved like a Swiss watch, they understand. Guns are regarded as heirlooms. People may go through their house and get rid of clothing and furniture, but they'll keep their guns to pass on to the next generation. Many collectors look for guns that they remember their fathers or grandfathers had."
Consignments are currently being accepted for Morphy's May 23, 2015 Firearms Auction. To contact Morphy's, call 717-335-3435 or email serena@morphyauctions.com.
Visit Morphy Auctions online at www.morphyauctions.com.
Related Video: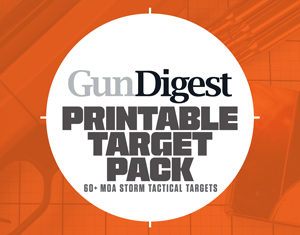 Next Step: Get your FREE Printable Target Pack
Enhance your shooting precision with our 62 MOA Targets, perfect for rifles and handguns. Crafted in collaboration with Storm Tactical for accuracy and versatility.
Subscribe to the Gun Digest email newsletter and get your downloadable target pack sent straight to your inbox. Stay updated with the latest firearms info in the industry.