Immediately after the Civil War, in which bloody battles raged within eyeshot of the nation's capitol, and previously quiet city streets ran red, America became a nation of concealed-carriers. Some gunmakers, such as Smith & Wesson, rode this wave of gun consciousness to enduring fame. Others did not.
Consider Forehand & Wadsworth.
The Stately American
Largely forgotten today, Forehand & Wadsworth was for a time one of the nation's best-known manufacturers of small, concealable revolvers. In a market flooded with inexpensive pocket guns such as Avenger, Tramp's Terror, Bang Up and Christian Protector, the guns of Forehand & Wadsworth managed to retain some respectability.
Some of that reputation undoubtedly derived from the stateliness of the brand name, which was faintly British and unmistakably confidence-building. I can hear it now: "Stand back, vile ruffian! I am protected by Forehand & Wadsworth!" Exit ruffian, stage left.
However, Forehand & Wadsworth was a true-blue American enterprise presided over by Sullivan Forehand, a bookkeeper with a knack for numbers, and Henry C. Wadsworth, a former officer in the Union army. These ambitious entrepreneurs rose to prominence in the firearms industry of the 1870s in a time-honored manner: They married the boss's daughters. And in that case, the boss was Ethan Allen, one of America's most visible arms makers.
Allen is not to be confused with the strong-willed Revolutionary War hero of the same name who compelled the British to surrender Fort Ticonderoga. This Ethan Allen was a pioneering gunmaker who opened his first shop in Grafton, Conn., in 1832. Allen's guns were held in high regard, and about 1842, he entered a partnership with Charles Thurber. Their firm of Allen & Thurber relocated to the burgeoning metal-working city of Worcester, Mass., in 1847.
Thurber retired in 1856, and the company became known as Allen & Wheelock when Allen's brother-in-law, T.P. Wheelock, joined what would become almost a dynasty of American gunmaking.
Genesis of a Company
Enter Forehand. Hired as an accountant at Allen & Wheelock in 1856 after a stint at Worcester's Pratt & Inman steelworks, Forehand soon lost his heart to Allen's daughter Nettie, and they were married in 1859. Wadsworth had already married another of Allen's daughters, and when Wheelock left Allen & Wheelock in 1863, it seemed like a good time to take another look at the situation.
Allen renamed the company Ethan Allen & Co., the "& Co." referring to his sons-in-law Forehand and Wadsworth, who became his active partners. When Allen died in January 1871, the firm was renamed Forehand & Wadsworth in honor of the two new principals.
The first guns bearing the Forehand & Wadsworth name understandably resembled the guns of the former Ethan Allen & Co. They included a .22-caliber single-shot derringer, a .41-caliber version of same and an elegant single-action .22-caliber sidehammer revolver.
The sidehammer incorporated what would become an F&W trademark of sorts; an oddly pinched-up lug at the rear of the topstrap. This lug, into which was milled the rear sight notch, became more apparent on the F&W Center Hammer Revolver, which bore the names Terror, Bulldozer or Swamp Angel. (The last was named after an enormous Union cannon that did its best to level Charleston, S.C., in 1863 and then exploded.)
In the early 1870s the Center Hammer morphed into what would become the flagship of the F&W line: the rimfire .32-caliber or .38-caliber Forehand & Wadsworth Double Action.
Some modern collectors lump the F&W Double Action — and almost all F&W handguns — into the category of "suicide specials," but I'm not one of them. My F&W Double Action, which my grandfather carried regularly in his days as a banker in the heart of Dillinger country, still shoots fine, though its anemic .32 rimfire round won't strike terror into many hearts.
I've always thought that F&W's revolvers were a cut above those offered by most of the company's contemporaries, though admittedly not up to the standard set by Colt and Smith & Wesson.
Being no dummies, Forehand and Wadsworth also pursued the military market, no doubt inspired by the lucrative government procurements that became routine during the Civil War. This resulted in what enthusiasts consider the Holy Grail of F&W collecting: the .44-caliber Old Model Army and New Model Army.
These large, solid-frame single-action revolvers are scarce; fewer than 2,000 were made. By all accounts, they were serviceable. Unfortunately, however, with their 1873 patent date, they encountered stiff competition from the 1873 Colt Single Action Army .45 and, later, the Smith & Wesson No. 3.
By 1880, under Forehand's leadership, Forehand & Wadsworth was offering several single- and double-barreled shotguns in addition to its revolvers. The double, known as the Breech-Loading Shot Gun, was an attractive rabbit-ear model available in 12- and 10-gauge. With its single side-mounted hammer, the Single Barrel Breech-Loading Shot Gun resembled in its general lines the Morse percussion rifle. Forehand and Wadsworth must have been satisfied enough with the gun to beat the competition over the head with it.
"Several have attempted to imitate it," the company's 1880 catalog said, "but they make miserable failures."
And F&W's New Hammerless Single Barrel Breech Loading Shot Gun was a surprisingly streamlined top-lever 12-gauge available with a 30-, 32- or 36-inch barrel and automatic extractors.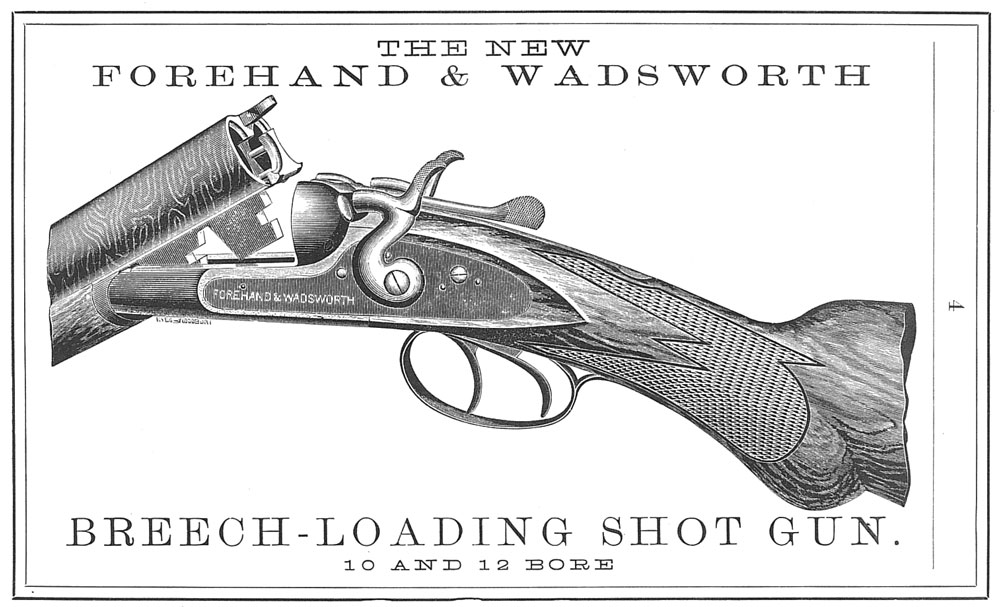 But Forehand & Wadsworth was built on revolvers, and revolvers remained its bread and butter. As did almost everyone, F&W relentlessly knocked off Smith & Wesson's .32-caliber and .38-caliber double-action top-break revolvers in hammer and hammerless versions. No F&W production records from that era survive, but judging from the number of its S&W clones today, the company must have sold a boatload or two of them.
As the company closed out the decade, it also introduced a nice copy of Webley's snub-nosed Bull Dog revolver. This sturdy little gun was available in a seven-shot .32 version, a six-shot .38 and a six-shot .44 that chambered the stubby .44 Webley. F&W was candid in its assessment of its copy of the Webley: "It is the leading double action of the cheaper grades."
Forehand, who might be described today as a workaholic, ran Forehand & Wadsworth pretty much as a one-man show. Under his steady hand, the company flourished. Wadsworth remained in the shadows until retiring in 1883. Not much is known of his subsequent activities except that he died in Brazil before 1898.
F&W revolvers are not always marked as such. F&W catered to retailers, jobbers (wholesalers) and catalogers, who often stenciled the products with their own idiosyncratic names or had F&W do it for them. Some include Indian, Indian Bull, Boston Bull Dog, Terrior (the latter probably a misstamp for Terror, or Terrier, or both).
In 1890, believing his name had achieved prominence, Forehand renamed his company Forehand Arms Co. That's a useful bit of trivia because it helps assign general dates to the Forehand guns, and it means that any F&W product labeled "Forehand & Wadsworth" was built well before 1898 and can be considered an antique, free of federal transfer restrictions.
Retirement was not in Forehand's vocabulary. The end came for him at 5:40 p.m., Sept. 7, 1898. After a day of fishing in nearby Rutland, Mass., he complained to his coachman of chest pains, which were dismissed as another of Forehand's chronic attacks of indigestion. Events proved otherwise, however, and he died barely an hour later, surrounded by his family, at age 66. His funeral was held Sept. 11 at his home at 5 Benefit St. in Worcester. He was buried in that city's Rural Cemetery.
Forehand's sons, Frederick and Charles E,. ran Forehand Arms Co. until 1902, when it was sold to a competitor, Hopkins & Allen — no relation to Ethan Allen. By then, the products of the Forehand Arms Co. had become unremarkable little break-action revolvers. The collector value of guns marked "Forehand Arms Co." is considered less than that of those bearing the full F&W name, though no one is likely to sell off his Colt Paterson collection to invest in any Forehand-marked guns.
One final note: I am indebted to the folks at the Worcester, Mass., Public Library who went out of their way to unearth the original Sept. 8, 1898, obituary of Forehand, which recounts much of the story of his life.
During a time when concealed carry is such a hot topic, Foreman and Wadsworth deserve to be remembered.
This article appeared in the December 3, 2004 issue of Gun List (now Gun Digest the Magazine).
---
NEXT STEP: Download Your Free Storm Tactical Printable Target Pack
62 Printable MOA Targets with DOT Drills - Rifle Range in YARDS
This impressive target pack from our friends at Storm Tactical contains
62 printable targets
for rifle and handgun range use. Target grids and bullseye sizes are in MOA. Ideal for long-range shooting!
Subscribe to the Gun Digest email newsletter and we'll send your print-at-home target pack right away.
Just enter your email address below.
---