Looking to comfortably carry an iron up-top without any concern for concealment? A chest holster may be just what you need.
Chest holsters have become more popular in recent years, especially for people who want to carry a gun outdoors but may have their waist occupied by a pack. In other words, the niche is for carrying a handgun when you can't wear a belt holster.
Some people have taken to wearing them regardless of whether they're carrying a pack or not, and the holster as a class has therefore earned its place in the market.
So, let's learn a little more about chest holsters by looking at what kinds there are, if you should get one, how they compare to other types of open carry holsters and finally a few good models to consider for purchase.
Chest Holsters Are For Open Carry When Belt Carry Isn't An Option
Chest holsters were developed for hikers and backcountry hunters who wanted to carry an easily accessible handgun in the backcountry when their waist was otherwise occupied by the hip belt of a pack.
It isn't the only option for carrying a gun in the woods, but it is one of the better ones.
But is there a reason you might not want to carry in a chest holster? How do they compare to other open carry holster types such as shoulder holsters or drop-leg holsters?
Drop leg holsters were designed to do something similar, namely to get the holster off the belt. However, what a lot of people don't know is that they're supposed to ride high on the leg. The idea is actually to have the gun in nearly the same location as with a standard belt holster.
Drop leg holsters were originally developed to get a little more clearance for a plate carrier or soft armor vest, but to keep the duty gun in about the same location. The result is that drop leg holsters are also compatible with backpacks, as most types will hang the pistol low enough to clear a pack's hip belt as well.
Shoulder holsters can likewise work by suspending the gun off the shoulder, so they are a potential open carry method as well, but they come with their own set of problems. They also don't necessarily mesh well with a pack's shoulder straps.
Another thing to keep in mind is that if your pack has a hip belt with MOLLE/PALS webbing (the "battle belt" is actually part of a modular system including a pack and shoulder straps) you can mount an OWB holster to the webbing itself.
However, every type of holster comes with downsides.
The best way to use a shoulder holster is to let someone else buy it so it can make them miserable while you do other things. Many buy them, but few use them for very long.
While a very small number of people use them in the outdoors, the best use-case is for someone who's seated a lot. Police officers who are frequently sedentary as part of investigative work and long-haul truckers will get more out of one than anyone else.
Drop leg holsters and MOLLE holsters mounted to belt webbing stick out from the body. If you're backcountry hunting and having to make your way through thick brush, that's one more thing snagging and getting tugged at.
Chest holsters are notorious for not playing well with binocular harnesses, so that's something to bear in mind as well. They also require a fair bit of adjustment to get the fit just right, but that's common with almost any holster.
Types Of Chest Holsters
Chest holsters can broadly be broken down into four categories, specifically by holster material.
Nylon, leather, Kydex and hybrid. All feature adjustable straps, most of which are nylon webbing but occasionally leather, in a three-point harness that loops under both arms and over one shoulder.
Nylon chest holsters are essentially nylon cloth scabbards with a thumb strap. These are usually generically sized for large semi-autos and revolvers, but they are usually cheaply made and should generally be avoided.
Leather chest holsters typically put an open-top holster on a three-point harness. They're usually offered for large-frame revolvers and semi-autos. Some also include a thumb snap or flap for retention.
Hybrid chest holsters, like any hybrid holster, use a soft backing material as the base with a hard molded polymer retention shell. The straps attach to the base, and the shell goes on top.
Kydex chest holsters use a Kydex holster shell with nylon web straps attached to the wings of the shell.
In all cases, chest holsters are typically made and offered for large-frame revolvers and semi-autos, as they are the types most frequently carried in the woods. 1911s, large-frame Glocks (especially 10mm variants) and large revolvers are the most common handgun fits that chest holsters are made for, but they can also be ordered custom to accommodate nearly any handgun out there.
The 5 Best Chest Holsters
Kenai Chest Holster
Probably the best to acquire of all is the Kenai Chest Holster by Gunfighters Inc. The Kenai uses a custom-molded Kydex shell with a three-point adjustable web strap harness.
It's offered in multiple colors/patterns and for dozens of makes and models of handguns (including multiple revolver options). When ordering, there are options to accommodate a scope, light or red dot sight as well. It has a slim profile that should get along with most bino harnesses too.
MSRP: Starts at $159 // gunfightersinc.com
Diamond D Guides' Choice Leather Chest Holster
If you prefer your fightin' iron to ride in hide, Diamond D Leather offers the Guides' Choice Leather Chest Holster. As it happens, the Guides' Choice chest holster has been around for years and has a reputation as being one of the best you can buy.
Handmade in Alaska for outdoorsmen in one of the roughest parts of the world, it has been field-tested more than any other entrant on this list. It's available for more than 100 makes and models of pistol (including semi-autos and revolvers) with several options including a retention flap, thumb strap or optional ammo/mag pouches.
It's mostly designed for large semi-autos and large-frame revolvers, and while it's compatible with some red dot sights, it isn't compatible with scoped revolvers.
MSRP: Starts at $185 // diamonddcustomleather.com
Alien Gear Holsters Cloak Chest Holster
Alien Gear Holsters is arguably the largest purveyor of the hybrid holster design ethos, offering their Cloak Chest Holster—named for their Cloak series of molded Boltaron holster shells—on a multilayer base with adjustable straps.
The Cloak Chest Holster is made to accommodate a huge number of firearm makes and models, ranging all the way from micro-compacts up to the Desert Eagle. It can also be ordered to be compatible with lights, lasers and optics.
The base has a backing layer of wicking neoprene and adjustable web straps.
MSRP: $129.88 // aliengearholsters.com
Hosking Holsters Chest Holster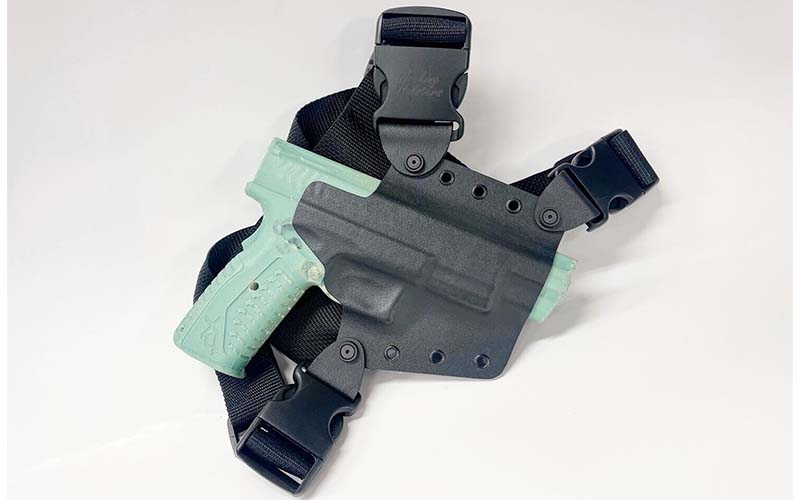 Hosking Holsters, like a lot of holster companies, is a Kydex holster operation making its own molded polymer holsters. They offer a chest holster too, using an OWB holster shell with a three-point web harness attached.
They offer a wide selection of firearms, from micro semi-autos and revolvers up to N-frame revolvers and large-frame semi-autos. They also have several configurable options for lights, lasers, red dot sights and backstraps for additional retention. As a bonus, this is one of the most affordable yet decent chest holster options on the market.
MSRP: $95 // hoskingholsters.com
El Paso Saddlery Tanker Holster
Some people find chest holsters to be a little awkward, especially if you also wear binos in the field. The El Paso Saddlery Tanker Holster provides a slightly different design, inspired by the holsters created for tank crews in World War II. The holster sits a little lower, with the grip of the gun just under the sternum.
A tanker solves the bino problem while keeping the gun on the front of the body. Everything a chest holster does, a tanker does, the gun just sits a little lower.
El Paso Saddlery makes a relatively faithful clone of the M3 holster, made of leather and available for dozens of firearms including large-frame semi-autos and revolvers with barrel lengths up to 8 ⅜ inches.
A thumb strap and tie-down strap (which attaches to the belt) are included along with an adjustable shoulder strap.
El Paso Saddlery is one of the oldest names in gunleather, but the company is still making high-quality and practical holsters for the armed citizen to this day.
MSRP: Starts at $155 // epsaddlery.com
---
More Up-Top Carry Options:
---
NEXT STEP: Download Your Free Storm Tactical Printable Target Pack
62 Printable MOA Targets with DOT Drills - Rifle Range in YARDS
This impressive target pack from our friends at Storm Tactical contains
62 printable targets
for rifle and handgun range use. Target grids and bullseye sizes are in MOA. Ideal for long-range shooting!
Subscribe to the Gun Digest email newsletter and we'll send your print-at-home target pack right away.
Just enter your email address below.
---