Bouncing back from bankruptcy, Big Green is still turning out top guns. Here are four Remington handguns worth drawing a bead on.
What are the new Remington handguns for 2019:
Remington is still alive and kicking.
Considered for the better part of two centuries the standard in firearms, the New York-based company is rebounding from its 2018 bankruptcy. The same holds true for its sister brands, including DPMS, Marlin, Bushmaster and Dakota Arms.
Jay Pinsky had the opportunity (he said privilege) of spending 3 days with the Remington staff at one of their ammunition facilities in Lonoke, Ark. While there, the men and women of the company proudly showcased what's next for the iconic gunmaker. And it's nothing short of fantastic.
Here, brand new for 2019, are four of the hot new handguns Remington has in store for shooters and shows Big Green is still on its game.
Remington R1 1911 Limited Tomasie Custom
Travis Tomasie and Remington teamed up to create a custom 1911, chambered in the steel-popping .40 S&W. The 5-inch handgun features a ramped, match-grade bull barrel, ported slide, LPA fully adjustable match sights, EGW competition hammer, extended beavertail grip safety, adjustable skeletonized trigger, PVD DLC finish, an oversized competition magazine well and VZ G10 grips. MSRP: $1,650
Remington RM380 Executive
The pint-sized RM380 gets a suit and tie in an executive trim level. The ultra-small CCW handgun features Macassar laminated grips, stainless and nickel-coated components, a double-action trigger, low-profile slide stop and ambidextrous magazine release. MSRP: $405
More Handgun Information:
---
Remington RM380 Light Blue Stainless
The RM380 pistol also gets colorful with a new robin's egg blue Cerekote finish. The pistol has stainless and nickel-coated components, a double-action trigger, low-profile slide stop and ambidextrous magazine release. MSRP: $415
Remington 700 CP (Chassis Pistol)
The Remington Model 700 now comes in a pistol version. The Model 700 action is matched to a Remington Precision chassis with a QD sling-plate adapter, M-Lok adaptable free-float tube, full Picatinny rail and a threaded barrel. The pistols come in three different versions: The .300 Blackout has a 10.5-inch barrel, the .308 Winchester has a 12.5-inch barrel, and the .223 Remington has a 10.5-inch barrel. MSRP: $1,020
Editor's Note: This article originally appeared in the January 2019 issue of Gun Digest the Magazine.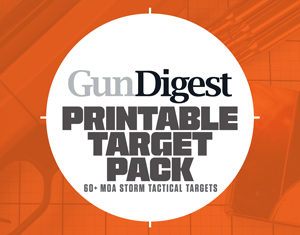 Next Step: Get your FREE Printable Target Pack
Enhance your shooting precision with our 62 MOA Targets, perfect for rifles and handguns. Crafted in collaboration with Storm Tactical for accuracy and versatility.
Subscribe to the Gun Digest email newsletter and get your downloadable target pack sent straight to your inbox. Stay updated with the latest firearms info in the industry.