Beretta's new 92X RDO pistol brings the classic 90 Series Beretta into modernity with better ergonomics, a new trigger and an optics-ready slide.


Beretta USA is continuing their trend of modernizing their classic 90 Series pistols with features that are becoming the standard on premium combat-style handguns. Following the release of their newest M9 generation, the M9A4, they are now giving the 92 the same treatment. Upgraded with a new grip, trigger and optics-ready slide, the 92X RDO is an attractive option for those who want modern features without giving up the old DA/SA action. And unlike the M9A4, the 92X does come in black.
Many of the same upgrades that graced the new M9 make an appearance on the 92X RDO as well. Both new pistols feature an optics-cut slide, 3-slot Picatinny rail and forward slide serrations. They also both have short reset triggers, Vertec-style thin grips and a beveled magazine well. They are also both compatible with Beretta's new 18-round mags. While the M9A4's slide is the decocker-only variant, the 92X RDO slide can be swapped between decocker-only and safety/decocker configurations.
Like the M9A4, the 92X RDO's optics-cut slide comes with blanking covers that can be replaced with one of five mounting plate options. The available footprint patterns from Beretta include Aimpoint, Trijicon, Burris/Vortex/Docter, Leupold and C-More.
The 92X RDO most significantly differs from the M9A4 not because of what it has, but what it doesn't have—namely a threaded barrel and FDE finish. Those must be some expensive features because with an MSRP of $699 the 92X RDO is $400 cheaper than the new M9. For those who are in the market for an optics-ready, full-size combat pistol, you can't go wrong with the newest generation of Beretta 92.
For more, please visit beretta.com.
---
More Optics Ready Pistols: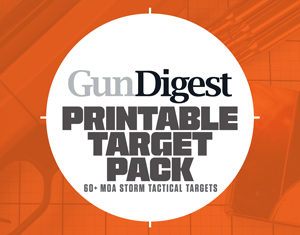 Next Step: Get your FREE Printable Target Pack
Enhance your shooting precision with our 62 MOA Targets, perfect for rifles and handguns. Crafted in collaboration with Storm Tactical for accuracy and versatility.
Subscribe to the Gun Digest email newsletter and get your downloadable target pack sent straight to your inbox. Stay updated with the latest firearms info in the industry.