[imagebrowser id=494]
---
Kimber has added five new Micro 9 pistol models for 2017 – all with the same functionality and specs of the originals, but catering to the tastes and preferences of individual shooters.
The 1911 holds a special place in American shooters' hearts. The time-tested design has served honorably in numerous American military conflicts. It has won its share of shooting competitions. And it has been an all-around faithful companion to marksmen of all stripes.
Given this pedigree, it is no surprise the John M. Browning-designed pistol has become a trusted choice of many concealed carry practitioners. And Kimber has been at the forefront of providing 1911s tailored to slip seamlessly into the belt line and provide the dependability upon which the pistols have built their name.
One of the most recent forays the New York gunmaker has made in concealable, self-defense models of the pistol is its Micro 9 line. The sub-compact, aluminum-framed 9mm is a miniaturized 1911 that hit the market a little over a year ago, giving shooters a quality-made clandestine option.
The company must have struck the right nerve with the greater shooting world, because Kimber has been quick to follow up with an expansion of its initial six offerings. Kimber has added five new variants of the Micro 9 for 2017. And while they all have the same functionality and specs of the original pistols, as the gallery above attests, they are definitely designed to cater to the individual shooter's tastes.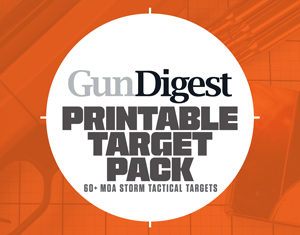 🎯 Exclusive Offer: Get Your FREE Printable Target Pack!
Dive into precision shooting with our 62 Exclusive MOA Targets featuring DOT Drills. Perfect for both rifle and handgun enthusiasts, these targets are designed for accuracy, especially for long-range shots.
Why You'll Love This Pack:
🎯 Expertly Crafted: Brought to you in partnership with the renowned Storm Tactical.
🎯 Versatile Use: Suitable for both rifle and handgun range sessions.
🎯 Precision Design: Target grids and bullseyes meticulously measured in MOA for the best shooting experience.
Bonus: By grabbing this offer, you'll also be subscribing to the Gun Digest email newsletter, keeping you updated with the latest in the world of firearms.
Don't miss out!
Simply enter your email below, and we'll send your downloadable target pack straight to your inbox.