Dan Wesson and CZ have come together to bring the DWX pistol, a 9mm competition-style handgun that blends the best of each company's designs.
First teased at SHOT Show 2019, the DWX is finally here. A collaborative effort between Dan Wesson and CZ, the DWX takes the best elements of each respective company's designs and combines them into one pistol. This means that the handgun is primarily derived from the CZ-75 but has 1911 elements sprinkled throughout as well.
The DWX is a 9mm competition-style handgun that feeds from 19-round CZ P-09/P-10 magazines. The frame is primarily CZ-75 inspired, lending it the same excellent ergonomics and compatibility with widely available CZ-75 grips. The included red aluminum grips are low-profile, however, so an upgrade may not even be necessary. For added grip stability, the front strap of the frame is textured too.
Other CZ-style features on the DWX include the takedown process and the bushing-less, locked-breech barrel system that's similar to a CZ P-09/P-10.
As for the Dan Wesson 1911-style features, the most significant is the single-action trigger. The trigger is K-style and features a flat, textured face. The DWX also features an ambidextrous manual safety, a 1913 Picatinny rail and a match-grade 4.95-inch barrel.
The CZ and 1911 features combine the most when it comes to the DWX's sights. It has a 1911-style dovetail front sight (it ships with a fiber optic front sight installed) and CZ Shadow 2-style rear sights (click-adjustable HAJO). Many aftermarket CZ and 1911 components, including sights, will fit the DWX as well.
The Dan Wesson DWX pistol is available now and has an MSRP of $2,099.
For more info, please visit danwessonfirearms.com.
---
More On CZ-75s And Their Clones: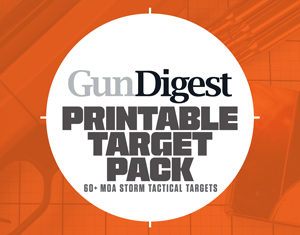 Next Step: Get your FREE Printable Target Pack
Enhance your shooting precision with our 62 MOA Targets, perfect for rifles and handguns. Crafted in collaboration with Storm Tactical for accuracy and versatility.
Subscribe to the Gun Digest email newsletter and get your downloadable target pack sent straight to your inbox. Stay updated with the latest firearms info in the industry.