Common handguns aren't always viable for people with smaller hands or a weaker grip, but the new Walther PDP F-Series was designed to be usable by nearly anyone.
Walther released the PDP (Personal Defense Pistol) in early 2021 to replace the PPQ, and it offered several areas of improvement over the older handgun. Redesigned, aggressive grip texturing was added, along with enhanced slide serrations, ambidextrous controls and an optics-ready slide. The standard PDP is available with a few different barrel lengths and frame sizes, but Walther has just announced the line's expansion with the PDP F-Series.
The tagline of the PDP F-Series is "engineered for women's hands", and several changes have been made to make the pistol more usable by individuals with smaller hands and weaker grip strength. Like the original PDP, the F-Series is chambered for 9mm and available with a 3.5- or 4-inch barrel. Unlike the standard models, however, the F-Series is not available with 4.5- or 5-inch barrels or 18-round capacity frames. Designed primarily for concealed carry, the PDP F-Series is currently restricted to two compact-sized options. This is partly due to the redesigned grip frame which was made small enough to be comfortably gripped by a woman's hands while retaining the impressive 15+1 capacity of 9mm. Other standard PDP features like the aggressive texturing and optics-ready slide are still present on the F-Series guns as well.
The other design changes incorporated into the F-Series to accommodate female shooters include the trigger and the strength required to rack the slide. Walther is calling the new version of the Performance Duty Trigger the Reduced Reach Trigger, and as the name implies it was engineered to enable shooters with smaller hands to still achieve smooth, consistent and fast trigger pulls. The force required to rack the slide has also been reduced by about 20 percent. Combined with the protruding front and rear slide serrations, charging the pistol should be possible, if not easy, for almost anyone.
Both the 3.5- and 4-inch barrel models of the PDP F-Series should be available soon, and both will be available in "compliant" 10-round capacity versions as well. MSRP for all models is $699.
For more information, please visit waltherarms.com.
---
More Info For The Armed Woman: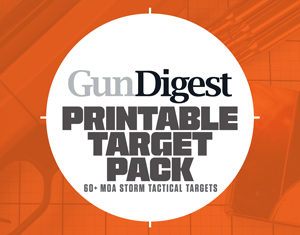 Next Step: Get your FREE Printable Target Pack
Enhance your shooting precision with our 62 MOA Targets, perfect for rifles and handguns. Crafted in collaboration with Storm Tactical for accuracy and versatility.
Subscribe to the Gun Digest email newsletter and get your downloadable target pack sent straight to your inbox. Stay updated with the latest firearms info in the industry.