Springfield Armory has announced its new Springfield XD-E, the manufacturer's first hammer-fired gun in the popular XD line.
Springfield Armory has continued to update and improve upon its respected XD series of pistols ever since the first XD was introduced back in 2002. The Illinois-based manufacturer has added several different lines over the years – the larger XD-M, the carry-oriented XD-S and, more recently, the XD Mod. 2 series. Now it has debuted the new Springfield XD-E, a 9mm single-stack pistol intended for the carry market, at the 2017 NRA Annual Meetings and Exhibits.
The new XD-E, while still a member of the XD family in name and appearance, is quite different from Springfield's previous XD models. Most noticeably, it's not a striker-fired gun, which can clearly be seen in the external hammer at the rear. The pistol, in fact, uses a double-action/single-action (DA/SA) trigger. At this time, pull weight is not listed.
Due to its external hammer, the gun is also able to use a slide that's easier to rack, which the manufacturer has dubbed the L.E.S, or Low-Effort Slide. According to Springfield, the slide requires 27 percent less effort to manipulate, which will be welcome news to anyone who has difficulty pulling back the slide on standard striker-fired guns.
Another new feature, and one that has been absent on all previous XD pistols, is the addition of an ambidextrous, frame-mounted safety. This external safety also acts as a decocker, which affords the user quite a bit of choice when it comes to preferred carry condition. It can be carried cocked and locked with the safety on, or it can be toted as more of a traditional DA/SA pistol with the hammer down and with or without the external safety engaged.
The Springfield XD-E comes equipped with three different magazine options: an eight-round magazine with a flat base, an eight-round magazine with a Grip X-Tension for improved grip on the gun and a nine-round magazine with a Magazine X-Tension collar. The flat base eight-rounder offers improved concealability, while the nine-round mag essentially adds length to the frame for a better grip and an extra round. The eight-round magazine with Grip X-Tension is somewhat of a compromise between the two.
The new Springfield XD-E carries over the Mod. 2's Grip-Zone, an ergonomic texturing concept that is comfortable but firm for secure purchase. Having shot one of the subcompact XD Mod. 2 pistols, I can say that it is nice blend of textures, and one that offers smooth surfaces where comfort is key and plenty of grip where needed.
Another familiar feature is the fiber optic front sight. The rear sight is a low-profile, combat-style design. And as with earlier XD models, this one uses a hammer-forged steel barrel with a Melonite finish; barrel length on the Springfield XD-E is 3.3 inches, perfectly suited for carry. It's also pretty comparable in weight to some of Springfield's other concealed carry pistols at 25 ounces.
The new Springfield XD-E will be available for $519. For more information, check out the specs below.
Specifications:
Springfield XD-E
Type: Semi-auto, double action/single action (DA/SA)
Caliber: 9mm
Barrel: 3.3 in., hammer-forged, steel, Melonite finish
Overall Length: 6.75 in.
Height: 5 in. with flush magazine, 6 in. with Magazine X-Tension
Width: 1 in.
Weight: 25 oz.
Frame: Black polymer, thumb safety with decocker functionality
Slide: L.E.S. (Low-Effort Slide), forged steel, Melonite finish
Capacity: 8 or 9 rounds
MSRP: $519
Manufacturer: Springfield Armory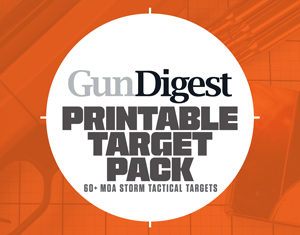 Next Step: Get your FREE Printable Target Pack
Enhance your shooting precision with our 62 MOA Targets, perfect for rifles and handguns. Crafted in collaboration with Storm Tactical for accuracy and versatility.
Subscribe to the Gun Digest email newsletter and get your downloadable target pack sent straight to your inbox. Stay updated with the latest firearms info in the industry.