Ruger is offering 10/22 Takedown shooters an intriguing upgrade with its Silent-SR ISB. The integrally suppressed barrel not only offers excellent noise reduction but also a more balanced firearm.
Ruger is a bit of an oddity when it comes to aftermarket upgrades.
While much of the market has embraced the universal, spurred on by the huge demand of AR-style rifles, the New Hampshire gunmaker has consistently focused on providing proprietary options. It makes good business sense, bringing Ruger aficionados back to the source in their quest to piece together the perfect firearm. And much to the company's credit, its seemingly ceaseless innovation gives its fans few reasons to stray.
Case in point, Ruger's newest goody for its Takedown series of 10/22 rifles. The company is now offering what it's dubbed the Silent-SR ISB, an integrally suppressed system that promises to deliver a more balanced shooting platform, not to mention a few other assets.
Unveiled Friday at the National Rifle Association meeting in Atlanta, the 16.12-inch suppressed barrel functions on any 10/22 Takedown or 22 Charger Takedown Pistol and is a follow-up to the company's initial suppressor offering a year ago. But unlike its muzzle-mounted brethren, the integral suppressor system keeps the gun's center of gravity closer to the receiver, thus making it a more maneuverable firearm.
At the same tick, the Silent-SR ISB offers shooters excellent sound pressure level reduction, knocking the report of the rifle down to 113.2 dB when shooting standard velocity ammunition. To boot, the 2.6-pound barrel is engineered to facilitate a quick and simple cleaning procedure — a feature not often associated with integrally suppressed systems.
A single 5/32-inch hex screw retains the front cap, spacer and baffles in the sleeve and disassembles with an included wrench. The six 14-4 stainless steel baffles then intuitively reassemble in reverse order and completely seal the system, to keep fouling away from the serialized sleeve.
While not a functionality, the Silent-SR ISB also gives the 10/22 a unique look, like a black Cerakoted over/under shotgun.
As far as upgrades go, particularly for rimfires, the Silent-SR ISB is a bit on the spendy side. The system itself has an MSRP of $629, nearly $200 more than Ruger's muzzle-mounted Silent-SR. On top of this, there is the usual NFA paperwork and $200 tax shooters will have to work into their budgets.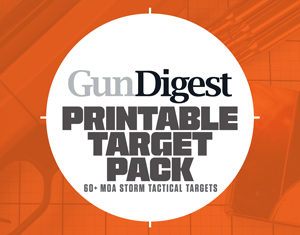 Next Step: Get your FREE Printable Target Pack
Enhance your shooting precision with our 62 MOA Targets, perfect for rifles and handguns. Crafted in collaboration with Storm Tactical for accuracy and versatility.
Subscribe to the Gun Digest email newsletter and get your downloadable target pack sent straight to your inbox. Stay updated with the latest firearms info in the industry.