The new Springfield Armory EMP 4 provides fans of Browning's classic design with a dedicated and upgraded 9mm 1911 well suited for carry.
As a writer and instructor, I'm often asked to suggest a quality concealed carry pistol. There are so many exceptionally good pistols and revolvers today that it's more difficult to find a bad carry gun than a good one. Still, the concealed carry market is the hottest segment in the firearms industry, so manufacturers are constantly striving to upgrade offerings to make them more desirable. While modern polymer frame striker-fired pistols own the lion's share of the market, there still are many who prefer the old school 1911-style pistols.
Adapted for military service 105 years ago, the 1911 is still a viable choice for self defense. It's earned a reputation for ruggedness and reliability, and no one in their right mind would argue with over 100 years of success. Modern metallurgy and engineering have improved the already-proven design, and today's 1911s are even better than the originals.
Springfield Armory was formed to manufacture the M1A rifle in 1974. A few years later it began producing the 1911 pistol in service grade. In 2001, the company introduced the highly successful XD line of pistols produced in Croatia, but it's still one of the most recognizable 1911 producers. In 2001, Springfield introduced the Range Officer (RO), a 1911 that came from the factory with competition upgrades. With an excellent BoMar-style rear sight, an ambidextrous safety and extended grip safety, the Range Officer was a basic platform for the competitive shooter and saw considerable success.
The original 9mm 1911 was the Colt Commander, with a 4.25-inch barrel and an aluminum frame. It was more concealable and manageable for service and concealed carry. Recently, Springfield Armory introduced the 9mm EMP, reviewed in these pages. While the 9mm round was easily adapted to 1911s, the magazines always used either a spacer in the rear or a crimped area up front to keep the shorter 9mm round from floating around in standard 1911 magazines. The EMP series of pistols are redesigned in the grip area to better fit shorter 9mm and .40 S&W rounds, with the added bonus of a smaller and more compact grip.
At first glance, you don't see the difference, but go from the standard size to the EMP grip, and it's noticeable. Designed primarily as a self defense, concealable pistol, the EMP is definitely more concealable. While the grip is .125 inch shorter from front to back, it's also .200 inch thinner than the standard 9mm Range Officer grip due to thinner grip panels. The result is a gun that's much more comfortable for those with smaller hands. Also, the thumb and grip safeties are more smoothly contoured than the Range Officer. The original EMP was introduced at the 2016 SHOT Show with a 3-inch bull barrel and now, there's a 4-inch version, the subject of this review. Weighing in at 31 ounces, the EMP 3 features a Novak-style rear sight with two white dots and a high-visibility front sight that comes with both red and green inserts. Both sights are drift adjustable for windage. While the slide is matte finished stainless steel, the frame is matte finished black aluminum alloy. There are cocking serrations on the rear of the slide, and in 9mm, racking the slide is easily accomplished. The hammer and trigger are skeletonized, and there's no backlash adjustment on the trigger, a reasonable choice since it's designed as a defensive pistol. The front strap and flat mainspring housing are nicely checkered, offering good grip without being uncomfortable. The beavertail grip safety has an enhanced bump at the bottom. Grip panels are checkered walnut with the familiar crossed cannons Springfield Armory logo. The safety is ambidextrous, and the 10-round magazines have a polymer base cap.
The EMP 4 uses a full-length one-piece guide rod that requires an L-shaped tool for disassembly. While disassembly is more complicated than most modern striker-fired pistols, it's still easily accomplished. Trigger pull was a crisp 5.4 pounds with only a small amount of backlash, certainly reasonable on a defensive gun.
Shooting the EMP4 was pleasant, with mild recoil, good sights and an easily managed trigger. I experienced no malfunctions during the test, even with a light competition loading of three grains of TiteGroup and a 147-grain coated bullet. I also tested three different defensive loads, Remington 124-grain Golden Saber, 115-grain Winchester Silvertip, and Black Hills 124-grain 9mm+P. At 7 yards, I ran multiple magazines and kept almost everything in the ten ring of the B34G targets I use for training. Accuracy testing was done off sandbags at 25 yards with groups averaging a bit less than 3 inches and my best group at 1.6 inches with Winchester Silvertip 115s. I did find the EMP 4 shot a bit high for me with all loads tested, but most shooters tend to shoot lower than I do anyway.
During my weekly training sessions, I let several clients shoot the EMP and all were favorably impressed. Two were under the age of 16, and both remarked how easy the EMP is to shoot and operate. I think this is because of the smaller grip and light recoil spring.
Like many other Springfield Armory products, the EMP 4 comes in a hard plastic pistol case with a holster, magazine pouch, tools, sight inserts, a lock, and three magazines. Due to the changes in the grip frame, standard 9mm 1911 magazines won't work. With an MSRP of $1,199, the EMP is a moderately priced, premium pistol. Compared to the recently tested XD Mod 2, it's a bit short on magazine capacity yet noticeably slimmer. Probably the most impressive thing I can say about Springfield Armory relates to reliability. As a gun writer, I've done reviews on almost a dozen different Springfield Armory models, from competition guns to carry guns. Of all those guns tested, I've only experienced two malfunctions, and both were ammunition related.
We are blessed in the number of really good handguns that are currently available. We all have preferences, and the 1911 has a loyal following. Modern 9mm ammunition is much more effective than it was a couple of decades back, and hardly anyone considers it less than effective as a defensive round now. The ease of operation, low recoil, and low cost of practice ammunition have made the 9mm a favorite for personal defense. Springfield Armory has delivered a viable 9mm concealable 1911 that's bound to find favor in the modern self defense market.
Specifications:
Springfield Armory EMP 4
Type: Semi-auto, single action
Caliber: 9mm Luger
Capacity: 10+1
Barrel Length: 4 in.
Barrel Material: Stainless steel
Twist Rate: 1:16 LH
Overall Length: 7.5 in.
Height: 5.5 in.
Grip Material: Walnut
Grip Design: Individual panels, checkered
Sight: Two-dot Novak rear, high-visibility front, dovetailed
Trigger Pull: 5.4 lbs.
Weight: 31 oz.
Price: $1,199
Manufacturer: Springfield Armory
Editor's Note: This article is an excerpt from the September 2016 issue of Gun Digest the Magazine.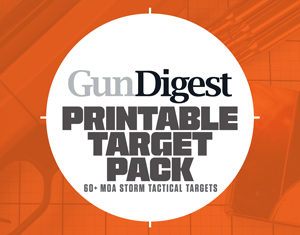 Next Step: Get your FREE Printable Target Pack
Enhance your shooting precision with our 62 MOA Targets, perfect for rifles and handguns. Crafted in collaboration with Storm Tactical for accuracy and versatility.
Subscribe to the Gun Digest email newsletter and get your downloadable target pack sent straight to your inbox. Stay updated with the latest firearms info in the industry.