In recent years, a number of firearms manufacturers have begun offering different color options to suit the varied preferences of shooters. It looks like that trend is set to continue as FN America has announced this week that it is expanding its FNS series of striker-fired pistols to include a Flat Dark Earth (FDE) version of its FNS-9 Compact 9mm pistol.
The new model will utilize a FDE polymer frame that features the same diamond-texture grip patterning and ergonomic grip angle that's standard on other FNS and FNX pistols. Meanwhile, the slide is finished with a durable and scratch-proof PVD coating that is color matched to the frame.
"Flat dark earth began as a military-designated color that FN pioneered with the introduction of the FN SCAR® series in the early 2000s," said John Keppeler, vice president of sales and marketing. "The color remains a popular choice for military customers and consumers, making this addition a natural extension for the FNS-9 Compact series."
Apart from the new color, everything else about the new FNS-9 Compact FDE is the same as previous FNS-9 Compact models, including the 5.5- to 7.7-pound striker-fired trigger pull, 3.6-inch cold hammer-forged stainless steel barrel, and fixed three-dot sights. The magazine capacity is also the same: 12 rounds for the standard magazines and 17 rounds for the larger magazines used in full-size FNS-9 pistols.
This new model should be shipping out to distributors this month, with retail availability slated for December. The FNS-9 Compact FDE will ship with a newly developed padfolio-style soft case for functional storage and easy and discreet transport to and from the range.
Pricing on FN America's new FNS-9 Compact FDE is the same as for the standard FNS-9 Compact, $599. For more information, visit the FN America website.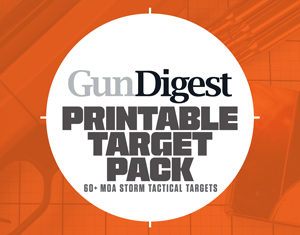 Next Step: Get your FREE Printable Target Pack
Enhance your shooting precision with our 62 MOA Targets, perfect for rifles and handguns. Crafted in collaboration with Storm Tactical for accuracy and versatility.
Subscribe to the Gun Digest email newsletter and get your downloadable target pack sent straight to your inbox. Stay updated with the latest firearms info in the industry.