Ever since its introduction back in 2008, Ruger's LCP pistol has been an immensely popular choice for concealed carriers. Chambered in .380 ACP, the original LCP found great success because of its slight build, its ability to be easily concealed, and its excellent reliability.
Despite its popularity, however, there were several aspects of the pistol that some shooters were critical of, such as the trigger and the iron sights. Ruger attempted to address some of these when it released the LCP Custom, which featured a slightly improved double-action trigger and better iron sights, a little while back.
Now, Ruger is upgrading the LCP again, this time to a larger degree. The new gun, dubbed the Ruger LCP II incorporates several improvements over previous LCP models, namely a short and crisp single-action trigger that features an inner trigger safety; improved visibility iron sights; a larger, textured grip surface; and a slide that's easier to rack and holds open after the last round.
The stippled grip surface should help with control and recoil distribution, while the new single-action trigger and larger, more visible iron sights should help improve accuracy. The enhanced slide stop mechanism, which allows for a last round hold-open, should also be a nice addition.
The new Ruger LCP II is slightly larger than its predecessor – 5.17 inches in length and 3.71 inches in height versus 5.16 inches in length and 3.60 inches in height on the original – but this might help with control and accuracy. Smaller after all, isn't always better. The LCP II weighs a svelte 10.6 ounces and holds 6+1 rounds of .380 ACP, and for this reason represents an excellent back-up gun (BUG) option.
"With modern styling, improved features and a modest price, the LCP II promises to raise the bar on what people have come to expect in a compact .380 Auto pistol," said Ruger President and COO Chris Killoy. "The LCP II is another fine example of Ruger's product innovation and dedication to continuous improvement of a popular product line."
The American manufacturer builds the LCP II on a one-piece, precision-machined anodized aluminum chassis that includes integral frame rails and a fire control housing. The gun features a through-hardened alloy steel slide and the company's classic glass-filled nylon grip frame. A finger grip extension floorplate is also available, which can be added to magazines for increased comfort and a more stable grip.
The new Ruger LCP II is available at an MSRP of $349. It ships with one 6-round magazine and a pocket holster. It is backwards compatible with original 6-round LCP magazines; however, when using those, the last round hold-open feature will not activate. It is not compatible with original 7-round LCP magazines.
For more information on the Ruger LCP II, check out the specifications below or visit the Ruger website.
Specifications:
Ruger LCP II
Type: Semi-auto, single action
Caliber: .380 ACP
Barrel: 2.75 in., blued, alloy steel
Twist: 1:16-in.
Overall Length: 5.17 in.
Overall Height: 3.71 in.
Overall Width: 0.91 in.
Weight: 10.6 oz.
Sights: Integral, iron sights
Grip: Black, glass-filled nylon
Price: $349
Manufacturer: Ruger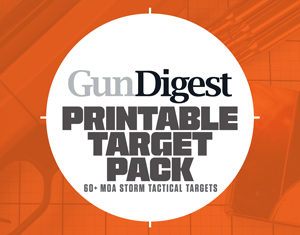 Next Step: Get your FREE Printable Target Pack
Enhance your shooting precision with our 62 MOA Targets, perfect for rifles and handguns. Crafted in collaboration with Storm Tactical for accuracy and versatility.
Subscribe to the Gun Digest email newsletter and get your downloadable target pack sent straight to your inbox. Stay updated with the latest firearms info in the industry.