Rightsized, the Walther PK380 is small enough to slip into a pocket, but has the performance of a much larger self-defense handgun.
What does the PK380 have to offer those who carry?
The Walther PK380 hits a sweet spot when it comes to carry.
It's smaller than a subcompact for easy concealment.
But it's also large enough to offer a longer sight radius and more capacity.
The gun is well balanced in hand, has a good fit and feel and is a comfortable shooter.
Given its ease of use and ergonomic design, the Walther PK380 is a great choice.
Walther's PK380 is a 'tweener of a carry gun — not as small as the subcompact .380s that slip in your pocket but not quite as large as most 9mms. That just-right size means you get a light, portable gun with a longer sight radius and more capacity.
One thing that Walther has figured out is how to make guns that are well balanced and comfortable to shoot, and the company takes pride in building guns that fit well and feel good.
"Like all Walther pistols, the PK380 features an extremely comfortable ergonomic grip," says Vice President of Marketing for Walther Luke Thorkildsen. "Walther has become synonymous with grip and trigger because we have found that there is confidence in comfort."
When faced with a life-and-death situation, you need to have complete faith in your gun, and that faith is developed by long sessions on the range. You're far less likely to spend time shooting a gun that hurts your hand or leaves you cringing with every trigger pull, so finding a pistol with a good grip is more critical than it might initially seem. Walther's PK380 has an ergonomic design that's slightly larger than some of the other guns in this article, yet it's still easy to conceal. In addition, having those extra .380 ACP rounds on tap offers a level of comfort all its own.
Editor's Note: This article originally appeared in the September 2017 issue of Gun Digest the Magazine.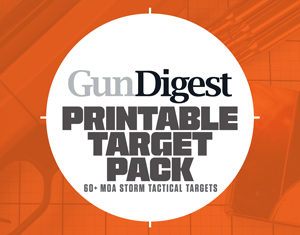 Next Step: Get your FREE Printable Target Pack
Enhance your shooting precision with our 62 MOA Targets, perfect for rifles and handguns. Crafted in collaboration with Storm Tactical for accuracy and versatility.
Subscribe to the Gun Digest email newsletter and get your downloadable target pack sent straight to your inbox. Stay updated with the latest firearms info in the industry.