With a long barrel and an attractive walnut stock, Hatsan appears to have gone all out with its new Escort Rimfire Rifle.
In the modern day of rimfires rifles, semi-automatics have reigned supreme. And why not? Throwing a high volume of economical ammo downrange as fast as a trigger finger can squeeze them off is just plain fun. Not to mention, the ability for quick follow-up shots makes them worth their weight in prairie dog pelts as a varmint firearm.
With that said, there is definitely still a place for older technology in the rimfire world. The tried-and-true bolt-actions still provide some of the most accurate platforms to launch a bullet. On top of that, what they lack in rate of fire compared to a semi-auto, they more than make up for with dependability in cycling.
Hatsan seems to have recognized the desirable traits of bolt-action rimfire rifles, making a bold move to enter that market. The Turkish manufacturer has veered from its stock-in-trade airguns and shotguns to produce its first-ever rimfire. And by the looks of it, the Escort Rimfire Rifle should turn out to be a fairly slick shooter.
Imported by Legacy Sports, the new .22 LR is reminiscent of the now-discontinued CZ 452 Military Trainer. And just like the Czech-made favorite, this bolt-action appears to be set up to milk as much potential from a .22 round as possible.
The rifle's 25-inch free-floating barrel should go a long way toward accomplishing this, not only giving the round ample bore to reach its velocity potential, but also making it a steadier shooter. Typically, longer, heavier barrels are easier to stabilize, thus aiding in the ability to hold the rifle on target and achieve an accurate shot.
The Escort Rimfire Rifle has a traditional look to it, dressed in a stick of Turkish walnut. And the stock has generous checkering on both the grip and forearm, making it easier to manipulate in any conditions. It is topped off with a ventilated rubber butt pad, helping make the already light .22 LR recoil next to non-existent.
The rifle comes outfitted with fully adjustable rear sights and a fiber optics front blade sight, allowing it to draw a clear and crisp sight picture. But for those looking to throw a scope on the rifle, it also comes with a 3/8-inch dovetail groove for quick mounting.
Escort includes a five-round single-stack magazine with the rifle, but the capacity can be increased with Escort's compatible 10-round magazines. And it comes ready to be outfitted for the field with fitted sling swivels standard.
Perhaps best of all, the Escort Rimfire Rifle is competitively priced. With an MSRP of $229, the rifle looks to be an affordable option for first-time shooters or old hands searching for another plinker for their gun safe.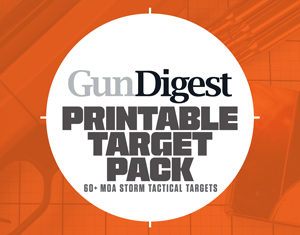 Next Step: Get your FREE Printable Target Pack
Enhance your shooting precision with our 62 MOA Targets, perfect for rifles and handguns. Crafted in collaboration with Storm Tactical for accuracy and versatility.
Subscribe to the Gun Digest email newsletter and get your downloadable target pack sent straight to your inbox. Stay updated with the latest firearms info in the industry.