Wilson Combat's EDC X9 is an elegant, yet highly functional pistol for carry and defense, and in the author's mind, it's simply the best.
What makes the EDC X9 stand out against the rest?
It's a 1911, sans the grip safety, and has an aluminum frame and stainless steel slide.
Its 15+1 capacity exceeds the Hi-Power's and is more comfortable to grip.
At 29 ounces, the EDC X9 is nearly the same weight as a Glock 17.
It has a Wilson Combat Battlesight with a .145-inch notch and green fiber optic front.
It features Wilson's Enhanced Reliability System that optimizes function to ammo power.
Declaring a pistol to be the "best ever" is brazen statement. At least a half-dozen pistols could contend for that title. And then there's the reality that a pistol's mission and user must be factored in. This is exactly why we have so many pistols to choose from; different situations and different people require and like different things. Still, based on my experiences, I'm comfortable in stepping out on the preverbal limb and proclaiming The Wilson Combat EDC X9 is the best pistol ever made.
Admittedly, no pistol is going to be the best for every situation or every person. My bet is that if you put 10 random men in a room, they'll all be wearing different underwear for the exact same reason. For a pistol to contend for the title of best ever, it must be suitable for a wide range of applications, and it must comfortably fit a large cross section of the population. Maybe the best way to present my argument is to compare the EDC X9 to some of the best pistols of all time.
The 1911 Platform
The 1911 platform — it has to be called a platform because the gun has morphed into so many different variants — has a lot going for it. First and foremost is the trigger action. That short, single-action pull is easy to master and can be tuned to an almost flawless feel. Additionally, the 1911 is a strong pistol. It's common to see blown apart pistols with mangled hands to go with them on the Internet. Those social media click magnets are rare with the 1911. What I and many others like most about the 1911 is the thumb safety. And finally, lots of shooters find the 1911's grip angle makes it a natural pointer.
At its heart, the EDC X9 is a 1911. It has the 1911's single-action trigger and firing mechanism. But, unlike the 1911, the EDC X9 has no grip safety. In fact, the pistol is disassembled in a rather unique way; the backstrap is hinged and rotates away from the grip frame. The EDC X9 has the traditional 1911 thumb safety, which, when used as intended, circumvents one of the most common self-inflicted firearms injuries — shooting yourself in the leg or ass because you stupidly holstered your handgun with your finger on the trigger.
The Browning Hi-Power
The first time someone handed me a Browning Hi-Power, I realized what all the hype was about. It was the most comfortable pistol I'd ever held in my hand, and most who've experienced the Hi-Power will agree. I've owned several and have carried one a lot. They're also unfailingly reliable, and the pivoting single-action trigger is easy to master. The Hi-Power is also very slim for the 13-round capacity it offers. And, it is after all, the first widely successful high-capacity 9mm pistol ever made.
As comfortable as the Hi-Power is in hand, many shooters — including me — find the short beavertail problematic because the hammer can bite the web of your hand when the pistol is fired. That's why my Hi-Power was sent to Nighthawk for an expensive, but elegant and comfortable, extended beavertail. The first time I held the EDC X9 I said, "This feels like my Hi-Power." After I shot the EDC X9 I said, "Nope. This feels better." Not only is the EDC X9 more comfortable than a Hi-Power, it holds more ammo. The capacity is 15+1 to be exact.
The Glock 17
The Glock 17 or some variant of that pistol would have to be considered the most popular pistol of the 21st Century. The Glock's high capacity, in conjunction with its light polymer frame, makes it an ideal pistol for everyday carry or for fighting. I'll give the Glock its due, but I never really liked the pistol, even though as a cop I carried one for 13 years. With the exception of the modern single-stacked Glocks, I've never held one that fit my hand well. And, too, I've seen a number of Glocks that would have generated a lot of social media traffic due to their exploded state.
A Glock 17 weighs 25.06 ounces and holds 17+1 rounds of 9mm Luger ammunition. It's 8.03 inches long and 1.18 inches wide. It also has a trigger that only a lover of water pistols would like. The Wilson Combat EDC X9 weighs 4 ounces more and is about a half-inch shorter and less than a quarter-inch wider. Fully loaded, it has a capacity of 15+1. Comparing only these numbers, I might give the Glock a slight advantage. However, factor in the trigger and the EDC X9 is so superior to the Glock, a comparison is foolish.
The EDC X9
Wilson Combat started the EDC X9 project in 2015. The pistol is available with or without an accessory rail and comes coated with Wilson Combat's matte-black Armor-Tuff finish. The slide is machined from 416R stainless-steel, with a weight reducing, trimmed down, tri-cut-like top. The sights are first rate. At the rear is a Wilson Combat Battlesight with a wide .145-inch U-shaped notch. Combined with the green fiber-optic front sight, what you have are sights you see, not sights you have to look for. A tritium front sight option is also available.
The EDC X9 also utilizes the Wilson Combat Enhanced Reliability System (ERS.) This is a proprietary system designed to optimize functioning with the varying power levels of 9mm ammunition. What you might find most interesting is that this pistol does not require proprietary magazines. The EDC X9 accepts modified Walther PPQ magazines. The real innovation, however, is the grip frame. The grip panels on the EDC X9 are not attached via screws; the side of the frame is dovetailed to accept thin G10 panels. They are held in place by the one-piece backstrap, which replaces the common 1911 grip safety.
Another element of interest is the lack of checkering on the EDC X9. Most semi- or full-custom 1911s sport fine checkering on the front strap and mainspring housing. Not this pistol. Wilson Combat chose to use its XTAC, deep-grooved diamond pattern for the front and rear of the grip, and at the front and rear of the slide. This is a robust treatment that seems to glue the pistol to your hand. It reminds me of what a small and sanded pineapple might feel like. If you drop this pistol, it will be because you're dead, not because you lost your grip.
Assessing Shots Fired
During the past several months, I've shot the hell out of this pistol. I've fired every example of 9mm Luger ammo I have on hand through it trying to make it jam. It hasn't, and this included ammo loaded with very light-for-caliber bullets, heavy hard-cast bullets and yes, even CCI shot shells. The EDC X9 will eat anything you feed it, and spit the brass out so consistently you can catch it all in a five-gallon bucket.
The EDC X9 is a very precise shooting handgun, too; it will deliver more precision on target than I'm capable of extracting from a carry gun. And, as generalized as that statement is, maybe there's a better representation of how well the EDC X9 and I get along. For many years, I've used the Forty-Five Drill as a standard for measuring the efficiency of a carry gun. Its simple: I draw from concealment and fire five shots, at a 5-inch circle, at 5 yards, with the goal of completing the drill in less than 5 seconds. My best, second best and third best times on this drill were all fired with the EDC X9!
The Best Pistol Ever

I'm sure by now I've at least perked your interest enough that you'll browse over to the Wilson Combat website and find the EDC X9. When you do, you might have a bit of sticker shock; the EDC X9 has a suggested retail price of $2,895. For that money, you could buy a decent 1911, an original Hi-Power and a new Glock 17. But then you would have three handguns that are, individually, almost perfect. If you could figure out a way to throw them in a dark box where they might have an illicit firearms threesome, the offspring might be the equal of the EDC X9.
Unless you possess some magical powers, that's not going to happen. Which means, if you want the best pistol ever made, you're going to have to pay for it. After spending a couple months with an EDC X9, that's what I'm doing. I'm selling a few good guns so I can have one best gun. After all, I can only shoot one at a time — it might as well be the best gun my money can buy.
Editor's Note: This article originally appeared in the January 2018 issue of Gun Digest the Magazine.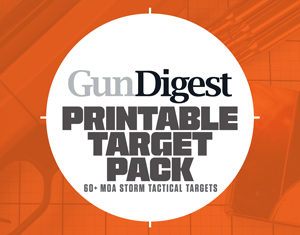 Next Step: Get your FREE Printable Target Pack
Enhance your shooting precision with our 62 MOA Targets, perfect for rifles and handguns. Crafted in collaboration with Storm Tactical for accuracy and versatility.
Subscribe to the Gun Digest email newsletter and get your downloadable target pack sent straight to your inbox. Stay updated with the latest firearms info in the industry.