Glock extends its single-stack line with enhanced-capacity G43X and G48.
How the G43X and G48 upgrades Glock's single-stack 9mm lineup:
10+1 capacity
Narrow width, just over 1 inch
Increased grip real estate
Front and rear cocking serrations
4-inch barrel on compact G48
Two-tone
Tight-lipped until the turn of the year, Glock has cause some rumbling with its renewed focus on its Slimline Series in 2019. Recently unveiled, the G43X Sub-Compact and G48 Compact are the newest additions to the Glock arsenal and offer some interesting twists to the gunmaker's single-stack catalog. Essentially updated versions of the G43, the pistols are more than aesthetic upgrades to the 9mm. With more firepower and potentially easier to manipulate, the slender polymer-framed pistols are a step forward in what has already proven a popular line of guns.
So what's new?
G48 Barrel Length
Given they both call the G43 their parent, what exactly is the difference between the G43X and G48? If you didn't catch it from the pictures, it's barrel length. The G48 is essentially the same gun as the 3.41-inch barreled G43X, except with a 4.17-inch barrel. The additional length should potentially make the gun easier to handle, given it is a few ticks heavier than its compatriot. Furthermore, it should have more accuracy potential, given its longer sight radius. Glock isn't the only one that has gone this route the past decade, with other popular polymer-framed pistol makers also turning out 4-inch compact versions of their sub-compact models.
G43X And G48 Capacity
When the G43 hit the scene in 2015, shooters loved its concealability, but were left somewhat up in the air with its slightly-better-than-revolver 6+1 capacity. The G43X and G48 solve this, bringing the Slimline Series close to standard compact pistols' capacity. Granted, you get the 10+1 loadout in a much leaner frame size, an advantage over the sometimes bulky double-stack configuration.
---
More Glock Posts:
---
That said, there is a piper to pay to squeeze in those additional rounds, and that is grip length. In both the G43X and G48 cases, the pistols have a 5.04-inch height with the magazine inserted, .79-inch greater than the original G43. While this modification increases firepower and grip real estate, it also increases the overall profile of the pistols. It's not a deal-breaker for most armed citizens, but will most likely still prove a consideration among those who concealed beneath lighter attire on a regular basis.
G43X And G48 Slides
Perhaps the most noticeable aspect of the new pistols, they're not pure black. Making them stand out among their peers, Glock has gone two-tone with the G43X and G48 outfitting them with nPVD coated silver slides. Though, that's really secondary to the other notable on the slide – front cocking serrations. A nice addition, it should enhance manipulating the pistols, whether it's racking the slide or press-checking the chamber.
G43X And G48 Width
At 1.06-inch in width, the original G43 still comes in as Glock's slimiest 9mm. However, that doesn't mean the G43X and G48 are beefed up beyond recognition. The pistols are thicker by the narrowest of margins, .04-inch. For the most part, the difference is notable on paper, but not the hip.
Price And Availablity
The G43X and G48 are set for release on January 21 and both have an MSRP of $580.
Glock G43X Specs
Caliber: 9mm
Overall Length: 6.5″
Slide Length: 6.06″
Barrel Length: 3.41″
Overall Width: 1.1″
Slide Width: 0.87″
Height (including mag): 5.04″
Trigger Distance: 2.64″
Magazine: Slim 01 mag
Capacity: 10+1
Weight (loaded): 23.07 oz.
Glock G48 Specs
Caliber: 9mm
Overall Length: 7.28″
Slide Length: 6.85″
Barrel Length: 4.17″
Overall Width: 1.1″
Slide Width: 0.87″
Height (including mag): 5.04″
Trigger Distance: 2.64″
Magazine: Slim 01 mag
Capacity: 10+1
Weight (loaded): 25.12 oz.
For more information on the G43X and G48, please visit: us.glock.com.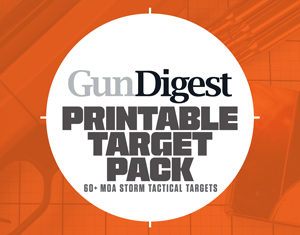 Next Step: Get your FREE Printable Target Pack
Enhance your shooting precision with our 62 MOA Targets, perfect for rifles and handguns. Crafted in collaboration with Storm Tactical for accuracy and versatility.
Subscribe to the Gun Digest email newsletter and get your downloadable target pack sent straight to your inbox. Stay updated with the latest firearms info in the industry.