FN America has recently announced the FN Reflex and FN Reflex MRD, two new micro-compact 9mm carry pistols.
As the popularity of micro 9mm concealed carry handguns marches on, FN America is the latest company to throw its hat in the ring with the announcement of the FN Reflex and FN Reflex MRD. Based on the pistols' size and specs, they look like they will be strong competitors to Sig's P365 series.
Sporting a 3.3-inch cold hammer-forged barrel, a 1-inch total width and a magazine capacity of up to 15 rounds, the FN Reflex is accurate, concealable and can hold an impressive amount of ammunition. Each pistol will ship with two magazines, either a flush-fit 11-round mag and an extended 15-round mag or two 10-round mags. The 11-rounders also come with an optional pinky extension baseplate. Further, the FN Reflex uses an internal hammer rather than a striker-fire system, enabling it to have a crisp SAO 5-pound trigger pull. FN claims that the internal hammer system doesn't just make for a great trigger, but also reduces the amount of force required to rack the slide.
Both FN Reflex models ship with three-dot iron sights with a tritium front sight, but the FN Reflex MRD is also optics-ready. Its slide is milled to allow the direct mounting of Holosun K- and RMSc-pattern red dot sights, meaning that no adaptor plate is required.
The new guns get their name primarily from their grip angle, as FN says that it was developed specifically to provide a natural point of aim to aid with rapid sight acquisition. Other features of the Reflex pistols include aggressive grip texturing, front and rear slide serrations and an accessory rail for compact weapon lights. Both models will be available with either a black or FDE finish, and the MSRP for the standard FN Reflex is $599 while the MRD variant has an MSRP of $659.
For more information, please visit fnamerica.com.
---
More 9mm Carry Pistols: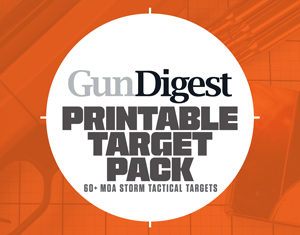 Next Step: Get your FREE Printable Target Pack
Enhance your shooting precision with our 62 MOA Targets, perfect for rifles and handguns. Crafted in collaboration with Storm Tactical for accuracy and versatility.
Subscribe to the Gun Digest email newsletter and get your downloadable target pack sent straight to your inbox. Stay updated with the latest firearms info in the industry.