Mastering long-range marksmanship at H&H Precision Rifles' shooting school.
Owning a precision rifle no more makes you a marksman than owning a guitar makes you a musician. The adage is timeworn, but as true now as when it was coined. Having a fine-tuned instrument capable of going the distance is only one, somewhat small part of the equation. The most important variable is you — your skills as a rifleman and capability to master the long-range shooting iron you'll put to your shoulder.
Check Out Other Modern Shooting Episodes:
---
---
When that rifle is from H&H Precision, the company more than makes certain you have the aptitude to milk every ounce of engineering it puts into one of its guns. Once a year, the custom gunmaker hosts a precision long-range shooting clinic for every person that's bought an H&H rifle. A ballistic boot camp, top-shelf instructors break down the fine points of these custom rifles and the skills required to get one to reach out 1,000-yards or more consistently. A demanding crash course, to say the least, it puts the lucky few in attendance well on the road to mastering their H&H Precision rifle and the art of shooting a country mile.
Modern Shooter got a seat (or range lane) in this year's class and discovered firsthand what it takes to master extreme ranges and the capability of these precision tools. The top shots who run the class make it look easy, just a few cranks of the turret and a squeeze of the trigger. But as the Modern Shooter crew quickly learned, there's plenty of heavy lifting to own the long shot.
Catch this and more long-range shooting action 10 p.m. EST tonight on the Pursuit Channel. Episode airs again 12 p.m. EST Monday and 11:30 a.m. Tuesday.
To find out more about H&H Precision Rifles and other sponsors, please check out:
www.hhprecisionrifles.com
www.aguilaammo.com
www.benchmark-barrels.com
www.sigsauer.com
www.secureitgunstorage.com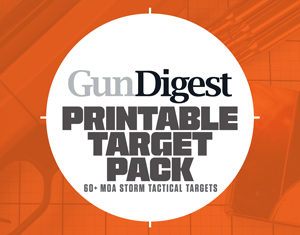 Next Step: Get your FREE Printable Target Pack
Enhance your shooting precision with our 62 MOA Targets, perfect for rifles and handguns. Crafted in collaboration with Storm Tactical for accuracy and versatility.
Subscribe to the Gun Digest email newsletter and get your downloadable target pack sent straight to your inbox. Stay updated with the latest firearms info in the industry.