A look at the latest Colt ARs from an iconic American gun maker.
Today civilian-ready Colt AR-15s come in three types, offering rifles for personal defense, hunting and competition. During a factory tour a few years ago at Colt's facility in Hartford, Conn., the shop floor contained cutting-edge robotic machinery with fast moving arms that spewed metal chips from aluminum forgings, all creating the monolithic upper receiver for the new 901 series.
The latest AR-15 variants are the M.A.R.C. 901 (Modular AR Carbine) family derived from the LE901-16S, which was initially developed to exceed the original SCAR requirements of a multi-caliber, single serial number modular rifle system back in 2012.
The M.A.R.C. 901 rifles are chambered in .308 Win./7.62x51mm NATO with free-floating barrels and one-piece monolithic upper receivers for exceptional accuracy.
The lowers feature ambidextrous operating controls and bolt carriers that enable the upper receiver group to be easily swapped out for any Colt Mil-Spec upper receiver chambered in .223 Rem./5.56x45mm NATO without the use of tools, and all in less than a minute. Colt M.A.R.C. 901 rifles come in 16- or 18-inch barrels as well as a variety of furniture and finishes.
The LE6940 series rifles are similar to the LE901-16S, featuring Colt's proprietary one-piece monolithic upper receivers that free float the barrels for enhanced accuracy. All LE6940 series rifles showcase long, continuous Mil-Spec rails that run the length of the uppers. For each, a Magpul MBUIS Rear Gen 2 sight is used with Colt's folding front sight.
The standard LE6940 and LE6940AE-3G uses the typical direct gas impingement system and is equipped with an extended rail system and ambidextrous magazine release, bolt catch and fire selector. The LE6940P features an articulating piston system that allows the bolt carrier to remain cool.
The monolithic design makes the upper more rigid and slightly heavier than military style carbines. LE6920 variants are similar to M4s, but with 16.1-inch chrome lined barrels and a 1:7 inch twist rate, coming standard with an A2-style front sight, folding rear sight and adjustable stock. The LE6920AE is similar, but with ambidextrous controls. A Troy rail and Magpul MOE furniture are featured on the LE6920MP-R carbine. The LE6920SOCOM has a heavy barrel, Troy rail and ambidextrous controls.
The LE9620MP-B is decked out in Magpul basic black. Flat Dark Earth Magpul furniture is outfitted on the LE6920MP-FDE, while the LE6920MP-OD uses Magpul's OD (olive drab) green finish. All feature 16.1-inch barrels with the M4 contours. The AR6720 carbine features a light barrel with a 1:7 inch twist, while the AR6721 has a heavy contour barrel and a twist rate of 1:9 inches, which helps stabilize lighter 55- to 62-grain bullets.
The traditional looking AR15A4 series features longer 20-inch barrels with a 1:7 twist rate with A2-style features like the buttstock, round and grooved handguard, carry handle and front sight. The AR6951 is chambered in 9mm and takes a high-capacity 32-round stick magazine.
For long-range shooting, the standard CR6720 features a heavy stainless steel 20-inch barrel with 1:9 twist rate and a Colt scope mount with a free float handguard. For even more accuracy and muzzle velocity, the CR6724 uses a 24-inch heavy-duty stainless steel barrel at a 1:9 twist rate.
After 53 years of building combat ARs, the Colt bloodline runs deep.
The company is not content to simply be the originator, but rather an innovator in AR weapons, which is evidenced in the many tactical rifle offerings available from Colt today.
This story also appeared in the Winter 2015 issue of Modern Shooter Magazine.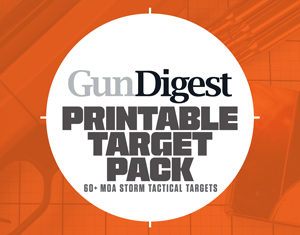 Next Step: Get your FREE Printable Target Pack
Enhance your shooting precision with our 62 MOA Targets, perfect for rifles and handguns. Crafted in collaboration with Storm Tactical for accuracy and versatility.
Subscribe to the Gun Digest email newsletter and get your downloadable target pack sent straight to your inbox. Stay updated with the latest firearms info in the industry.