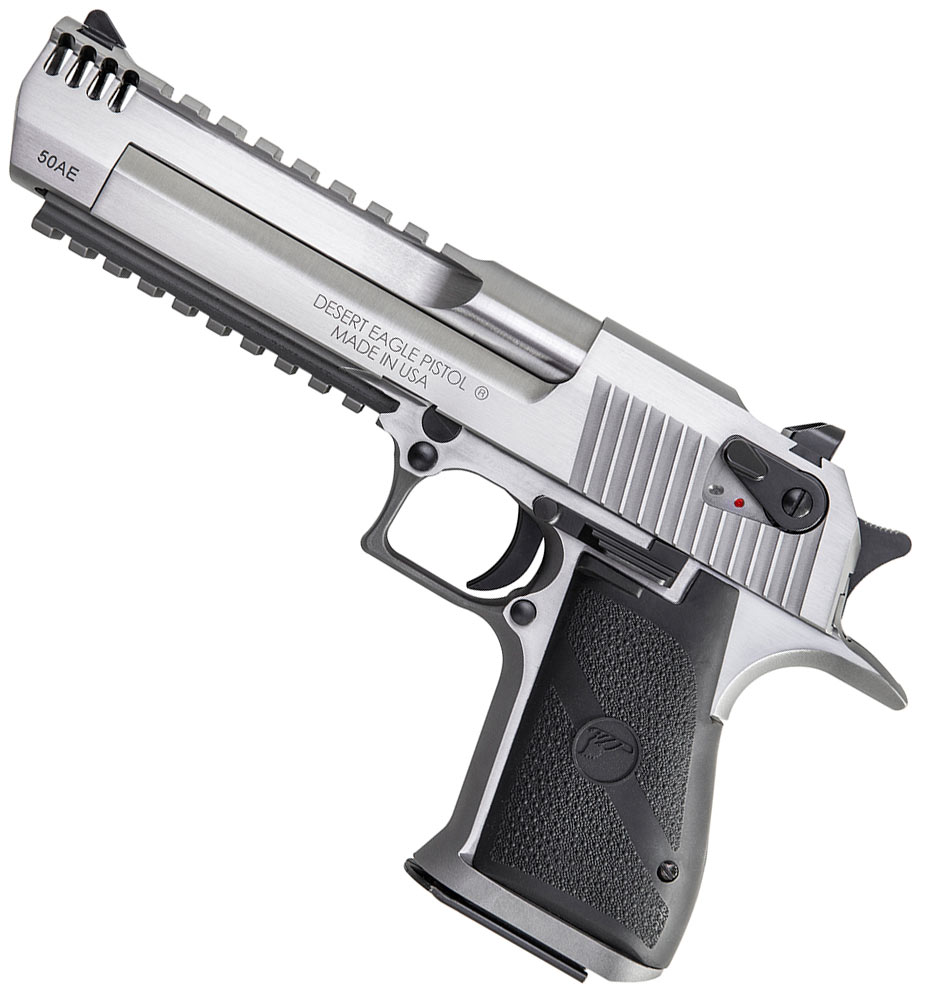 Magnum Research's Desert Eagle already turns heads. But the powerful pistol might catch a few more eyes now there is a version decked out in stainless steel.
When it comes to unique handguns of the latter 20th Century, Magnum Research's Desert Eagle is in a league of its own.
Chambered in the hard-hitting .50 AE, among other large calibers, the pistol is among the most powerful semiautomatics available. But the handgun's big bore isn't the only unusual aspect of the nearly 35-year-old design.
The pistol also cycles rounds in a unique way, relying on gas operation and rotating bolt instead of recoil, like the majority of semiautomatic handguns. Typically, the operation found on the Desert Eagle is more common in rifle, such as the AR.
Magnum Research recently has given shooters searching for a distinctive handgun another reason to consider its formidable pistol. And it is certainly an eye-catching one, at that.
The Minnesota manufacturer has introduced a stainless steel model of the Desert Eagle chambered in .50 AE. This follows a trend the company set earlier in the year, when it expanded its line of 1911 pistols to include model in the lustrous metal.
The Desert Eagle going stainless steel adds some resilience to the pistol. The metal has long been used in firearms that are exposed to climates that facilitate corrosion.
The use of the metal also gives the pistol cosmetic longevity. As pointed out in the company's press release, stainless steel is more impervious to dings and scratches than other finishes the company offers and is easier to repair.
The new version of the Desert Eagle also has a few new features.
The stainless steel model of the pistol is offered with a standard 6-inch barrel or with integral muzzle brake. This addition makes the Desert Eagle a much more manageable handgun to shoot, reducing recoil and muzzle flip. The pistol alos boasts a new Picatinny bottom rail, allowing for the quick and easy addition of accessories.
The new version of the Desert Eagle still retains the gargantuan proportions of earlier models. The gun is 10.75 inches in length, 6.25 in height and has a slide width of 1.25 inches. The seven-round handgun tips the scales at 4 pounds 8 ounces, as well.
The Desert Eagle with the standard barrel presently has an MSRP of $1,793; the model with integral muzzle brake is listed at $1,931.
---
NEXT STEP: Download Your Free Storm Tactical Printable Target Pack
62 Printable MOA Targets with DOT Drills - Rifle Range in YARDS
This impressive target pack from our friends at Storm Tactical contains
62 printable targets
for rifle and handgun range use. Target grids and bullseye sizes are in MOA. Ideal for long-range shooting!
Subscribe to the Gun Digest email newsletter and we'll send your print-at-home target pack right away.
Just enter your email address below.
---