With a number of additions to its rimfire and shotgun catalogs, CZ-USA has a new long gun for nearly every shooter.
Never one to hold back come SHOT Show, CZ USA released its typical flood of new guns and upgraded models a few weeks ago. While the expansion of the company's P-10 line of striker-fired pistols stole much of the spotlight, the gunmaker also unveiled a number of new long guns that should nab shooters' attention. The weightiest came in the company's rimfire and shotgun catalogs, which saw not only the introduction but also the reboot of some guns that appear right on target.
CZ 457
Some diehards might have their noses bent out of place with the 457 replacing the venerable 455 as gunmaker's flagship bolt-action rimfire rifle, but the company is far from shortchanging its fans. The line is diverse and decked out, covering almost any conceivable plinking interest. In all, CZ released eight models, including the 457 American, 457 Lux, 457 Suppressor Ready, 457 Scout, 457 Training Rifle, 457 Varmint AT-One and 457 Varmint MTR. Three of the rifles – American, Lux and Varmint – are available chamber .22 LR, .17 HMR and .22 WMR, while the rest are strictly .22 LR. MSRP in the line runs from $365 to $660.
---
More Shotgun Posts:
---
CZ 1012 Semi-Auto Shotgun
Built to run like a top no matter the abuse, the CZ 1012 appears a worry-free option in a do-all field gun. Inertia driven, the 12-gauge should have a less demanding maintenance schedule than gas-operated shotguns. To boot, it chews through shells — from smoking-hot 3-inch magnums to featherlight loads — like it's been starved for a week. Available in a stick of Turkish walnut or camouflaged synthetic stock, the shotgun has a reasonable price range — $659 to $749.
G2 Bobwhite
Shooters demanded. CZ listened. In this case, rabble-rousing breathed new life into the CZ Bobwhite, which was discontinued a few years back. The new Bobwhite G2 seems a solid entry-level side-by-side, with the features you like to see in this style of gun — walnut stock, double trigger and English style grip. Furthermore, it's available as a 12-, 20- or 28-gauge. Still, the Bobwhite G2's price tag is the head turner of its return, with the gun starting at $655 dollars. Tough to beat when it comes to SBS shotguns.
For more information on CZ USA, please visit www.cz-usa.com.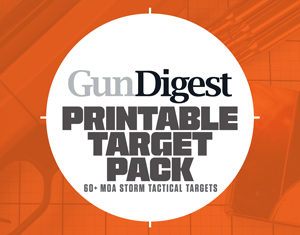 Next Step: Get your FREE Printable Target Pack
Enhance your shooting precision with our 62 MOA Targets, perfect for rifles and handguns. Crafted in collaboration with Storm Tactical for accuracy and versatility.
Subscribe to the Gun Digest email newsletter and get your downloadable target pack sent straight to your inbox. Stay updated with the latest firearms info in the industry.