Efficient and effective, the Vertx Dead Letter sling bag makes off-the-body carry much more feasible.
You've got to get creative. It's one of the unspoken aspects of concealed carry, but something you soon pick up when you go armed. No matter if you're talking the garb you wear or how exactly you carry, you're forced to make a tweak here and there to make a truly effective system that works for you.
To that end, many find a traditional belt holster – OWB or IWB – just doesn't fit the bill for their lifestyle. In turn, off-body carry very often becomes the most logical solution. And nowadays, there are some pretty slick systems to, not only carry a handgun, but also manage your everyday carry possibles. Take the Vertx Dead Letter sling bag, for instance.
---
More Gun Digest Videos:
---
At first blush, it appears little more than a mild-mannered and fairly attractive sling pack. But at a moment's notice, a yank of its hot-pull tab, and your handgun is presented in a highly efficient and effective manner. That'd be good enough in and of itself, but Vertx has pulled out all the stops with the Dead Letter bag.
In addition to an intuitive carry option, the piece of luggage has all sorts of extras that not only make going armed simpler, but also your day-to-day routine. Fully ambidextrous, briefcase configuration, generous molly field and an ample load sling, the Dead Letter bag streamlines tactical nomadicity. If that isn't enough, like all of Vertx's bags and packs, the sling bag is also body-armor capable. Better safe than sorry.
Certainly, off-the-body carry isn't for everyone. But for those who choose this route, Vertx has made it all the more feasible with the Dead Letter sling bag.
For more information on Vertx, please visit www.vertx.com.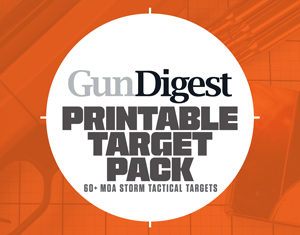 Next Step: Get your FREE Printable Target Pack
Enhance your shooting precision with our 62 MOA Targets, perfect for rifles and handguns. Crafted in collaboration with Storm Tactical for accuracy and versatility.
Subscribe to the Gun Digest email newsletter and get your downloadable target pack sent straight to your inbox. Stay updated with the latest firearms info in the industry.