Steyr Arms One-Mile Gunner
The first Steyr SSG 08 long range tactical rifle made its debut back in 2009 but recently the company has upped the ante with a brand new adaptation chambered in what many believe to be the ultimate long-range tactical cartridge, the .338 Lapua Magnum.
This new version was released only after the prototype rifle underwent a grueling 10,000-round endurance and reliability testing at Steyr's Austrian factory. The SSG 08 is based on Steyr's unique Safe Bolt System (SBS) action, which is bedded in a skeletonized aluminum stock.
The stock is equipped with an UIT rail (running the length of the forend), an adjustment cheek piece and buttplate, an integrated, finely adjustable rear-elevation pod and a butt capable of being folded forward for transport.
For further versatility there are also multiple mounting points for attaching a wide variety of Picatinny rail-mounted accessories. The enclosed detachable box magazine holds six of the big .338 Lapua Mag. rounds and the rifle comes with a Versa-pod, or heavy-duty bi-pod, and a hard travel case.
Recommended retail price for .338 Lapua Mag. chambered Steyr SSG 08 is $6,795.
This is an excerpt from the Gun Digest 2012.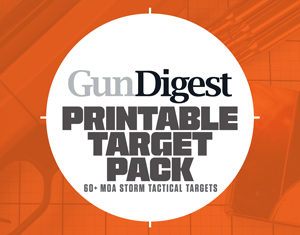 Next Step: Get your FREE Printable Target Pack
Enhance your shooting precision with our 62 MOA Targets, perfect for rifles and handguns. Crafted in collaboration with Storm Tactical for accuracy and versatility.
Subscribe to the Gun Digest email newsletter and get your downloadable target pack sent straight to your inbox. Stay updated with the latest firearms info in the industry.