It's no secret that I'm a fan of the bolt-action rifles made by GA Precision — especially the company's military reproductions like the M40A1 and M24. Even so, the company's take on the AR-10 style precision rifle, the GAP-10, is well worth a closer look.
Admittedly, I'm forever taken with bolt action rifles. But after watching this video, it's hard to miss the fact that precision rifle makers have so perfected their craft that these days one can quite literally have his cake and eat it too.
Long gone are the days when you faced the proverbial fork in the road, forced to choose between fast shots and surgical accuracy. Today you can have both.
Of course, GA Precision didn't get to the finish line first on the idea (though they seem to be working against the grain of companies placing priority on modularity versus sheer accuracy, starting with the barrel and building the gun around it).
Indeed, the Les Baer Ultimate .308, Armalite Semi-Auto Sniper System (SASS) and Colt LE901-16S are all proven performers in the super-accurate AR-style .308 rifle category.
However, it is notable that the GAP-10 is available with an array of custom options: Shortened mags for prone position shooting, factory-applied Cerakote colors like tan or Flat Dark Earth (FDE), Mag-Pul PRS buttstock and a variety of muzzle breaks and barrel lengths.
GAP-10 Specs
Caliber: 308 Win, 260 Rem, (others available)
Action: G.A. Precision GAP-10, upper and lower
Barrel Type: Bartlein stainless 5R barrel
Barrel Length: 16.5 to 22 inches
Stock: Standard A2, (Magpul PRS optional)
Finish: Hard Anodized black aluminum, Matte Cerakote on barrel and gas block (other colors special order)
Learn more about the GA Precision GAP-10.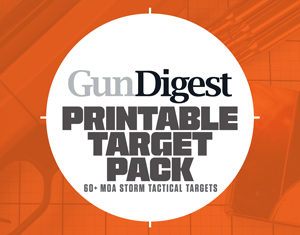 Next Step: Get your FREE Printable Target Pack
Enhance your shooting precision with our 62 MOA Targets, perfect for rifles and handguns. Crafted in collaboration with Storm Tactical for accuracy and versatility.
Subscribe to the Gun Digest email newsletter and get your downloadable target pack sent straight to your inbox. Stay updated with the latest firearms info in the industry.