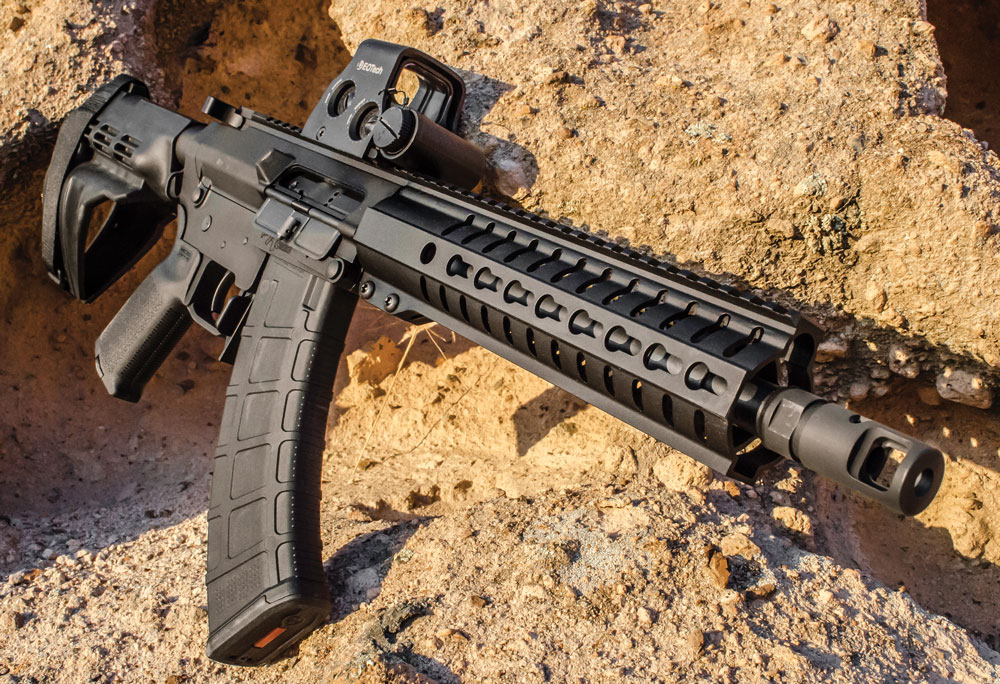 The CMMG Mk47 Mutant Pistol effectively splices the DNA of the AR-15 and the AK-47 into one compact, lead-slinging hybrid.
Age-old debates surrounding firearms, such as the one between AR-15 and AK-47, will probably never go away, but a new gun aims to present a peaceful resolution to those timeless disputes. Bridging the gap between caliber wars and platform loyalties, the CMMG Mk47 Mutant offers a unique hybrid design that links the genius of Eugene Stoner and Mikhail Kalashnikov into a single firearm.
Originally offered in a full-length rifle variation with a 16-inch barrel, the 7.62x39mm Mutant landed in late 2014 equipped with the gas operation and ergonomics of an AR-15, combined with the ammo compatibility of an AK-47. With the naked eye, everything about the gun screams AR-15 until the caliber and magazine come into focus.
Riding on the success of its full-size, extra terrestrial Mutant mother ship, CMMG is now offering a pistol variant of the Mk47 with a 10-inch barrel.
Why a pistol, you might ask? Pistols need not be registered with the BATFE as short-barreled rifles, therefore eliminating a $200 tax stamp and a multi-month waiting period. They are also legal to own and hunt with in a large number of states. In many states, having a concealed carry license allows the carrying of loaded Mk47 pistols in a vehicle, making this an ideal truck gun. Given those reasons, there's no question why the 10-inch Mutant pistol might actually be more appealing to own than the full-size model. But the Mutant pistol's curb appeal isn't limited to how it slashes through red tape, but rather how it offers the best of both worlds in a single package.
AK-47 fans may wonder, "Why not just buy an AK-47 pistol?" First, the Mutant's familiar ergonomic controls derived from the AR-15 are a huge appeal for many shooters. Second, it features a number of standardized AR parts, such as the fire control group, that are often easier to find at local stores than AK parts. Third, thanks to its direct-impingement gas system, suppressing the Mutant is also far easier than trying to stick a can on an AK. Fourth, the Mk47 has ample rail space to accommodate your choice of sights, scopes, lasers or other attachments. It's also made in the USA.
AR-15 fans may wonder, "Why not just buy an AR-15 pistol?" Mainly, bulk ammo availability of the 7.62x39mm cartridge often far exceeds that of .223 Rem/5.56 NATO. The .30-caliber cartridge is known to hit harder and make a larger hole than a .223, which is why many states approve the Russian cartridge for hunting. The Mutant can also throw some impressive fireballs, giving it points for the pure "cool factor."
Performance
Of course, combining pieces of two iconic firearms into a single, effective system means nothing if the gun doesn't perform reliably.
During testing, the Mutant pistol ate up hundreds of rounds without a mechanical hiccup. CMMG designed the Mutant's guts to stand up against heavy usage. Its bolt carrier group is derived from the AR-15 platform, incorporating a bolt face with oversized locking lugs that look like they came off a battle tank. The result is a sturdy reciprocating mass more than capable of reliably cycling the 7.62x39mm cartridge.
With extra reciprocating mass typically comes greater recoil, but CMMG tamed the Mutant pistol with a carbine-length gas system to bleed the gas through a longer tube and reduce recoil. Combine this with an aggressive muzzle brake that throws flames like an angry dragon, and the Mutant's recoil can be described as a gentle thump. Those who have ever fired a supersonic .300 Blackout through an AR-15 platform will know what to expect from the 7.62x39mm Mutant.
One area where the Mutant comes up short for AR-15 aficionados is surely in the absence of a bolt release lever or forward assist. The Mutant also does not lock the bolt to the rear on an empty magazine. Each of those characteristics are part of the Mutant's AK-47 influence, hence the hybrid design. Additionally, the included Magpul 25-round AK PMAGs feed very reliably, but their polymer feed lips quickly show signs of wear and tear that you wouldn't experience with metallic magazines.
Some people may question the accuracy of a 10-inch barrel, but testing showed that the Mutant delivers very acceptable group sizes. Using a non-magnified EOTech XPS 2-1, the author was able to achieve a 1.72-inch group at 100 yards. Extending the range out to 600 yards was also not an issue, though greater magnification with a 3x magnifier would significantly improve its maximum effective range. For a gun that's geared toward defensive situations and shooting range pleasure, the Mutant leaves little to be desired in terms of accuracy.
Shooting the Mutant at nighttime revealed that aliens really do come out after dark. Fireballs from the Mk47 reached several feet on each side of the muzzle, momentarily illuminating the desert in all directions like an alien aircraft. Flame throwing was to be expected with a rifle cartridge firing through a 10-inch barrel, as un-burnt powder ignited outside the barrel.
Parting Shots
CMMG one-upped itself with the pistol variation of the Mk47 Mutant. In fact, the pistol version is likely a more practical choice than the rifle. Its shorter barrel makes it very maneuverable in tight places, such as a vehicle, without sacrificing enough ballistic performance to make a difference for most users.
Those intending to use the Mutant pistol as a home defense gun in low-light situations should consider trading the muzzle brake for a flash hider or suppressor to avoid excessive muzzle flash, which temporarily reduces your night vision.
For a gun that accepts some of the most readily available and affordable rifle ammunition, the CMMG Mk47 Mutant offers an appealing hybrid design that's inviting to both the AR and the AK crowd. There's no doubt it'll turn heads on the range and become a favorite piece in any collection that offers equal parts functionality and pure cool factor.
CMMG Mk47
Manufacturer    CMMG
Model    Mk47 "Mutant" Pistol
Caliber    7.62x39mm
Operation    Direct Gas-Impingement Semi-Auto
Weight    6lbs. (unloaded)
Overall Length    26.5 in.
Barrel    10 in., 1:10 twist
Muzzle    5/8"-24 SV muzzle brake
Receivers    Billet 7075 T6 Aluminum
Trigger    7.5-pound single stage (measured
with Lyman Digital Trigger Gauge)
Handguard    9" free float, KeyMod
MSRP    $1,499
Website    CMMGInc.com
Related Video:

---
NEXT STEP: Download Your Free Storm Tactical Printable Target Pack
62 Printable MOA Targets with DOT Drills - Rifle Range in YARDS
This impressive target pack from our friends at Storm Tactical contains
62 printable targets
for rifle and handgun range use. Target grids and bullseye sizes are in MOA. Ideal for long-range shooting!
Subscribe to the Gun Digest email newsletter and we'll send your print-at-home target pack right away.
Just enter your email address below.
---