Gun Digest Editor-in-Chief Eric Conn rediscovers the practicality and fun of using airguns to bag small game with Gamo's Whisper Fusion Mach 1.
Like many, my first introduction to the world of hunting and shooting came by way of an air rifle my parents gave me when I was young. The break-barrel air rifle was rarely lethal, however, and I can remember all the squirrels that ran off with nothing more than a sting to the rump. All I could do was daydream about the day when a 10/22 would replace that beer can plinkster and I'd have my hands on a real small game hunting rifle.
Until recently, I'd retained my bias against air guns, especially as legitimate game takers. That all changed with a trip to Alabama for the Squirrel Master Classic, an air gun event hosted by Gamo, the Spanish-based air rifle giant. The event pairs gun writers and TV celebrities from the hunting industry with a guide, a dog handler and a 4-H youth for a one-day competition to see who can bag the most squirrels. Among this year's competitors were Michael Waddell and the Bone Collector crew, as well as my team, led by Ralph and Vicki Cianciarulo of Archer's Choice acclaim.
Mach 1 Components

Our air rifle of choice was the Gamo Whisper Fusion Mach 1 chambered for .22 pellets traveling somewhere near 1,020 fps. The Mach 1 has Dual Integrated Sound Suppression Technology, which greatly reduces the noise pollution from the gas-piston driven system. The air rifle utilizes a break-action barrel and a 3-9×40 scope and a two-stage adjustable trigger. While the rifle also comes in .177-caliber pellets, the .22-caliber option is by far and away more accurate and lethal for hunting purposes. The Mach 1 retails for south of $300 and offers Gamo's quietest performing air rifle, especially when using heavier, subsonic .22 pellets, which are optimal for hunting.
The Whisper Fusion Mach 1, as stated, comes with an optional 3-9×40 optic or fiber optic iron sights. While my optic sighted in easily and held zero, a few shooters had issues with the scope holding zero in the field. There are several options for the shooter who desires an optic—either use the one provided and lean on the five year warranty in the event of failure, or buy a separate optic of your own choosing. For the majority of shooters the optic worked well, and most distances were 50 yards and closer.
Pellet Selection
Gamo offers a wide variety of pellets, and while many will do the trick for hunting purposes, the heavier .22 pellets are better. Not only does the pellet stabilize better than lighter options, thus providing superior accuracy, it also carries more energy, therefore delivering optimal lethality for game. The larger pellets travel more slowly but carry more energy and are quieter, most of them hovering at or under 1,000 fps. For the hunt we used Gamo's Hunter pellet (.22), which has a velocity of nearly 700 fps at the muzzle and 10.54 ft.-lbs. of energy at 30 yards.
Just how lethal was the Mach 1 on squirrels? As we found out, extremely lethal. Within the first 20 minutes of hitting the thick timber, our dog had treed a pair of squirrels, signaling a volley of pellets from the group of us. Two, sometimes three shots would do the trick, and the first shot generally ended the pursuit. We'd follow our squirrel dog, Gunner, through the deep woods, who would then post up on a tree and start going nuts, hound-dog-style, until the group of seven or eight of us would surround the tree and unleash a round of .22 pellets. Eyes gazing skyward, we'd strain as we tried to find that flash of tail or scamper of feet to betray our quarry's position. Or, after a few successful shots, we'd watch as the squirrel dropped to the ground and our dog brought him to Victor, the dog handler.
For Young and Old
In part hosted by Jackie Bushman of Buckmasters fame, the Squirrel Master Classic is geared toward integrating the 4-H youth, who get to walk through the woods alongside TV celebrities like Michael Waddell and Brian "Pigman" Quaca, and introducing them to hunting at its best. For many of them it's their first hunt, and for all of the youth, the excitement was written on the smiles on all their faces.
The beauty of a fully capable air rifle like the Mach 1, however, is that it's also able to imprint a smile on adult faces, too. Aside from the wood carved squirrel trophies that went to the winning team, the greatest prize was walking the woods with a highly skilled dog, a group of hunting companions and an air rifle that was pleasurable to shoot and extremely lethal on squirrels.
The Final Weigh-In
After the final weigh-in, Team Bone Collector came home with the grand prize for the second year in a row, while our team finished an honorable third. We'd bagged something like 15 squirrels in a day's time, while Waddell and crew raked in more than 20 critters to capture the grand prize. While the prized wooden squirrel will have to wait another year for the rest of us, we all had a good time nonetheless. The Gamo air rifles did the job effectively, restoring to me a newfound confidence in the platform for things like pest control and small game hunting of several kinds. Yes, I'd be more than happy to pass on this air gun tradition to my sons, but I'm keeping one in the gun cabinet for my own sake, too.
GAMO WHISPER FUSION MACH 1
Type: air rifle, break barrel
Optic: Fiber optic front and rear sights, 3-9×40 scope
Caliber: .22
Noise Reduction: Dual Integrated Sound Suppression Technology
Rating (fps): 1,020
Stock: All weather, black
Trigger: Two-stage adjustable
MSRP: $300
Manufacturer: Gamo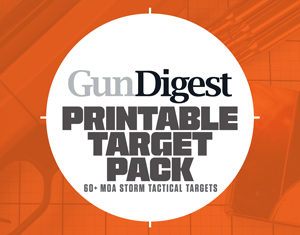 Next Step: Get your FREE Printable Target Pack
Enhance your shooting precision with our 62 MOA Targets, perfect for rifles and handguns. Crafted in collaboration with Storm Tactical for accuracy and versatility.
Subscribe to the Gun Digest email newsletter and get your downloadable target pack sent straight to your inbox. Stay updated with the latest firearms info in the industry.