The Turnbull 1911 Heritage Edition Commander is a masterpiece that weds restoration-grade artisanship with new gun production.
For decades, Doug Turnbull has built a lasting reputation as the premiere gun restoration master. His New York-based company, Turnbull Restoration & Manufacturing Co., has turned thousands of worn and tattered relics into gallery-worthy works of art, many christened with the color case-hardening, exquisite engraving and charcoal bluing that's become synonymous with the company name. He didn't invent these techniques—he just perfected them.
Turnbull's newest introduction, the Model 1911 Heritage Edition Commander, demonstrates what can be accomplished when the mindset of the restoration process is applied to the production of a new firearm. The Commander, which will be featured at the 2016 SHOT Show, is a follow up to the original Heritage full-size 1911, introduced in 2014. As Turnbull himself said, it's all about attention to detail.
"The idea with the [Model 1911] Heritage Edition was to take the heritage of the old guns, with the historical finishes, the color case-hardening and the charcoal bluing, and bring that into new manufacturing," Turnbull said. "The result is a work of art."
Gallery worthy it is, but range weary it is not.
"That's probably one of the things we hear most, 'That gun is too pretty to shoot,'" Turnbull said. "But we always tell people, 'These guns are works of art, yes, but they're meant to be shot. Shoot it. Enjoy it. They're meant to be used.' Once people do shoot the gun, they're impressed. It's not just for looks."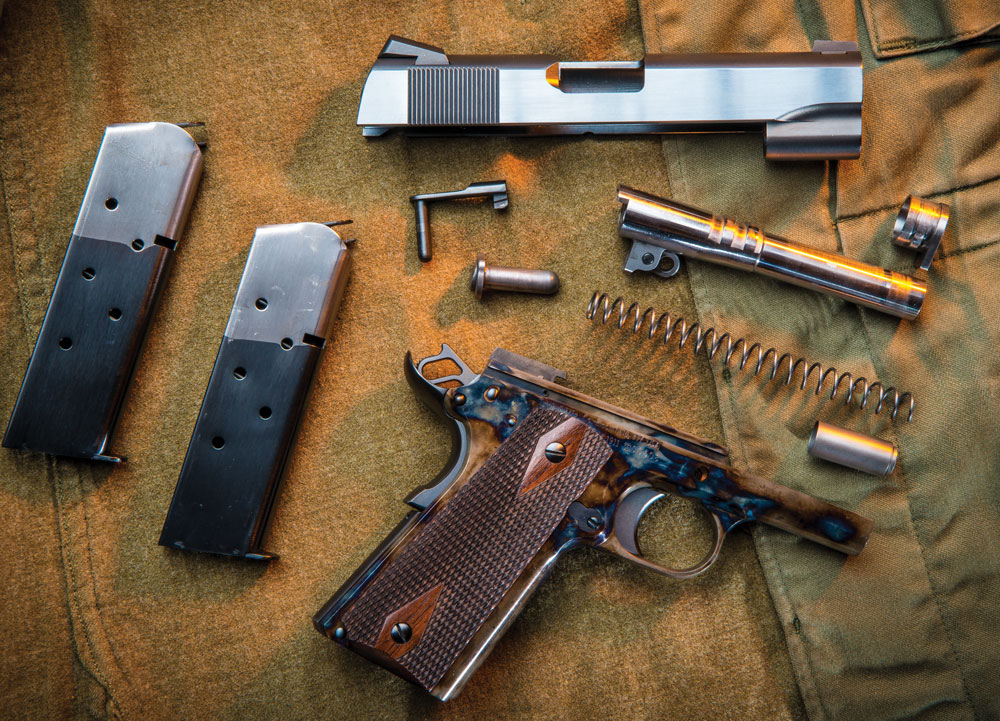 Built for Looks, Built to Last
As good as it looks—and yes, it looks damn fine—the Heritage Edition Commander is, as Turnbull said, made to shoot. The gun features a forged frame and slide and is CNC machined to meet the strictest specifications and tolerances. All parts are fit by hand, tested, hand polished and feature roll marking, charcoal bluing and color case-hardening. With an expert engraver on staff, Turnbull also offers customized engraving for those so desiring.
The Commander also features Novak dovetail-style, white three-dot sights and double diamond American black walnut checkered grips. The solid one-piece trigger is set between 4 and 5 pounds and, as range testing verified, makes for a highly accurate and enjoyable handgun to shoot.
In hand, the Heritage Commander has the smooth, ergonomic feel of a custom gun, matching the elegant look of a masterpiece. The thumb safety is easily engaged or disengaged without the need for multiple fingers and a hernia-grade effort, and the slide functions like an already broken-in gun. Disassembly is a cinch thanks to the hand-fit parts. The gun ships with a nice Turnbull case and a pair of two-tone magazines.
At the range, the Commander was tested with three different loads from HPR: the 230-grain jacketed hollow point (JHP), 185-grain JHP, and the 150-grain Black Ops open tip frangible (OTF). Testing was conducted at 25 yards from sandbags.
Group averages were taken from five-shot groups. There were no functionality issues with the handgun, which has a price tag of $2,850. The best overall test group was 1.74 inches from the 185-grain JHP, which also averaged 3.33-inch groups overall. The 230-grain JHP had a best group of 2.5 inches and an average of 3.17 inches. The lighter 150-grain OTF produced a best group of 3.28 inches and an average of 4.06 inches.
Parting Shots
The first handgun I fell in love with as a kid was my dad's Colt Combat Commander that he'd bought off an old retired sheriff. Since then, I've had a thing for the 1911. Turnbull's Heritage Edition Commander is the epitome of everything good about the 1911. It's elegantly designed, artistically crafted and functionally flawless. It's as accurate as it is beautiful, and it embraces the rich tradition of the old while putting forth something breathtakingly new. Simply put, it's the kind of gun you can't stop staring at…and can't stop shooting.
This article appeared in the Fall 2015 issue of Gun Digest the Magazine.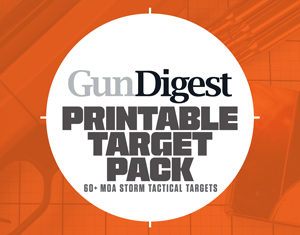 Next Step: Get your FREE Printable Target Pack
Enhance your shooting precision with our 62 MOA Targets, perfect for rifles and handguns. Crafted in collaboration with Storm Tactical for accuracy and versatility.
Subscribe to the Gun Digest email newsletter and get your downloadable target pack sent straight to your inbox. Stay updated with the latest firearms info in the industry.