An engraved 1911 typically runs a pretty penny. But now Smith & Wesson is making procuring the iconic pistol a bit easier on the pocketbook.
The 1911 pistol offers a vast canvas to engravers, and over the years, the legendary handgun has been etched with every conceivable design and flourish.
For many, the gun's aesthetics are as big a selling point as its pedigree and performance. Historically, there has been just one big problem with procuring a 1911 decked out with a head-turning design — price.
For the most part, even plain-Jane models of the handgun tend to reside on the more expensive end of handguns. The ornate 1911s, well they can get downright perverse when it comes to the price tag. However, one renowned firearms manufacturer seems to be making style and performance a bit more affordable.
Smith & Wesson recently introduced an engraved SW1911 to its semi-automatic pistol lineup. And while the scrollwork on either side of the pistol is a real attention-grabber, it's the handgun's damage (or relative lack thereof) to shooters' pocketbooks that is the real eye-catcher. At $1,060, the new pistol is just a bit more than Smith & Wesson's base-model 1911, not to mention much less expensive than almost any other engraved pistol of this type.
Smith & Wesson turned to technology to turn out an affordable engraved version of John M. Browning's brainchild. While the original design came from the Massachusetts company's master engravers, it is applied to the pistols via an engraving machine.
Much of the artistry is on the stainless-steel 1911's slide, but there are some embellishments on the frame too, mainly around the trigger. The scrollwork is set off by the attractive glass bead finish, as well as the engraved rose-wood colored grips. The grips also add continuity between the metal and non-metal parts of the .45 ACP, featuring a similar scallop pattern that composes the fore and aft cocking serrations.
Completing the package, the engraved SW1911 comes in a wooden presentation case, allowing shooters a way to safely stow and showoff their pistol.
As would be expected with a steel-framed pistol, the SW1911 is hefty, weighing in at 39.8 ounces. It measures in at 8.7-inches in length, has an 8+1 capacity and is outfitted with white-dot front and rear sights.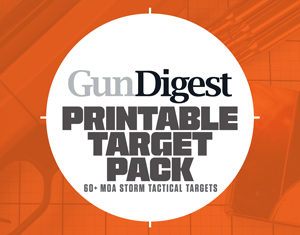 Next Step: Get your FREE Printable Target Pack
Enhance your shooting precision with our 62 MOA Targets, perfect for rifles and handguns. Crafted in collaboration with Storm Tactical for accuracy and versatility.
Subscribe to the Gun Digest email newsletter and get your downloadable target pack sent straight to your inbox. Stay updated with the latest firearms info in the industry.