Leapers appears to have hit a happy medium for a pistol shooter searching for a range bag that has ample storage, yet convenient size.
Guns, ammo, safety equipment — you're ready for a day at the range. Well, you're almost ready. There is one important piece of equipment missing from this equation — something to get all that gear from point A to point B.
Yup, a good old range bag is an essential for every shooter. But finding the right fit on one can be a challenge.
Small ones can quickly become overstuffed sausages, even with a moderate amount of gear. Large ones are unwieldy and, in many cases, are overkill for most shooters' needs.
Leapers, however, recently introduced a handgun storage/transportation solution that appears to strike a happy medium between size and capacity.
The Michigan manufacturer's UTG Competition Shooter's Double Pistol Case has room enough for all your range essentials. At the same tick, it appears to be just the right size to conveniently move your guns around hassle free.
To the latter point, the case measures in at 12×9.5×3.5 inches, making less of an imposition than even a computer bag. But don't let the exterior dimensions fool you because the case has ample room for everything you need to plink away.
The range bag's dominating feature is its pistol storage area, which encompasses one full panel. It can safely secure two handguns of nearly any size and shape thanks to an ingenious system. The case utilizes universal holsters that attach to the panel with hook-and-loop (similar to Velcro) surfaces.
The opposing panel of the case is outfitted with five elastic magazine loops.
The flexible retention devices are designed to hold any caliber's magazine — whether it's a single-stack .22 or double-stack 10mm.
In between the two panels is a zipper leaf that is meant to hold ammunition. But it also includes pockets to hold other range essentials, such as earplugs or tools. The leaf is padded, as are the panels, to ensure a pistol or magazine doesn't get any nicks during travel.
Leapers has also included an external pocket for extra storage on the nylon case. And it has included both handles and a detachable shoulder strap, allowing for easy transport.
Presently, the American-made UTG Competition Shooter's Double Pistol Case's MSRP is $24.97.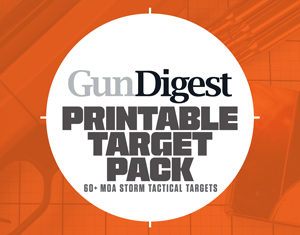 Next Step: Get your FREE Printable Target Pack
Enhance your shooting precision with our 62 MOA Targets, perfect for rifles and handguns. Crafted in collaboration with Storm Tactical for accuracy and versatility.
Subscribe to the Gun Digest email newsletter and get your downloadable target pack sent straight to your inbox. Stay updated with the latest firearms info in the industry.