SIG's recently released MCX demonstrates the true meaning of versatility and modularity.
SIG Sauer has long been an innovator in the firearms industry, but in the past couple of years the company has pushed the limits of innovation with some of its new products. One of these groundbreaking new additions for 2015 is the MCX, which represents a major development in terms of firearm modularity.
Built around SIG's reliable, gas-operated, short-stroke piston system, the SIG Sauer MCX comes with several features designed to make it as mission-adaptable as possible. The first of these is an auto-regulating gas system that allows shooters to switch between supersonic and subsonic loads, or unsuppressed and suppressed operation, without manually adjusting the gas settings. There is no change in reliability when transitioning between these loads or operations.
In addition, the MCX's modular design easily configures to chamber and fire three different calibers: .300 BLK, 5.56 NATO and 7.62x39mm. The MCX's aluminum KeyMod handguard is easily removed, and the firearm comes with a quick-change barrel system for swapping between .300 BLK and 5.56 NATO barrels. Converting to 7.62x39mm simply requires an additional bolt face change. While the MCX is optimized for suppressed use with .300 BLK, it performs with any of these cartridges.
SIG Sauer MCX Review
The MCX utilizes a unique upper that is compatible with all Mil-Spec AR lowers, so shooters can also upgrade their standard system by pairing it with the MCX upper and a SIG MCX Stock Kit. An interesting feature of the MCX is the groundbreaking recoil assembly that does not require the use of a buffer tube, which allows for folding and other unique stocks.
The MCX is not only flexible in terms of load selection and caliber, it also serves both right- and left-handed shooters with ambidextrous AR-style controls. These include an ambidextrous safety, magazine release and charging handle. The magazine release itself is oversized for quicker manipulation in a high-stress scenario.
Other features available on the MCX include a unique, fully locked and closed rotating bolt system, which features a nickel-coated bolt and carrier; a MIL-STD 1913 Picatinny top rail that spans 17¾ inches from the receiver to the front of the handguard; SIG Sauer's proprietary pistol grip; and SIG Sauer flip-up iron sights.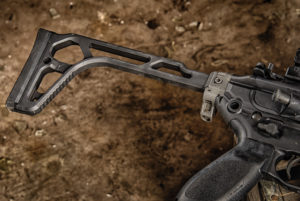 Initially, there are three variants of the SIG Sauer MCX available to civilian shooters: a semi-automatic carbine rifle version with a 16-inch barrel, a short-barreled rifle (SBR) version with a 9-inch barrel, and a pistol version with a 9-inch barrel. The rifle and SBR variants will be available with four different stock options, including a low-profile skeletonized stock that folds to the side. The pistol version comes with SIG's new side-folding SBX Pistol-Stabilizing Brace.
The SIG MCX Carbine is available for $1,866, while the SBR variant and SIG Sauer MCX Pistol with SBX Pistol-Stabilizing Brace are available for $2,058 and $2,132, respectively.
Related Video:

This article appeared in the August 2015 issue of Gun Digest the Magazine.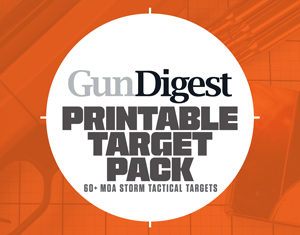 Next Step: Get your FREE Printable Target Pack
Enhance your shooting precision with our 62 MOA Targets, perfect for rifles and handguns. Crafted in collaboration with Storm Tactical for accuracy and versatility.
Subscribe to the Gun Digest email newsletter and get your downloadable target pack sent straight to your inbox. Stay updated with the latest firearms info in the industry.