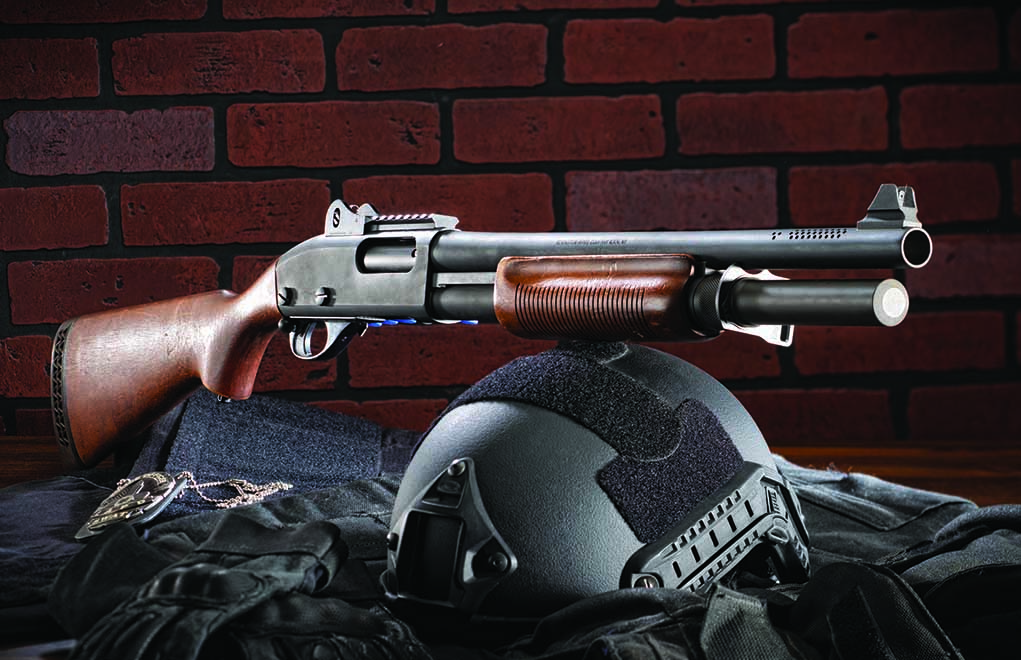 Surprisingly simple and incredibly impactful, a full tactical upgrade brings a 1960s Remington 870 up to today's standards.
The Remington 870 is one of the most widely recognized firearms in all history. Designed in the early 1950s, the 870 is a bottom-loading, side-ejecting, pump-action shotgun with a tubular magazine underneath the barrel. There are hundreds of variants of the Remington 870 shotgun in 12-, 16-, 20- and .28-gauges and .410 bore. After its release, the 870 became an essential tool in hunting, as well as for police, military and home-defense use, with millions of them sold to date.
My Remington 870
In the early 1990s, I was told that a local gun store in Mesa, Arizona, had received a large shipment of trade-in law enforcement Remington 870s, so I immediately paid it a visit. When I entered the store, I was greeted by a wall full of Remington 870s with wood stocks in various levels of cosmetic wear, both on the metal and the wood. I told the clerk I wanted to purchase one, but I wanted to shop around the store before doing all the paperwork.
I soon came to the same clerk with a Pachmayr pistol grip and forend kit I'd picked up to accompany my new purchase. At the time, I wanted something compact and fun (I honestly didn't know what I wanted), but this sounded like a cool idea at the time.
The clerk asked me if I wanted the Pachmayr kit for the shotgun I was about to purchase, I nodded.
He said, "Well, then, I have just the right shotgun for you."
The clerk went to the back and retrieved one of those used police trade-in shotguns. But it had neither a stock nor a handguard. It only had a long screw coming out of the back of the receiver.
He explained that a couple of the guns came in with broken stocks or forends, so parts from several guns were cannibalized to repair others. As a result, there were some guns with no furniture. He then offered me a significant discount on the purchase.
I went home with my new purchase, and I was thrilled. I tried to find out as much as I could about my new 870—but this was the early '90s, so there was no Google, and the Internet was in its infancy. Consequently, I had more questions than answers.
The first one involved the "OHB" stamping on the left side of the receiver. Years later, I learned that the OHB was actually an overstamp: The "O" was originally a "C," and the "B" was originally a "P"—making the original marking "CHP," as in "California Highway Patrol." That made my purchase even cooler.
I enjoyed shooting my Remington 870 for many years … until I made the boneheaded decision to sell it to a friend. Years went by, and I moved out of the Phoenix area.
However, I returned seven years later. One day, I became nostalgic about my old 870, reached out to my buddy and got the 870 back from him. It was still decked out with the same Pachmayr pistol grip and forearm.
I tried several combinations of stocks and forearms. I eventually decided on a SpeedFeed stock and synthetic forearm—and continued to enjoy my 870 for several years.
But, like many gun owners, I can't leave things well enough alone; I have to mess with them and make something good, such as the Remington 870, into something cool, something special.
I started to do some research. I also remembered that Vang Comp Systems, which had completed decades of excellent shotgun work, was only 100 miles away. Wanting something totally cool, I drove to its facility and asked the folks at Vang to do what was necessary to bring my old, 1960s 870 to today's standards—and make it something … awesome.
A Complete Tactical Upgrade
The Remington 870 received Vang Comp Systems' "full tactical upgrade."
However, before starting with the upgrades, the 870 needed some TLC to get it up to modern reliability standards. The Vang staff installed the Flexi Tab updated bolt, bolt slide, forend tube assembly and carrier latch. They also installed a 3-inch ejector with new rivets. In addition, both shell latches were replaced and triple staked—per the new standard.
Why the Flexi Tab? Well, for more than 30 years, production 870s had a design flaw: The user might fail to press a shell all the way into the magazine tube when loading. As a result, the shell latch didn't engage the shell and would cause a malfunction. When a shell slips out of the magazine under the bolt in the receiver, it binds the action, and the shotgun must be disassembled to complete the remedial action.
This issue was resolved with the introduction of the Flexi Tab carrier. Shotguns with this modification can be identified by the U-shaped cutout on the carrier, visible from the bottom of the shotgun. The cutout, combined with a modification on the underside of the slide assembly, allows the action to be opened with a shell on the carrier.
After the Flexi-Tab upgrade was performed, Vang went to work with the really cool stuff:
VCS barrel with ports. This includes the patented Vang Comp System barrel modification of backboring and lengthened forcing cone to reduce recoil impulse and tighten up the shot patterns. Vang also added the compensation ports to reduce muzzle flip, disperse muzzle flash and further reduce recoil.
Ghost ring sights. Vang's wing-protected ghost ring sights are installed on the receiver, featuring a click-adjustable rear sight with an integral Picatinny rail. The kit also features an AR-15 front sight post from XS Sights.
Dome head safety. Vang's dome head safety is also included in the full tactical upgrade. Made of 4140 steel and finished in Nitridox, it's a bulletproof upgrade to any Remington 870 on which you want to be able to find the safety button without looking.
---
Draw A Bead On The Remington 870:
---
Stainless steel magazine follower. Vang's stainless steel magazine follower is also included with the full tactical upgrade. This piece offers a solid reliability upgrade over the "dinky" plastic follower that comes from the factory … and requires replacement every two to four years. Ridges are cut into the outside diameter to reduce the bearing surface and to passively clean your mag tube (it scrapes dirt and debris into the recesses of the follower). My Remington 870's follower now has a witness hole in its face, so when you feel a hole in there, you know the shotgun is empty without having to look.
+2 magazine extension. The magazine tube extension is also included. It's made from a single piece of American steel, so it's not prone to breakage. There are no seams or welds that can crack or split. In addition, a magazine clamp isn't required: It comes assembled with a removable and reversible steel sling plate. A high-power Wolff magazine spring is included with every 12-gauge magazine tube extension for increased feeding reliability with heavy recoiling loads, such as buckshot and slugs.
D.S.A.C. Finally, Vang added a detachable side ammunition carrier for a removable, onboard ammunition source. Vang's specialized bolts can't be overtightened, and they don't require any special tools to install or remove. A steel insert in the aluminum side plate is used to ensure a tight hold and remove the possibility of stripping threads.
By the way, all Vang parts and components are made in the United States and are guaranteed for life.
Furniture for a Classic Look
The last detail was the furniture.
Originally, I wanted a modern, tacti-cool look for my Remington 870 but, after careful consideration, I opted for a more classic look; something that would've been used by the California Highway Patrol in the early 1960s.
I asked the guys at Vang if they could help me with my request. The answer was a resounding, Yes! They quickly searched through their parts bins and found me the perfect stock set … with enough scuffs and scratches to give it the perfect look and feel. The sling stud is even mounted on the stock pistol grip—the way a California Highway Patrol armorer would have installed it in the 1960s or '70s.
After I retrieved my completed Remington 870, I had to admire the effort and craftsmanship the Vang crew put into my shotgun, starting with a silky-smooth action, crisp trigger pull and impeccable finish. I couldn't believe this almost-60-year-old shotgun looks and feels as if it just came off the assembly line.
Upgraded Remington 870 At The Range
I made a quick trip to my local indoor range (C2 Tactical in Scottsdale, Arizona) for a quick test-fire-and-pattern test. I used Remington Ultimate Defense 9 Pellet 00 Buck Shot with a muzzle velocity of 1,325 fps. After a few rounds of test firing, I decided to pattern the shotgun at 5, 10 and 15 yards, because I wanted to find out how the improvements done by Vang would perform at these distances.
At 5 yards, all nine pellets were clumped into a group not much larger than 1 inch, with the wad impacting about 2 inches above the pellets. At 10 yards, the group spread out a little to an impressive 2½ inches, with the wad impacting about 3 inches to the left of the group. Finally, at 15 yards, the group increased to 5½ inches—all within the vital center-of-mass area of the standard Gunsite target and with the wad not impacting the target.
I'm aware that depending on ammunition, results will vary, and I'm planning to test various types of ammunition to figure out which one will be the optimal round to match the improved performance of this old warhorse.
Looking back at the last 25-plus years since I purchased this shotgun, a lot has changed: Equipment has changed, as has ammunition. Even so, the shotgun is still one of the most utilitarian tools for hunting, recreational shooting, law enforcement and self-defense.
This particular shotgun is about 60 years old, but all that tender loving care by the group of professionals at Vang Custom gave it a new life. My Remington 870 will now serve me and members of my family for many decades to come.
For more information on the Remington 870, please visit remington.com.
For more information on the Vang Comp System, please visit vangcomp.com.
The article originally appeared in the July 2020 issue of Gun Digest the Magazine.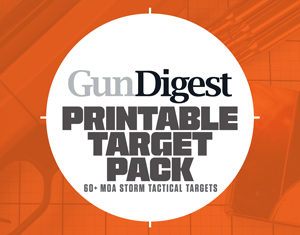 Next Step: Get your FREE Printable Target Pack
Enhance your shooting precision with our 62 MOA Targets, perfect for rifles and handguns. Crafted in collaboration with Storm Tactical for accuracy and versatility.
Subscribe to the Gun Digest email newsletter and get your downloadable target pack sent straight to your inbox. Stay updated with the latest firearms info in the industry.