The new versatile and affordable Stoeger P3500 pump gun chambered for 3½-inch shotshells proves you don't need a fancy gun to get the job done.
What makes the Stoeger P3500 a good choice?
The Stoeger P3500 is simple yet versatile and can handle any intended job.
This ranges from putting meat on the table to defending your home.
At $399, the Stoeger P3500 is highly affordable, but performs way above its price range.
It chambers 3 1/2-inch shells and comes with a black synthetic or Realtree camo stock.
Pulling up to the hunting lodge at the Diamond K Ranch in central Texas, the first thing I saw was guide Thomas Neuberger and his son, Reed, skinning a 5-foot rattlesnake. I looked down at the Irish Setter snake boots on my feet and fervently hoped I wouldn't have to test them against a live specimen during my hunt for Rio Grande turkeys. Rattlesnakes and I have a long history of mutual hostility, and I was not eager to renew the feud.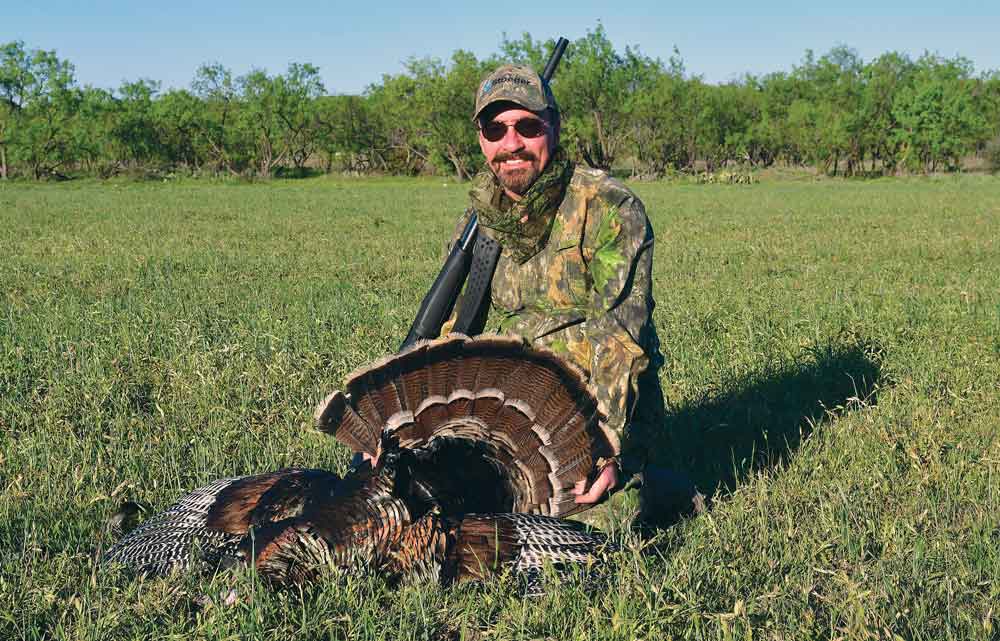 Forty-eight hours later, I was feeling snake-bit, but not in the traditional sense. Hunting hard, I'd had plenty of close encounters with turkeys. They just weren't the right kind of turkeys. Twice, Reed and I were practically run over by pairs of jakes. On one occasion, a hen camped out so close to us that we could have poked her with the barrel of the new Stoeger P3500 12-gauge pump shotgun I was holding.
By late afternoon of the final day of the hunt, everyone else in the hunting party had tagged a nice turkey. Three fell to hunters using Stoeger's new M3500 semi-auto shotgun and Burris FastFire II sights. Keith Heinlein, Stoeger product manager, stunned everyone when he took a once-in-a-lifetime bird that required an hour and a half of coaxing to come into range. Remarkably, Keith's bird had — count 'em — five beards, and Keith took him the old-school way, using the same basic, black P3500 pump gun that I was using, equipped with only a single red fiber-optic front sight.
For the last setup of my hunt, Thomas and I headed to the edge of a large field we hoped birds would work through to go to roost, and they did. About 20 hens flew in from the ridge behind us or filtered in far to our right, but only one visited our decoy hen. We counted five toms strutting on the far side of the field, but none could be persuaded to leave their hens and cross the big field.
With hope and time running out, my last chance rested with a bird we'd heard gobble a couple of times far down the ridge on our side of the field. We heard him drumming close behind us, at one point late in the day, but 30 more minutes ticked by until he finally emerged from cover and started working his way slowly toward our decoy.
He advanced and started to strut, but he changed his mind at the last minute and began to angle toward the birds on the far side of the field. I had to wait for the big gobbler to clear a tree to my right, and I watched as he gained distance with each step. I knew it was going to be a very long poke, but it was now or never.
Affordable Reliability
In the minds of most Americans, a 12-gauge pump shotgun will handle just about any chore, from putting meat on the table to defending the homestead. It will do both jobs admirably when deployed at an appropriate range and when loaded with appropriate ammunition. Pumps don't have quite the allure of semi-autos or double guns, but they've always won the hearts and minds of Americans because they are both reliable and affordable.
The new Stoeger P3500 meets both of those criteria in spades. With a MSRP of $399 for the basic black synthetic-stocked gun — and a common retail price well below that — it's a working man's gun sold at a working man's price, and Stoeger makes no apologies for that.
"We are targeting consumers who are looking for a value but will not sacrifice quality," says Keith Heinlein. "These guns work, and work well, and will not break the bank. With the price point, quality and a 5-year warranty, there's not a better-valued shotgun on the market."
If you're unfamiliar with the Stoeger brand, it might help to know that Stoeger Industries is a member of the Benelli USA family of companies, which also falls under the ownership umbrella of Beretta. Stoeger Industries has more than a million firearms in the market consisting mainly of shotguns in pump, semi-auto, over/under and side-by-side configurations.
The P3500 is actually manufactured by a company in Turkey named Stoeger Silah Sanayi A.S., which was formerly known as Vursan. Beretta Holding purchased the company in 2002, and the operation was modernized with CNC-controlled machinery and formal quality process controls. The resulting quality of guns manufactured there allows Stoeger to back them up with a 5-year warranty, including round-trip shipping if the gun ever needs repair.
Synthetic Simplicity
The P3500 shotgun is initially available with a synthetic black stock and forearm or a Realtree MAX-5 camo finish with 26- or 28-inch chrome-lined barrels. Barrels have a full-length, stepped vent rib and are adorned with a highly visible red fiber-optic front sight. The gun is quite similar to Stoeger's prior P3000 pump-action model. It's still a versatile, do-it-all shotgun, but it delivers more power by virtue of the fact that it's chambered for 3½-inch shells.
Ergonomically, the gun worked fine for me and handled nicely thanks to its trim lines and a slimmed-down forend. This gun is neither elegant nor clunky. It's just what you would want and expect in an everyday shooter that's equally at home in a muddy boat bottom or a turkey blind. Happily, the gun has sling swivel-stud attachment points fore and aft, and it carries well on a sling. The gun weighs 7 pounds, but it feels lighter than that to me. Recoil is moderated with a rubber butt pad, but it was significant enough during pattern testing that I was content to stick with 3-inch shells.
The gun comes with one modified choke tube, but it will accept a variety of non-Crio Beretta and Benelli choke tubes. Use of steel shot is fine with the modified choke tube, but it should not be used with any tighter chokes, according to Stoeger. For our hunt, we used Stoeger's extended extra-full turkey choke, which patterned beautifully and helped account for a half-dozen turkeys, with as many shots fired, on our hunt.
The P3500 has a black anodized aluminum receiver and steel magazine tube that comes with a plug to limit magazine capacity for hunting, when required. Dual action bars promote reliable, non-binding cycling of the action. The bolt assembly rides between the rails, and the action utilizes a Benelli-style rotating bolt head. I found cycling to be smooth, requiring little effort, but you need to make sure you push the forearm all the way forward when closing the action so that the rotary bolt fully engages. The safety is a standard crossbolt design, and the shotgun breaks down easily and quickly for cleaning and transport.
Given its real-world price, it's hard to find anything to dislike about the P3500. My chief complaint was the somewhat heavy trigger pull, which I measured at slightly over 8 pounds with a Lyman trigger gauge. That's a bit heavier than I prefer, but the trigger broke in sufficiently crisp fashion that I really didn't notice it in the field.
Last-Chance Gobbler
Stoeger's Keith Heinlein had already used the P3500 to demonstrate, in admirable fashion, that you don't need a tricked-out, camo'd-out shotgun to kill a turkey. It was now my turn to do the same, but the bird in my sight picture was rapidly opening the distance between us with each step.
I had confidence in the P3500 and Stoeger's extra full turkey choke. It had produced very impressive patterns in testing at 25 yards shooting Federal's 3rd Degree 3-inch turkey load with 1 ¾ ounces of shot, which distributed pellets in a fashion that make it well-suited to both close- and long-range shots. This unique load contains 40 percent No. 7 Heavyweight (tungsten-based) shot, 40 percent No. 5 copper-plated premium lead and 20 percent No. 6 Flitestopper lead.
The second the bird stepped clear of a tree that was blocking my shot, Thomas used a diaphragm call to cutt at the tom, making him stop and raise his head. I fired instantly, and the bird folded on the spot. Of course, I never noticed the recoil. Later, when we checked the distance from where I fired to where the bird dropped at the shot, you could have knocked me over with a feather. It was exactly 70 yards — and it wasn't a fluke shot with a lucky couple of pellets. Upon close examination, we found the gobbler's neck and wattles to be riddled with shot.
It was a dramatic ending to my first hunt for a Rio Grande turkey, and the credit goes exclusively to the P3500 shotgun with Stoeger's extra full turkey choke and Federal Premium's 3rd Degree shotshell. This was my first time using both, but it's a pretty safe bet it won't be my last time shouldering a P3500 and heading afield. You'd be hard-pressed to find a more effective combination for turkeys at any price — or a shotgun that's more willing to do whatever you ask of it.
This article originally appeared in the November 2017 issue of Gun Digest the Magazine.
---
NEXT STEP: Download Your Free Storm Tactical Printable Target Pack
62 Printable MOA Targets with DOT Drills - Rifle Range in YARDS
This impressive target pack from our friends at Storm Tactical contains
62 printable targets
for rifle and handgun range use. Target grids and bullseye sizes are in MOA. Ideal for long-range shooting!
Subscribe to the Gun Digest email newsletter and we'll send your print-at-home target pack right away.
Just enter your email address below.
---