Browning has added a touch of class to its popular semi-automatic shotgun line with the A5 Hunter High Grade. Ornate and functional, the newest "Humpback" should hammer fowl in style.
There are giants in the firearms world. Then there's John M. Browning.
Going on nearly 100 years since his death, the prolific firearms designer's influence is still felt in every corner of the gun world at large. From the ubiquitous 1911 pistols appearing in concealed carry holsters and firearms competitions to the savage "Ma Deuce" M2 machine gun fighting fearlessly since World War II, Browning's ideas are still alive, well and kicking lead down range.
One of Browning's slightly overshadowed firearms, though no less resilient, is the Auto-5 shotgun. The first mass-produced semi-auto is lovingly known as the "Humpback" due to the receiver's distinctive high rear end. And while it has undergone an evolution in operation, the shotgun is still a top choice for those looking to knock down everything from ducks to quail out of the sky.
Browning's namesake company recently released a new model of the unique scattergun to its A5 line. The company hasn't shot to improve on the robust design with the A5 Hunter High Grade 12-gauge. Instead, it has attempted to produce a shotgun fowlers of any stripe would be proud to pass down the generations.
What makes Browning's new A5 a gem is the marvelous ornamentation the Utah-based company has included on the receiver. Flying into and under the ejection port is a scene of three mallards lighting on a pond; the other side has three pheasants flushing. Each is surrounded with scrollwork that, on a polished black finish, gives the shotgun a classic appeal that has become a rarity in the modern era.
Furthering the aesthetics of the A5 Hunter High Grade is Browning's decision to dress it with a stick of Grade 2.5 Turkish walnut. While not as popular an option as it once was, the wood stock gives the automatic a true shotgun feel, particularly with the rich gloss finish, which makes the walnut's swirl really pop. Topping everything off, the grips have sharp 22-line-per-inch checkering, ensuring a firm handle and complete control of the firearm.
Despite being a semi-automatic, operated using what Browning calls its Kinematic Drive (inertia operation), the new A5 isn't overbearing. The shotgun tips the scales at 6 pounds, 11 ounces, which puts it at the average to light end of its class. And it comes with two barrel length options — 26- and 28-inch — allowing hunters a choice, depending on their hunting style, whether they're beating the bush or braving the cold in a blind.
The Hunter High Grade should remain as reliable as the previous iterations of the A5, given its mechanical operation. Relying on recoil to cycle the shells, the action is less susceptible to heavy-use fouling and the elements. To boot, the Kinematic Drive is designed to graze on a wide variety of shells without any manual adjustments. Browning bills that shells from 1-ounce field loads on up will cycle through its 3-inch chamber — in turn, it's ready for anything from chuckers to Canada geese.
Given the shotgun market is brimming with economy models, even in the realm of semi-autos, the A5 Hunter High Grade isn't a gimme. But at the same time, and considering the accoutrements, its $1,859 MSRP doesn't break the bank and is competitive with most inertia-driven shotguns available today.
Browning A5 Hunter High Grade
Gauge: 12 Ga.
Chamber: 3 in.
Barrel Length: 26 in., 28 in.
Overall Length: 47 5/8 in., 49 5/8 in.
Length of Pull: 14 1/4 in.
Drop at Comb: 1 3/4 in.
Drop at Heel: 2 in.
Weight: 6 lbs., 11 oz. (26 in.); 6 lbs., 13 oz. (28 in.)
Magazine Capacity: 4, 2 3/4-in. shells
Rib Width: 1/4 in.
Barrel Finish: High Gloss
Stock Finish: Gloss
Wood Grade: 2.5
Chokes Included: Full, Modified, Improved Cylinder
Receiver Finish: Polished Black
Chamber Finish: Chrome Plated Chamber
Front Sight: Fiber Optic
Choke System: Invector-DS Flush
Barrel Material: Steel
Stock Material: Turkish Walnut
Recoil Pad: Inflex 2, Large
Checkering Cut: 22 LPI
Receiver Material: Aluminum Alloy
Trigger Finish: Gold Plated
Trigger Guard Finish: Matte Black
Bolt Slide Finish: Brushed Nickel
Magazine Type: Tubular
Trigger Material: Alloy
Trigger Guard Material: Alloy
Trigger Guard Engraving: Buck Mark in Gold
MSRP: $1,859.99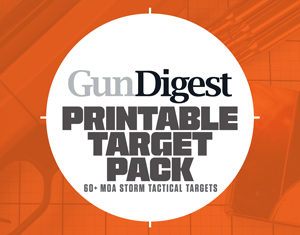 Next Step: Get your FREE Printable Target Pack
Enhance your shooting precision with our 62 MOA Targets, perfect for rifles and handguns. Crafted in collaboration with Storm Tactical for accuracy and versatility.
Subscribe to the Gun Digest email newsletter and get your downloadable target pack sent straight to your inbox. Stay updated with the latest firearms info in the industry.