The newly released Mossberg 590S series takes a proven design and makes it even better, with four new models now capable of reliably feeding mini shells.
The Mossberg 590 was already an improvement upon the classic and well-proven Mossberg 500. With a redesigned magazine tube, the 590 was easier to maintain and modify than its predecessor, but it still typically had trouble reliably feeding 12-gauge mini shells. Now in the biggest update the 590 line has seen since the release of the Shockwave, the new Mossberg 590S will eat any flavor of 12-gauge you can feed it. Available in four configurations, the Mossberg 590S is a direct upgrade over previous generations and features a distinct new capability that opens up a lot of doors.
The Changes

If it ain't broke, don't fix it. Mossberg appears to have agreed with this principle of design while reworking the 590, as most of its well-proven design remained the same in the new Mossberg 590S. The only "problem" worth addressing was the design's inability to reliably feed mini shells—something that virtually no pump-action or automatic shotgun has been able to do consistently. To remedy this, all that needed changing on the 590S were its elevator and bolt slide. An energy-absorbing buffer was also added. The end result is a shotgun that feeds 2.75 and 3-inch shells just as reliably as before, but now with the ability to add 1.75-inch shells to the mix. Mossberg claims that the 590S will run reliably with a mix of ammo in any order, and varying load types or shell lengths will not cause problems. If it's a 12-gauge round it can be stuffed in the tube, pumped into the chamber and fired without issue.
This added level of versatility on the Mossberg 590S may not be appreciated by everyone, but the changes bring no downsides and open the door to higher capacity pump-actions for those willing to sacrifice on power. Whether it's just for fun at the range or serious defensive use, loading a 590S entirely with 1.75-inch shells gives roughly 40-50% more capacity than when loaded with standard length ammo.
The Options

The Mossberg 590S is available in four configurations. The most standard model has an 18.5-inch barrel and its magazine tube can hold six 2.75-inch shells. The more advanced model sports a 20-inch barrel and a longer mag tube that can hold eight standard shells. It also features ghost ring sights, an AccuChoke and an M-LOK forend. All other models have simple bead sights and a plain cylinder bore choke. The final 590S variant is the Shockwave, Mossberg's short-barreled firearm that skirts the NFA by having a long enough overall length. It's available in either a shorter or longer configuration and can hold either five or six standard shells in its tube, respectively. All Mossberg 590S shotguns have the same matte blue finish.
This is a solid upgrade to an already great design, and whether you plan on using many mini shells or not it doesn't hurt to have the option. The larger of the two 590S Shockwaves can fit 9 + 1 mini shells in it, something which very well may be the next popular truck gun setup. The MSRPs for the new Mossberg 590S shotguns are $708 for the 20-inch model and $605 for all the rest.
For more information, please visit mossberg.com.
---
More on Shotguns: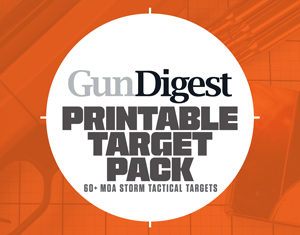 🎯 Exclusive Offer: Get Your FREE Printable Target Pack!
Dive into precision shooting with our 62 Exclusive MOA Targets featuring DOT Drills. Perfect for both rifle and handgun enthusiasts, these targets are designed for accuracy, especially for long-range shots.
Why You'll Love This Pack:
🎯 Expertly Crafted: Brought to you in partnership with the renowned Storm Tactical.
🎯 Versatile Use: Suitable for both rifle and handgun range sessions.
🎯 Precision Design: Target grids and bullseyes meticulously measured in MOA for the best shooting experience.
Bonus: By grabbing this offer, you'll also be subscribing to the Gun Digest email newsletter, keeping you updated with the latest in the world of firearms.
Don't miss out!
Simply enter your email below, and we'll send your downloadable target pack straight to your inbox.